23 DIY Birthday Banner Ideas For Special Day Decorations
Here, we came up with the best DIY birthday banner ideas to add a personal, fun, and festive touch to any birthday celebration. The beauty of this collection is that you can customize all of these banners to perfectly suit the individual, making a birthday banner that is as unique as the person you're celebrating.
DIY Birthday Banner
Our DIY birthday banner ideas are the perfect addition to any celebration, adding a heartfelt, creative element that loved ones and guests will cherish. Making these banners from scratch will emphasize your thoughts and dedication to the festivities. Their customization highlights the individuality of the celebrated person, showcasing their unique interests or incorporating specific colors, themes, and designs only found in personalized creations.
This list of DIY birthday banner ideas offers endless opportunities for artistic expression, allowing anyone to add a special touch to their celebration. These ideas may range from paper banners with colorful cardstock cut into playful shapes or decorated with hand-painted patterns to fabric banners adorned with quirky sewn letters or fun appliqué figures.
Building Block Birthday Banner:
It's time to celebrate! This is a great crafty project that a whole family can work on together, making your home look amazing. Follow the step-by-step directions to make your very own Building Block Birthday Banner. You can use this method with any colors you want. This DIY building block flag is perfect for any room in your house or as decoration at your next birthday party! You can easily add letters to match the name of your loved one or color them to match the party's theme.
DIY Birthday Banner Cricut:
A DIY Birthday Banner Cricut is a beautiful and easy way to decorate for a birthday party. This video tutorial will show you how to create a pennant banner with your Cricut Explore Air. Create the pennants using different sizes and patterns of paper to make them look more attractive. Depending on your needs, you can customize this project to fit your needs. Feel free to remove or add anything you want!
Birthday Banner Idea With Pictures:
Coming up with a unique, one-of-a-kind birthday gift for a family member, friend, or loved one can often be tricky. Luckily, this DIY birthday banner idea will help you find something perfect. With this DIY Birthday Banner Idea, you can create a personal birthday banner printed on high-quality photo paper in color. The best part? You can make these banners in minutes, saving you time and money while giving them a creative and thoughtful birthday gift they will never forget!
DIY Birthday Banner For High Chair:
Get creative with your kids and use this fun DIY birthday banner idea to decorate their birthday party. This DIY Banner is perfect for decorating high chairs, tables, and more! Watch this video tutorial and use these simple steps to make your Banner! Creating an awesome birthday banner for your high chair doesn't have to be stressful or complicated! With a few simple supplies and a little know-how, you can create a unique and festive decoration that brings smiles.
DIY Outdoor Banner:
Create your birthday banner with this easy tutorial. It'll show you how to create an outdoor banner that adds color and fun to any home. Make your birthday special with these ideas for outdoor banners and decorations. This easy-to-make banner is perfect for decorating your home or party space on a budget. Add your custom flair using materials and colors matching your party's theme. You will be proud to display this piece of art at your next party or get-together!
Birthday Banner Design For Adults:
If you are looking for a unique birthday idea, a DIY customizable birthday banner might be just what you need. If you've never made one before or don't know how to create a personalized banner or sign, with these simple steps and a few supplies, you can create a fun and festive banner for your next birthday party! Celebrate in style with this DIY Birthday Banner Idea. Turn a blank canvas into a birthday announcement or party decoration, or add it to your gift! Looks great in any room or decor and adds fun to any birthday or holiday party.
DIY Birthday Sign Board:
Birthday parties are a significant event for children. Therefore, it is necessary to celebrate them in the best possible way. Here is a quick Birthday Banner idea that you can use to decorate at such events. This DIY project will make a beautiful Birthday Banner sign at home. It is much easier than one imagines, and the materials are readily available at any store. You can set it up in your house during the party or keep it as decoration after the party.
How To Make A Birthday Banner Easy:
Have you ever wished for a birthday banner that is truly unique and personal? If so, this video project is for you! Step-by-step instructions show you how to create an easy banner with any image you like. Turn the birthday person into a superhero, add some confetti in their honor, or print out the recipient's name in glittery letters. The possibilities are endless! You can make a banner for boys or girls and even their friends! Let the birthday party begin!
DIY Birthday Banner
A DIY Birthday banner is a fun and easy way to spruce up your party. These festive banners can be used for birthday parties, anniversaries, or sharing sweet wishes with someone you love. Follow these easy steps to make a birthday banner for your house party. You can easily make a birthday banner from craft paper, white glue and some decorative goodies like bows, flowers and ribbon. The more time you spend on this project, the more personal it will be.
All Occasion Chalkboard Banner
Create this colorful Chalkboard Banner that only requires a few materials for a fun and festive birthday celebration. The simple instructions will guide you on how to make this fabulous banner perfect for any occasion! Grab some chalkboard vinyl and make a chalkboard banner for your next party. It's easy to hang up and customize; choose the occasion you want to celebrate and your favorite color, and add written messages.
Happy Birthday Sign
Let's get creative! Make a sign with big cheerful letters and some colorful strings. For this DIY Birthday Banner, you will need clothespins, twine, and cardboard to make a simple sign. Hang it up for some added fun at your next party. This will look nice on a mantel, by the front door, kitchen, or even in your children's room! The best part about this idea is that people can keep their banner for future birthday celebrations after the celebration!
Printable DIY Birthday Banner:
This DIY birthday banner is a fun and easy way to decorate for any birthday party. Using multiple banners, it will be easy to hang them with ribbon and attach them together so they look like one big banner. It is easy to create your DIY banner with these printable banners, which you can repeatedly use whenever you need a custom birthday banner. If you want something not as permanent, make sure you can use low-tack tapes on the wall so it will peel off easily when the event is over.
DIY Birthday Banner Printable:
A homemade Birthday Banner Printable is the perfect way to decorate the room for a birthday party, especially when the theme is DIY or Vintage. This one can be made in a variety of sizes using different papers. Make sure you use scissors that are sharp for maximum results. Make your birthday banner for your party! This is such a fun idea for any birthday celebration. You could even string it up at home on the door or hang it from a ceiling fan. Stuff like this adds to the excitement of the day!
Paper DIY Birthday Banner:
Looking for a quick and easy DIY birthday banner idea? This paper decoration will do the trick. This easy-to-make paper banner has the perfect message to help you celebrate your birthday or that of one of your friends or family members. You can use any paper, cardstock, paint, or materials at hand! To complete your party room, hang it from the ceiling or waist-high walls with tape or string.
DIY Birthday Banner For Boy:
Birthdays are always such a fun occasion to celebrate! When it's time to plan your son's next birthday party, don't go to the store and buy a generic banner that no one cares about. Instead, make one yourself. This super easy DIY project will have you creating your own "Happy Birthday" banner in no time! All you need is colorful paper and some ribbon or string to hang it up. If you want to make an extra special banner (or if you're short on time), use a DIY stencil technique to personalize the sign and add glitter glue for an extra sparkle.
DIY Balloon Decorations For Birthday:
If you're hosting a party for a girl like a princess or a mermaid-themed party, you may need to create some decorations that look like waves. Luckily you don't have to go out and buy anything – all you need is some inspiration. Take the guesswork out of decorating your next party with this DIY balloon decoration idea. Balloon decorations are easy to add color and comfort to a party. In this tutorial, you'll learn how to make beautiful balloon arrangements, ornaments and other fun decorations in no time! With a few balloons, some crazy glue, some colored papers and string, you can create a kitsch and festive decoration for your next birthday celebration!
Recycled Map DIY Birthday Banner
Want to make a new banner for your home? This easy DIY birthday banner is the perfect way to update your decor. It can be made with recycled maps and markers or any other sturdy paper you have on hand. You can look like a pro with this guide. Whether you're celebrating at home or throwing a big bash at the bar, this DIY Map Birthday Banner is perfect for showing off your favorite spot. This recycled map DIY birthday banner can be hung inside or outside, in any room of the house or yard, or on a wall, fence, or tree.
Happy Birthday Banner Box DIY
Are you looking for a fun new way to make a birthday banner? Here's a fun, quick, easy way to create your big birthday banner. Follow the tutorial to learn how to create your DIY Birthday Banner. You need a box, colored paper, cardstock, scissors, and double-sided tape for this quick project. This easy craft requires cutting and folding, stapling, and gluing. The final touches include adding twine and decorations. It's perfect for parties, photo props, or just for fun! This project is relatively inexpensive and can use any color scheme you like.
Happy Birthday Banner Diy Template
Create a Happy Birthday Banner using these easy-to-follow steps and ideas. This project is perfect if you need a birthday banner for your next party! This can be done with all types of paper, sizes and colors to match your decor. You can add elements to make it unique such as beads, glitter or stickers. The best part about this DIY birthday banner idea is that you can customize your message and use any color scheme you like. This can be used indoors at a party or thrown over your front door to greet guests on their way in.
DIY Banner Flag: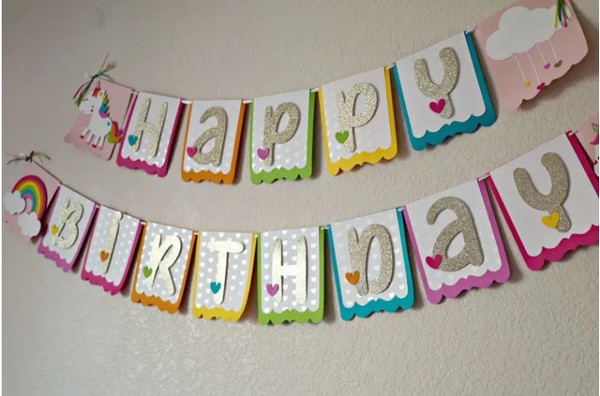 This DIY Birthday Banner Flag is a fun decoration idea. This is great to hang on the wall or from a ceiling, but it will best stretch across a tabletop to be checked out by all your party guests as they arrive. Follow these simple steps to create this fun banner for your next birthday celebration. Not only will it be stylish, but it's also easy to make with items you already have around the house. This is an excellent idea for an outdoor party if you want to design and make your banners, flags and bunting. Make it for indoor events as well!
How To Make A Birthday Banner
A birthday party banner is a great way to add extra flair to your party! Use this DIY birthday banner idea to create a one-of-a-kind banner that will truly show how much your loved one means to you. Learn how to make a birthday banner with this DIY Birthday Banner Idea. Whether you want to decorate your wall or hang it on a door, this DIY project is easy, inexpensive, and fun.
Happy Birthday Banner, Blue:
Add a festive touch to your party with this DIY happy birthday banner. The simple and elegant Happy Birthday Banner is perfect for adding a festive touch to your little ones' special day. Decorate with blue balloons, ribbons, and stars for some added fun. Here are what you need: balloons on a string, scissors and tape. These are easy to make and can be done in a short amount of time. They also make incredible wedding decorations, baby showers, or other parties.
DIY Happy Birthday Banners
This printable Happy Birthday Banner gives a personal touch to party decoration. DIY Birthday Banner is perfect for pinning on the wall or hanging from the ceiling, bringing a festive and fun vibe to any room! You can print out these happy birthday phrases in your favorite color and pin them together to create this amazingly cool decoration for your special day. Combine other Birthday Party Supplies like Balloons, ribbons, and decorations to wow your guests!
More DIY Ideas:
DIY Sideboard Ideas: Check out these Stupefying DIY sideboard ideas from our collection of tutorials to get some inspiration for your next DIY project.
DIY Bookend Ideas: Here are some DIY bookends ideas to help you display your collection without spending much money.
Free DIY Hat Rack Ideas: This DIY hat rack ideas article is written for the handyman who wants to make an ordinary wooden hat rack with everyday raw materials.
DIY Folding Table Ideas:  Our DIY folding tables help save money while making a personalized table that fits your preferences. Top-quality folding tables have many uses beyond serving food and drinks, like acting as a desk or workstation. They're practical, affordable, and simple to store when unused!