17 Fun DIY Dice Tower Plans For Fair Table Game!
Ensure justice and defeat cheaters by making your own personalized DIY dice tower that is both practical and will look appealing in your favorite theme. Our list of DIY dice tower ideas offers several designs, each with different shuffling mechanisms, materials, shapes, and styles. Do this independently to achieve a random dice roll every term for a fair ending!
DIY Dice Tower Plans
A DIY dice tower eliminates possible disputes in this fun game by always randomizing each die roll, something less achievable through a simple hand toss. So, even a professional cheater could not find a way to achieve planned results. Our DIY dice tower plans have many cheap options, from cardboard to wooden, round castle brick towers, modern Lego blocks, and many more, from small to large boxes. Some look like works of art, while others are made of supplies you already have around your house.
Regardless of the outer aesthetic, add a series of obstacles and slides within your tower for the most enjoyable gathering activity possible. With a DIY dice tower, you can be sure of fair play and a true contest of luck during your games. For your next playing night, consider your own with these DIY dice tower ideas. Need help getting started? Our curated list includes many video tutorials detailing each step of the process.
DIY Dice Tower
Is your gaming table looking like a messy mix of dice, cards, and character sheets? Add some flair to your role-playing game with the simple design of the DIY Dice Tower. A die will instantly roll down this tower each time it is tipped over, providing an exciting and suspenseful element of fun to any tabletop game. This step-by-step tutorial teaches how to make a DIY Dice Tower out of tin, cardboard, and wood glue.
Spiral Dice Tower DIY Plan:
Crafting a dice tower before your next board game night has always been challenging. This DIY Dice Tower is made from plywood and easily constructed with a few tools. By simply stacking the layers on top of one another, your custom dice tower will be ready for action in no time! You can use this same design to make a spiral tower for any board game. It's a great tabletop accessory for any gamer who loves to roll big numbers and think of strategies on their turn. This DIY project will take about 30 minutes to complete, and you can store your dice in it after the game ends!
Cardboard Dice Tower Template:
Do you want to create unique dice towers at home? Then this article will show you how to make a cardboard dice tower template to manufacture your dice towers, which are ideal for use with board games, tabletop games and more. Even if you've never attempted a DIY project before, this Dice Tower Template will walk you through every step from start to finish, showing you how to fold, glue and assemble the components that make up this simple building toy.
How To Make A Dice Tower
Want to make your dice tower? This video shows you how to make a cheap, personalized wooden dice tower. You can use this process to make any dice tower you like with different embellishments. The only required tools are a drill press, router, power sander and palm router. The most important part of the design is ensuring the dice rolls through without getting stuck at any point. This means having a tight fit along all surfaces and plenty of support for the weight of the wood so it does not cave in as the dice fall through it.
Build a Travel Dice Box with Built-In Tower
Many gamers have noticed that travel dice boxes are expensive and hard to find. This tutorial is for you if you want to give something special as a gift or want your dice box. It will show you how to build a beautiful and functional travel dice tower that doubles as an acrylic tankard for your favorite beverage. This design aims to build an easily portable dice tower with minimal cost and effort.
DIY Formboard Dice Tower
A dice tower is a simple device that can be made at home to stack and deliver dice to the gaming table. A customized dice tower includes various levels of customizations, including artwork on the front, sides and rear. This how-to tutorial shows how to build a DIY formboard dice tower in under 30 minutes. With just a few essential tools, you can build your tower to hold your dice while playing tabletop games. This handy project takes a few hours to complete and only requires minimal carpentry skills.
How To Make A Round Dice Tower
If you like to play dice and want a unique way to display them, this tutorial will show you how to build a round dice tower instead of just placing stacks of dice sheets. This accessible DIY Dice Tower keeps dice from rolling away. It's a great way to store your dice and protects them from dust and other hazards in your game room or living room. Luckily, you don't need to be a carpenter to make a perfect dice tower! Use these ideas and materials to impress your friends, family and colleagues. It's easy enough that adults can do it too!
Low Budget Dice Tower DIY
A dice tower is a must-have, whether you are a gamer or not. It is an excellent set-up for a fantastic tabletop session, especially if you want to take your gameplay to the next level! However, you don't need to spend too much on this little item. Making your dice tower is relatively easy and affordable! This video is a clear, easy-to-follow description of making your dice tower. It shows you the steps for this cheap yet effective handcrafted dice tower.
DIY Dice Tower Wood:
Want to be a better gamer? The Dice Tower will help. This highly advanced piece of engineering provides the perfect home for your dice, making them easier to reach and more likely to land where you want them to. But, more importantly, it looks super cool! Learn how to make a simple DIY dice tower out of wood. You can use different types of wood (including MDF and plywood), stain or paint it, and add embellishments to customize your tower. This is an excellent project for kids and adults!
Easy Homemade Dice Tower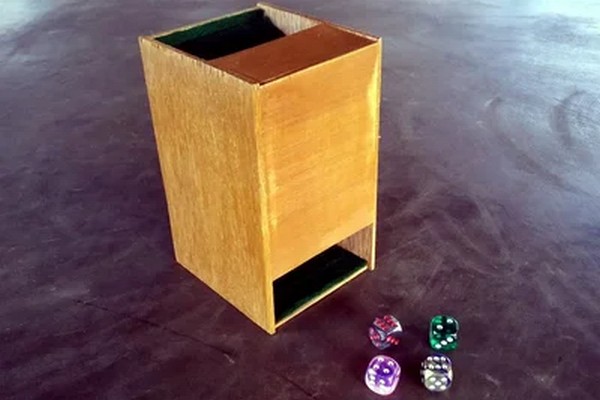 Dice towers are great for board games, allowing you to roll your dice in style. Follow along with our step-by-step instructions to construct your own very cool and unique DIY Dice Tower. This simple version can be made from just a few materials and would be an excellent gift for any tabletop gamer in your life! The result is one seriously cool-looking tower that will look awesome on its own or with a display shelf!
 DIY Dice Tower
Did you know that a good dice tower adds to the gameplay experience? Not only does it help prevent cheating, but it also takes this classic game to the next level. This dice tower provides an easy way for players to drop their dice and not get in anyone's way or make noise. Plus, it looks pretty cool. Here is a quick DIY for an awesome-looking one that you can make easily. With an old box, some foam, and hot glue, you can create a dice tower that's as stylish as it is functional!
LEGO Dice Tower
A dice tower is an easy and fun way to add flair to your board gaming experience.  It keeps dice rolling in a controlled manner, so nothing gets lost or scuffed, and it's also an excellent conversation piece! This DIY LEGO Dice Tower project is excellent for kids who are too young to read directions but big enough to follow their big sister's lead. The project only requires a few simple steps, and you can make it in about 20 minutes with only basic LEGO bricks and accessories.
DIY Dice Tower Pringles Idea:
This Pringles Dice Tower is a great way to ensure your next gaming night is full of excitement, suspense and chaos. You can use it for games like Dungeons & Dragons (aka D&D) and other tabletop RPGs. This also makes an awesome gift for anyone who loves RPGs and dice! This is the perfect project for a rainy weekend or maybe even at work. It's simple but looks so good when finished! This project is so easy and inexpensive. You probably have most of the materials already on hand!
Building a Jenga Dice Tower
This DIY project is perfect for tabletop gamers who want to add a touch of elegance to their game nights. By repurposing a classic game of Jenga, this dice tower will add a touch of class to your game setup and ensure that your dice rolls are random and fair. The tower is made by carefully stacking and gluing together Jenga blocks, creating a sturdy and stylish dice tower that will impress your friends and fellow gamers.
Sync's Mini DIY Dice Tower
This compact, portable dice tower is perfect for those who love gaming on the go. It's designed to fit in your bag and can be assembled in minutes. The tower is made from durable materials and features a minimalist design, making it a perfect addition to any gaming setup. Its small size and portability make it easy to take to game nights, conventions, and other events with you. Use this guide to learn more!
Medieval Dice Tower
This DIY project is perfect for those who want to add a touch of medieval style to their gaming setup. The tower is made from reclaimed materials and features a rustic design that evokes a sense of medieval grandeur. This dice tower is a great way to add a touch of medieval style to your home, office, or game room and will impress your friends and fellow gamers.
DIY Book Dice Tower
Do you want to create a unique gift for your loved ones? Then this DIY Book Dice Tower idea is perfect. All you need is a little imagination, and you will have created a fun, engaging and visually pleasing dice tower that makes a great display piece or conversation topic. This unique DIY dice tower will make playing games more fun and engaging. Making one yourself is super easy, as it only requires a book, some foam board or cardboard, and other materials. Learn how to make your own in this video above!
More DIY Projects Collections:
16 Cheap DIY Gaming Chair Ideas: Our collection of DIY gaming chair ideas offers a variety of innovative, affordable, and comfortable designs with helpful video tutorials.
15 DIY Bookend Ideas: Give your reading room a classy touch, and keep your books neat with these fantastic DIY Bookend ideas. They stop books from tumbling off the shelves and help you stay organized.