19 DIY Fishing Rod Holder Ideas To Safely Organize Your Fishing Rods
These easy-to-make DIY fishing rod holder ideas are perfect for people who prefer to build their own rod holders that fit their needs and preferences. We offer a variety of ideas for any type of fishing, including guides featuring a variety of sizes, shapes, and materials.
DIY Fishing Rod Holder Ideas
Fishing is a big part of life in many places, and while you'll want to take your rod out as often as possible, it's important to find safe storage options when they're not being used. In this handy list, we've got some great ideas for keeping your fishing rods organized and safe until the next time you head out onto the water.
Whether you're a fisherman or love to fish, keeping your fishing rods organized and protected is important. Luckily, many DIY fishing rod holder ideas can be made from things like PVC pipes, wood, and even old tires! Check out these amazing ideas below, and start making your DIY fishing rod holder today! These DIY fishing rod holder projects will keep your rods safe, organized, and out of the way – until you need them!
Why Fishing Rod Holders Are Important
Fishing rod holders are more than just handy gear; they're vital to your fishing success.
These simple devices make it a breeze to manage multiple rods at once and allow you to fish hands-free while you prepare bait, have lunch, or enjoy the scenery.
They help prevent rods from slipping into the water and can increase your chances of catching fish by keeping your lines steady and in the right position.
They're also a fantastic way to organize and protect your equipment, prolonging the lifespan of your rods.
Fishing rod holders make your fishing trips more efficient, comfortable, and enjoyable!
DIY Fishing Rod Holder Ceiling:
If you live in a small apartment or house and looking for a space-saving way to store your fishing rods – look no further! This DIY Fishing Rod Holder Ceiling is perfect for smaller spaces. Holds up to 4 rods and is easy to install. This easy project will have your guests asking where to get one. So, Watch this video that will show you the whole procedure!
PVC Pipe DIY Fishing Rod Holder:
Build your PVC fishing rod holder following this idea. It's an excellent project for the DIYer who loves fishing and wants to make a stylish and functional PVC pipe fishing rod holder. The PVC pipe fishing pole rack will hold up to 4 rods, with plenty to take out on the lake or river for fishing with friends and family. This project is simple and quick to complete, so you can get out on your boat right away and start reeling in those fish.
DIY Fishing Rod Holder For Garage:
Keep your fishing rods organized and easily accessible with this DIY rod holder for your garage. Made from durable wood pallets, this holder can be mounted on the wall and securely hold multiple rods. Personalize it with paint or decals to match your garage's decor. It is also a great space saver and a perfect way to keep your fishing gear tidy and out of the way. With just a few simple tools, you can build this rod holder in no time and enjoy a clutter-free garage.
DIY Fishing Rod Holder For Boat:
Keep your fishing gear in order while on the water with this DIY rod holder for your boat. This DIY Fishing Rod Holder For Boat is a quick, simple, and easy project that can make fishing easier. If you want to build it and save money, this project is for you. It is lightweight, durable, and easy to install, and it can be customized to fit any boat size. It is also a great way to keep your fishing gear organized and prevent them from getting damaged. The whole process is super easy; it takes just a few minutes. Let's get started!
DIY Fishing Rod Holder PVC:
Organize your fishing gear with this easy-to-build PVC rod holder. It's made from sturdy PVC pipe and can be easily mounted on your garage or shed wall. It can hold multiple rods and keep them tangle-free and ready for use. Customize it with paint or decals to match your style. PVC pipe is an excellent material for rod holders because it is durable and resistant to water damage. This rod holder is a great way to keep your fishing gear organized and always ready to use. Plus, it's a great DIY project for anyone who loves to fish and wants to keep their gear in excellent condition.
DIY Fishing Rod Holder For Car:
Watch this simple DIY fishing rod holder, a very nice solution for people who like to fish. This DIY project will help you to make a fishing rod holder for your car. It is easy, cheap, and durable. Just watch the video and follow the instructions carefully for a few minutes out of your busy schedule. The best value of this video is that you can use its design in any car. Anyone can use it; all you need is some tools and supplies, which you probably have at home already.
DIY Fishing Rod Holder For Bank Fishing:
Bank fishing can be challenging to master, especially when new to it. To help make your first experience bank fishing easier and faster, try out this DIY Fishing Rod Holder idea! People who love bank fishing prefer a fishing rod holder because it protects your favorite fishing tool from falling into water deep down, which could destroy it in no time. This simple project can be done in the afternoon and will get your tackle box organized. Just follow these steps, and you'll be set.
DIY Fishing Rod Holder Garage:
Here's how you can make an excellent DIY fishing rod holder that you can use in the garage. It's simple to make and will look very cool on your garage wall. The instructions are easy to follow, and you can even paint the holder if you want a more colorful version! This simple and easy-to-build holder for your fishing rods will make every weekend on the lake more productive.
Fishing Fly Rod Rack
This fishing rod holder is a great way to organize your rods and clean your garage. It can be of any size to fit your wall space and provides easy access to your fishing rods. It will take you less than an hour to complete and won't cost much. This rack is perfect for storing fly rods and other sports equipment. Use this guide to learn more!
Fishing Pole Rod Stand
Fishing is a favorite pastime for many people and an excellent resource for getting out into nature. But when it's time to take a break from fishing, you need an easy way to store the rod you've been using without cluttering the shoreline with your gear. This DIY Fishing Rod Holder Idea is excellent, easy to make, and perfect for any space inside or outside. This simple DIY project will help keep your fishing rod safely stored away while allowing quick access when needed.
Simple Collapsible PVC Fishing Rod Holder
Fishing is one of the best ways to spend time outdoors and connect with nature. Having a fishing rod holder for your boat or kayak is a good idea if you spend a lot of time in the woods and on the water. Luckily, making your PVC rod holder is easy! This project requires only some basic plumbing supplies and a few minor cuts with a saw. If you can handle that, you're ready to go into the world and catch fish!
PVC Fishing Rod Rack
This DIY Fishing Rod Rack idea should convince anyone that you can build anything, even a fishing rod rack. This PVC Fishing Rod Holder is super easy to make, extremely customizable, and looks great in any room of your house. Get the free plans in this guide and start making yours today. This stylish, cheap DIY project can easily be made in the afternoon. The best part is that it's much cheaper than store-bought versions!
Easy Overhead Fishing Rod Rack
This easy DIY fishing rod holder allows you to store your fishing rod overhead in a garage, basement, or outdoors. This sturdy and functional piece comprises an old fence and two large eye bolts. It's simple, inexpensive, and effective. This rod holder is made of wood and uses an overhead track concept. You can't go wrong with this one! The tutorial will guide you through the whole procedure!
DIY Fishing Rod Holder For Truck:
Creating a DIY fishing rod holder for your truck is easy and fun. This simple step-by-step tutorial will teach you how to make a DIY fishing rod holder that fits in your truck. It works great for any angler looking for an easy way to transport their gear so they can easily fish anywhere. The best part about this holder is that it can be made from everyday household items, including PVC pipe, duct tape, bungee cords, nylon straps, and PVC couplers.
DIY Fishing Rod Holder Wall Mount Plan:
A wall-mount DIY fishing rod is an easy and cheap way to get the best space in your garage or shed. This rustic, decorative wall mount will help you keep your fishing rods out of the way and display them beautifully! You can create a fabulous DIY fishing rod holder with scrap plywood, a drill, a saw, and a few screws. This project will make your space look more organized, too.
Scrap Wood Fishing Rod Stand
This DIY fishing rod holder is an excellent idea for hobbyists who like to build their gear. All it takes is some scrap wood and a few essential tools. This easy-to-follow tutorial will show you how to build your fishing rod holder that looks great and holds your rods securely. It's perfect for any space where you want your rods organized and easy to access, whether inside the room or out in the garage.
DIY Fishing Rod Holder With Storage
Find inspiration for your next DIY project with this DIY Fishing Rod Holder idea. It combines storage with a unique look that will stand out on your deck or patio. This project is easy, especially if you have some basic carpentry skills. Whether you're looking to store several rods in a garage or even hang them in the house, you will want this DIY project! Use this guide to learn more!
DIY Basic Fishing Rod Holder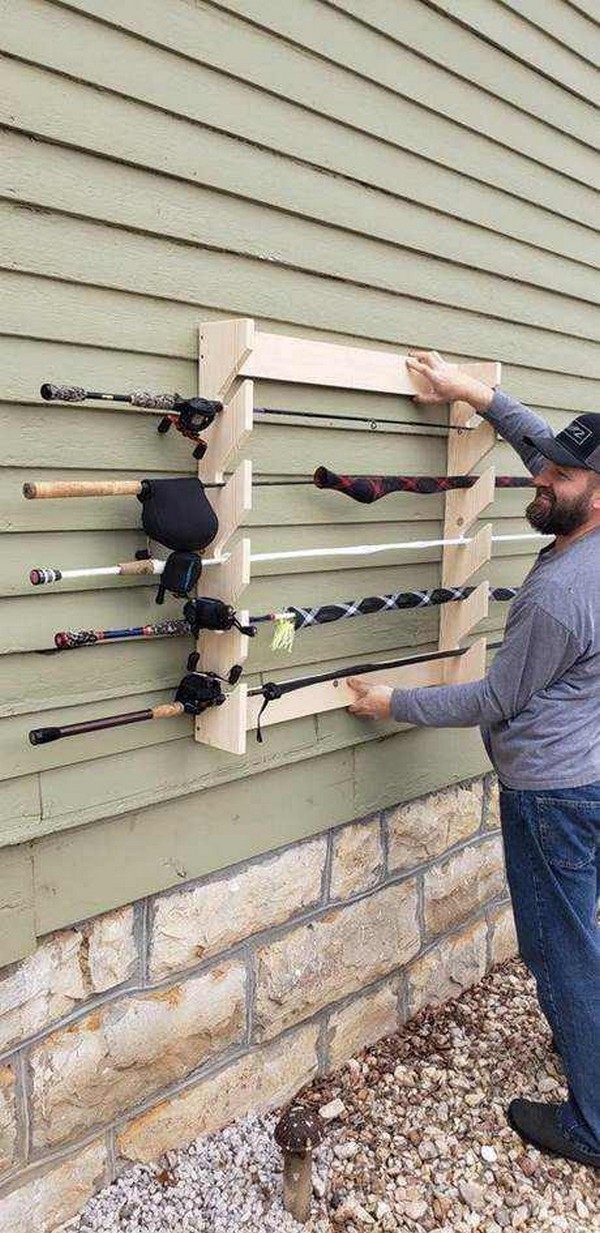 Creating an eye-catching fishing rod holder from a few simple materials is easy. Using contrasting colors, you can make a holder for multiple rods more visually appealing. This DIY primary fishing rod holder is easy to build and will help you smarten up your fishing gear storage. You can complete this project in less than two hours – excellent for summer camp crafts or projects at home!
DIY Fishing Rod Holder
Fishing is an excellent activity for people of all ages and skill levels. The only drawback is forgetting your fishing gear, so create a DIY fishing rod holder to ensure you always have what you need. This is an easy project that only takes a few hours, and you can use it in any room of your home. The best part is you can customize the size of your holder to fit whatever type of rod you have. You can easily construct this project home with just a few simple supplies and time.
More DIY Ideas:
DIY Kayak Rack Ideas: Do It Yourself kayak rack for home storage is easy to build with the right plans and materials. Our guide was written by an experienced kayak enthusiast who has built several boat racks at home.
DIY Spice Rack Ideas: Today, we're sharing the best DIY Spice Rack Ideas you can make in an afternoon for your spice collection. These will help you organize and store your spices, freeing space in your cabinets.