15 DIY Kayak Rack Ideas For Regular Kayakers
Whether you're just getting into kayaking or looking for a fun way to store your favorite boats, you can make a DIY kayak rack at home. This guide shows how to build your personal storage system in simple steps while saving money and having fun! You can make a DIY kayak rack in an afternoon with little or no experience, saving you time and money for more adventures.
DIY Kayak Rack Ideas
A DIY kayak rack is the perfect solution for kayakers needing extra storage or limited living space. With creativity and materials from your local hardware store, you can create custom kayak rack options to fit your style and needs. This guide will help you build your kayak rack with several options for style and dimensions. Your new DIY rack may be something you can do with just a few tools in a day or two.
Benefits of DIY kayak rack ideas
Cost-Effective: Building your kayak rack can save money compared to buying a commercially made rack.
Customizable: You can customize your rack to fit your kayak's size and number.

Space Saving:

 A DIY kayak rack can help optimize your storage space according to your needs.

Ease of Use:

 A custom rack can be designed to load and unload your kayaks easily.

Durability:

 By choosing quality materials, you can ensure your rack is strong, reliable, and built to last.
DIY Kayak Rack For Car:
A DIY kayak rack for a car can be a simple and cost-effective way to transport your kayak to your next adventure. Here is a simple and easy video tutorial to build a kayak rack for a car. It can be a perfect weekend project for those looking for an easy and cheap way to transport their kayak. You can use it as a permanent solution or temporary storage. It also looks good and is very affordable. You can alter the size/shape of this project according to your needs and requirements!
DIY Kayak Rack From Scrap Wood
If you're tired of looking at your boat or kayak propped up against the wall, it might be time to build this DIY kayak rack. It's super sturdy and straightforward to build, plus it's inexpensive. Here is a short video helping to show you how to build a Kayak Rack From Scrap Wood. With just some scrap wood and a few tools, you can build this rack below your ceiling to store your kayak.
DIY Kayak Rack
Save yourself a trip to the store and set up your kayak with our DIY Kayak Rack Idea. This rack is an excellent and straightforward project that is easy to make with the materials you might already have. It is also very inexpensive but looks great when completed. This rack can fit six kayaks to store your entire family's water toys in one place. It can be easily moved if you ever need to move it or want to make room for something else in your garage or storage space.
DIY Kayak Rack 2×4:
Want to save money by building your kayak rack? If so, check out this tutorial on building a Kayak Rack. It's not only easy but also inexpensive and effective! This excellent canoe rack can easily store your kayaks or canoes on the patio with just a few techniques and materials! This easy DIY project will get your kayak off the ground and out of the way of your garage door. Just grab 2x4s and other building supplies, follow the step-by-step instructions, and have a kayak storage rack made from wood!
DIY Kayak Rack For Truck:
Catch a ride to your favorite paddling spot with this DIY kayak rack for your truck. It's a quick, inexpensive project that will save your back from lugging your kayaks around. This is an excellent option for anyone who wants to store their kayaks without taking up a ton of space in their vehicle or garage.
PVC Kayak Rack DIY Plan:
Use this DIY kayak rack plan to make your own big, sturdy, and adjustable PVC rack. It's easy to build and features a double crisscross bottom design. You only need pieces of PVC pipe, a few fittings, and some tools to complete this rack project. The finished product can be left as is for a minimalist look or painted for additional decoration.
Best Kayak Storage Rack Build
If you love to kayak and enjoy all the water offers, you need a way to store your kayaks. You may even want a rack or two to keep all your gear in one place. But if you don't have room for a rack and don't want to pay for it, this DIY Kayak Rack is just right! It is easy to make and highly sturdy too! All you need is some plywood, screws, paint, and rope. Enjoy!
DIY Kayak Roof Rack:
The best way to get your kayak on top of the floor is by using a kayak roof rack. However, most kayak racks are expensive and ineffective, so here are ways to make your own at home for much less. It's simple to make, and all you need is some PVC pipe, connectors, and hardware from Home Depot or Lowes. The video tutorial will show you how to cut the PVC pipes, set up brackets, and attach them to the wall. It's also ideal for storing kayaks, canoes, or anything else you may want to get off the ground and keep safe from pests.
DIY Kayak Rack Build
Do you love kayaking but need help with the task of storing it? Then this DIY Kayak Rack Build is for you. Follow this tutorial as it shows you how to build a kayak rack perfect for your garage. This project uses standard lumber, but you can add whatever features you want to it. Having some carpentry experience before attempting this DIY project or basic skills would be nice. This excellent DIY project will make any garage look awesome!
DIY Kayak Rack PVC Plan:
Tired of storing your kayak on a wall? This DIY kayak rack is a great way to showcase your pride and joy and store it in the off-season. You will need PVC pipes, elbows, tees, end caps, and a saw. This tremendous homemade DIY idea will help you store and organize your kayak better than before. You can mount it on the wall, or anywhere you want to store your kayaks safely.
DIY Kayak Rack Wood Plan:
Make this DIY Kayak Rack Wood Plan, which is simple and easy to build that can be assembled within an hour. The rack is made from wooden planks with longer sides and smaller ends, allowing for a more robust stacking structure. This rack is an easy way to store your kayak on any wall in your home or garage. This rack can hold up to 3 kayaks and uses a simple design that is easy to make.
Wall Mount DIY Kayak Rack:
Do you love kayaking but don't have the space for a garage or deck? You can create your setup for storing your kayak on the wall of your home with this easy kayak rack idea. This tutorial will show you how to build a wall-mount kayak rack that you can use in your home or out. The steps to build it are simple, and the materials needed (two boards and screws) are inexpensive, with the results being worth it in compact storage.
How To Build A Kayak Rack
Do you need a kayak rack for your garage or shed? You can build one yourself in about an hour. Build a simple but functional kayak rack on your garage wall out of basic materials. This DIY project will eliminate the need to install a separate wall mount and bolt in several additional brackets; it looks great! Here are easy instructions to help you make your kayak rack to store your boats and easily access them when it's time to go out on the water.
DIY Kayak And Bike Rack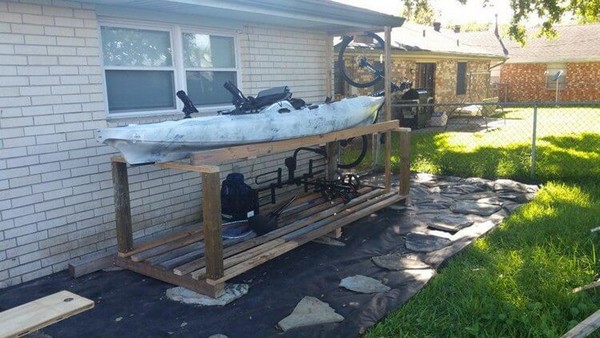 This DIY kayak rack idea is perfect for those with limited space who still wish to maximize their storage by storing it off the floor. With just a few simple fasteners and some plywood, you can create this Kayak Rack. A homemade dock does require some carpentry skills, but with these tips, you'll quickly learn how to build a DIY kayak and bike rack that works for you! This kayak rack could be used for anything you wish to store; bikes, skis, fishing gear, etc.
DIY Canoe Rack For Garage:
You can have your canoe and paddle, too. Garage storage for canoes, kayaks, and rowboats is slightly different from storing a car or motorcycle. A DIY canoe rack can be designed based on your needs. You can build it in any style and size you want as well. This kind of rack is good for keeping your canoes safe. Follow these simple guidelines to create the perfect garage storage rack for your watercraft. With a few simple tools and some basic carpentry skills, this project is a breeze. It protects them from accidents like falling or flipping over.
More DIY ideas: