15 DIY Go Kart Ideas + Inspirational Tutorials (Easy!)
Building your own DIY go-kart will be an affordable, personalized, and preferred option over the expensive market models without losing the fun of these fast vehicles. So learn from our DIY go-kart ideas and the video tutorial giving helpful examples at each step. So, create a homemade one that will be loved by all ages, whether gravity racer or even electrical go-kart and more!
DIY Go-Kart Plans
Making your own DIY go-kart is difficult and long for many, but believe us. You will pick the practical knowledge of mechanics as you cut, sharpen, and assemble or weld the parts and work with electrical tools improving your skills. So, make it a family project increasing the bonding between parents and kids. With the most basic tools, you can build a sturdy, reliable go-kart in your garage!
Benefits of DIY Go Kart Ideas
Whether you want to show your carpentry talent with scrap wood or use tough steel, these DIY go-kart ideas will help you.  A homemade go-kart will also be durable and play the role for years. A DIY go-kart can handle the hardest duties, from speeding down hills to running on rough roads. And no need to spend extra cash on repairs because you'll know how to fix it. But You cannot do it alone. Our expert tutorials are right here to guide you. So, choose from these DIY go-kart ideas!
DIY Go Kart Wood:
DIY Go Kart Frame:
With a comfortable seat, let's build a tiny but powerful DIY Go Kart Chibi Kart. This little kart is fast when attached to a powerful motor/ You'll love having your DIY electric go-kart that can go anywhere and provide tremendous power with a single battery pack.
How To Build A Go Kart Cheap:
Ever wanted to drive a go-kart when you were younger?  Enjoy this simple and quick go-kart without breaking the bank. Built with reused materials, this project is fun and easy to make. All it takes is a few simple tools, some reclaimed wood, screws, three small non-swivel caster wheels, and bolts to get started!
DIY Go Kart Electric Plan:
This DIY project is excellent if you want to learn about electronics and mechanics but need to gain experience with both as it comes with a beautiful tube frame, plastic seat in the center of two batteries, and motor in back to power!
DIY Go Kart Blueprint:
If you have a child who loves cars and has enough room in the backyard, you can build an electric go-kart for kids together. This DIY go-kart blueprint shows you how to make an electric go-kart for kids with minimal woodworking skills. The parts are relatively cheap, and the kart doesn't require metalworking skills. Use your measurements to build this go-kart frame so that it is the right size for your children, and make adjustments where needed (materials may differ depending on your location).
Simple Off Road Go Kart To DIY:
Build a simple, off-road go-kart that can run on any terrain. Learn how to build a kart and safety precautions for using your homemade vehicle. One of the most accessible types of go-karts to build is a small 4×4 frame kit with standard four wheels or even without wheels. You can keep it simple and use bicycle tires or larger ones that fit over plywood or skateboard wheels. You can make your go-kart for a fraction of the price. It may go slowly, but it will be sturdy and robust.
The Gravity-Powered Go-Kart Design
The Gravity-powered Go-kart is a simple, low-cost design you can build using essential tools. This instructable will show you how to build a gravity-powered go-kart design. The idea is based on the Earth's influence on the movement of objects. Use whatever materials you have and recycle them to create your own. This project allows you to develop ideas while learning basic skills such as welding and wiring.
The Custom Electric Go-Kart Idea
If you love race cars and want a fully-electric vehicle to call your own, then this DIY go-kart is for you! It's easy to build, has all the necessary safety features, and gets excellent mileage. The DIY Go Kart Idea is one of the most popular projects on Instructables. The guide contains everything you need to know about building a go-kart from scratch, including safety tips and recommendations for parts and tools.
The Rubber Bumper Go Kart Project
This project describes how to build a go-kart in four straightforward steps that anyone can follow. The design is based on "steering geometry," which requires a minimum of four rods, four wheels, and five links. The rubber bumper stops the rear wheels from contacting another kart. This Go-kart, like most, will have a throttle, brakes, safety chains, and a seat. The limits on the design are that standard off-the-shelf parts must be used, which means a small amount of metalwork is required but nothing major. It also means that this Instructable can be followed by nearly anyone with some essential tools and skills.
The Metal Bottom Cool Go Kart Plan
This DIY go-kart will come with a secure platform under the chair and a bicycle steering and so you can easily handle it or give to the kids to play.
The Plastic Chair Shifter Go Kart Blueprint
The Plastic Chair Shifter Go Kart will give you the excitement and thrill of riding a go-kart but without a steering wheel. You'll build a sturdy frame, install axles and the plastic chair, and then bolt on a seat. The finished kart will be solid enough to support adults and children. Also a fantastic gift idea for someone special!
The Upcycled Orange Gas-Powered Go Kart Build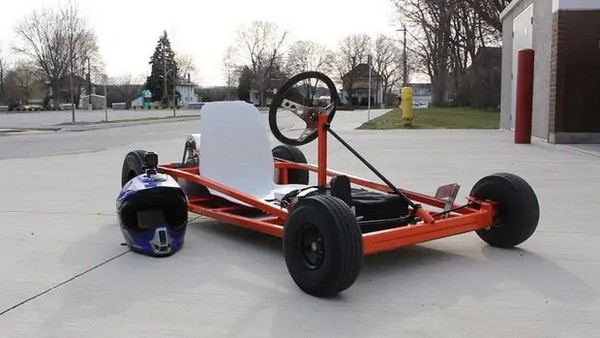 This upcycled orange gas-powered go-kart build is cheap to make and easy to finish. This design uses an old motor from some junk vehicle, and you could just as quickly buy one from a scrapyard or second-hand parts store. If you want to build one, here's how to do it.
How To Make A Go Kart With Engine:
Build this black-themed go-kart from scratch by making the frame, grabbing a seat, and steering wheel. The price is reasonable, especially considering how much fun it will make for you and your friends.