11 DIY Thanksgiving Garland Ideas For Festive Decorations
Our DIY Thanksgiving garland ideas offer a creative and unique way to spruce up your home for the holiday season. The beauty of these DIY garlands is that they can be customized to suit your personal taste and blend seamlessly with your existing decor.
Fun Thanksgiving Garlands
We've chosen some unique DIY Thanksgiving Garland Ideas that take a few minutes or less to create (and almost no money!)  Depending on your theme, shape, or size, you can make each garland slightly different.  Whether you choose to use tree ornaments, ornaments that match your fall decor, pom-poms, and flowers, there are many options. Grab all your supplies and create festive fall decorations on your walls, doorways, or windows!
How To Make Thanksgiving Garland:
Making a Thanksgiving garland is a fun, affordable way to decorate your home for the holiday. First, collect materials like fake or real fall leaves, small pumpkins, and pinecones. Then, pick a base such as twine, yarn, or ribbon—measure where to hang the garland and add extra length for a nice drape.
Thanksgiving Garland With Lights
This garland with lights is perfect for decorating your Thanksgiving table. The garland features the colors of Thanksgiving and has lights so you can display it throughout your home. The tapered garland's classic style and the modern convenience of a lighted decoration make this one perfect addition to any holiday display. It's a great decoration piece and adds extra cheer to any room in your house. Encourage your family to count their blessings when using this fun Thanksgiving decoration.
DIY Thanksgiving Garland
If you're looking for a fun and easy way to decorate for Thanksgiving, this DIY Thanksgiving Garland is the answer! All you need to make this garland is adhesive chipboard alphabet letters, white acrylic paint, a paintbrush, scissors, mini clothes pins, and some twine. You will find all of these materials at your local craft store! Once complete with all letters spelled out on the garland, it will instantly add festive color to your home. This project is super simple but packs a big punch in decoration!
Simple And Elegant Thanksgiving Garland
This Thanksgiving garland is a quick and easy project with a miniature rosette garland kit and some wood letters. Add a few festive touches like berries, berries & berries and ribbons, or any other kit you can find at your local art store. You don't need to wait until the end of November to make this simple and elegant garland. This project is fast and easy; it can be dressed up or down depending on your home decor. You'll love the result no matter what you choose!
Thankful Garland For Thanksgiving
Thanksgiving is a time to gather with family and friends and express gratitude for the year. This garland adds a special touch to your Thanksgiving table with sentiment and beauty. Made of durable paper with a wire to hang, all who see this festive addition to your holiday decor will love this. Decorate your home with this easy-to-hang garland and prepare for your Thanksgiving guests.
DIY Thanksgiving Garland -Printable Template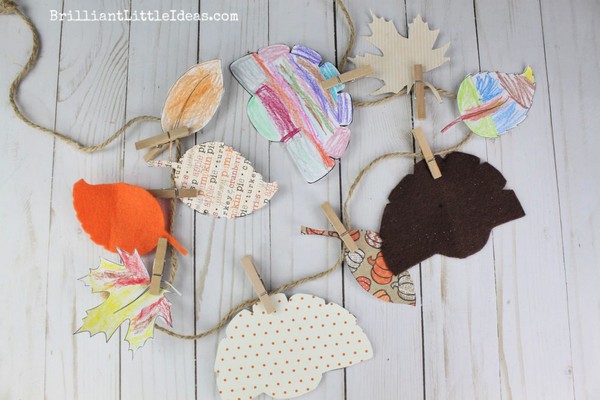 This DIY Thanksgiving garland is a unique and adorable way to welcome your guests! Sure to stand out, these three-dimensional cutouts will add an extra personality to your holiday gathering. This template includes a set of paper plates so you can easily print, cut, and fold them into shape. Make this DIY Thanksgiving Garland and see how easy it is to make your home look warm and inviting for the holiday festivities. With just a few supplies, you can create a beautiful display that transforms any room into a festive space.
DIY Thanksgiving Garland
You can make This simple DIY Thanksgiving garland as a quick and inexpensive festive fall decoration. This is a simple DIY Thanksgiving garland; you only need a few supplies like felt and string. The best part is that you can personalize it to match your home decor! Whether you hang this on the front door or display it around your house, this will be a conversation piece.
DIY Thanksgiving Garland With Acorns
You can't have Thanksgiving without a gathering of family and friends, but it's also nice to add some festive fall decor around the house. This DIY Acorn garland is easy to make, so you can spend more time with your family instead of pinning them onto the wall. It's cute, simple, and so easy to make. It can be used as a centerpiece or filler on a bench in the dining room or even hung on the wall or doorframe as decoration.
Thanksgiving Fall Leaves Paper Garland
Thanksgiving Fall Leaves Paper Garland for your Thanksgiving Parties Decorations. These garlands are perfect for decorating and creating an autumn feel in the house before, during, and after the Thanksgiving holiday. They are beautiful and easy to decorate any room with this look. These garlands are easy to hang using the attached ribbon and look like real leaves, but they won't wilt or fall off when it gets too cold. Perfect for tabletop trees, mantle displays, and more!
How To Make A Thanksgiving Garland
This Garland is a great way to celebrate the season with the little ones in your life. Plus, it gives you a new piece of decor for your home! Before we start, we'll share a bit about the paint sticks we used for this Thanksgiving art activity. We love our paint sticks because they're a great way to allow your kids to express themselves and have new art materials in their creative toolbox. They are made from real paint, not watercolor paint, which can be nice for kids who are new at painting or like to mix colors. And these paint sticks come in various bold colors that pair well together.
DIY Simple Thanksgiving Garland
This garland is a quick and easy project with a big impact. If you have several friends or family living far away, this would be an adorable and inexpensive way to get together, even if it's inside your home. This simple DIY project would make a great addition to your Thanksgiving decor. You can hang it from a mantel or above the table or even put it on the front door for an extra touch of decor.
Turkey And Pumpkin Thanksgiving Garland
Turkey and pumpkin Garlands are great decorations for celebrating Thanksgiving. Hang these colorful turkey garlands along the mantel, around the Holidays, and in front of a picture window to create an attractive focal point. This decoration will make your guests feel appreciated with vibrant colors and fun designs. A great addition to your Thanksgiving or harvest decor, this garland will bring out the best in any room.
More DIY Ideas:
DIY Spice Rack Ideas: Organizing your spice rack will brighten up the work in your kitchen. These DIY Spice Rack Ideas will help you put your spices where they belong and save you time in the kitchen.
DIY Hammock Stand Ideas: Our DIY Hammock Stand Ideas is a collection of hammock stand tutorials and ideas for you to build your own DIY wooden or metal hammock stands from scratch.
Free DIY Bookends Ideas: Creating bookends is a classic way to decorate and organize bookshelves. Follow these easy do-it-yourself ideas to make bookends that will suit your needs.
DIY Speaker Stand Ideas: You can use speaker stand ideas to create a more customized living space. We've selected clever DIY solutions from around the web that will help keep your surround system speakers out of sight and neatly tucked away.