12 DIY Welding Cart Ideas To Assist Remote Working
DIY welding cart ideas allow a welder to create a functional and personalized cart that meets their needs and preferences. Whether you want to build your welding cart or upgrade an existing one, here are some DIY welding cart ideas to help you get started.
DIY Welding Cart Ideas

Before you spend money on a welding cart, check out some DIY welding cart ideas. You might like these designs as they are, or you can use our free plans to make your own. One great thing about these DIY welding carts is that you can easily move them around. Plus, they're strong enough to do the job and have plenty of storage for your items.
You can build welding carts with common materials at home or at your local hardware store. These carts are durable but compact and portable, offering plenty of storage space for tools and supplies.
Benefits of DIY Welding Cart Ideas
Saves Money: Building a welding cart rather than buying one can save professional welders money.
Easy to Make: Most DIY welding cart ideas use common materials and simple building techniques, which makes them quite easy to create.
Full Control: DIY projects allow welders to customize their cart to meet specific professional needs or preferences.
Adaptable Storage: Homemade carts can have specialized compartments or storage spaces for tools, which is particularly handy for welders.
Portability: Building a portable cart ensures materials and tools can be transported easily, saving time and effort in the workshop.
Garage-Built Welding Cart:
DIY Welding Machine Cart:
The DIY Welding Cart is a clever solution for those looking to build their welding cart! This assembly-type cart allows you to craft your creation to help make your welding experience more convenient, safe, and sanitary. The cart accommodates a small-frame vertical or horizontal MIG welder, plasma cutter, and grinder. The materials will cost a few dollars, resulting in an excellent-quality welding cart!
DIY Recycled Welding Cart:
Want to get a welding cart for your garage? This welding cart can be made from recycled materials, so you don't have to spend money on construction. This welding cart is excellent for keeping small tools in place, including a gas tank, extra rods, and lighter fluid. The creative design allows for portability and mobility, making it perfect for any number of uses around the home or workplace.
Best DIY Welding Cart:
Professional or amateur, you will undoubtedly want to take advantage of this DIY welding cart idea. A good welding cart will make your life much easier and improve your working experience.
Homemade DIY Welding Cart:
This is a DIY welding cart idea to help make your job easier and more organized. This welding cart is designed to be portable and quickly taken from place to place for soldering, TIG welding, and MIG welding. This welding cart has plenty of storage for your welding tool and accessories. It is an excellent Homemade DIY Welding Cart Idea you can build yourself. It will help keep the shop organized and make it easier to get to what you need efficiently.
DIY Welding Cart With Drawers:
If you are a welder or plan to be one, this homemade welding cart will make life much easier. If you want more space, you can add a shelf above the drawer openings, but the design of this one is great even on its own. This welding cart with drawers is a great way to organize your tools and supplies. With its ample storage space, your supplies will be easier to find when you need them. The drawers glide smoothly, and the top tray holds small items and parts.
DIY Welding Cart Table:
This DIY Welding Cart table is just what you need for any welding project you might be working on in the garage. Make one from scratch; you'll need accurate leg tubing, weld them together, and measure accordingly so the table is high enough to use comfortably. Complete the welding cart table with your paint job, wheels, and hardware choice! It has a cabinet to store all your welding supplies. The wheels make it easy to move around if needed, and the welded frame provides excellent stability.
DIY Custom Welding Cart:
A welding cart is vital because it saves you a lot of time and effort. This DIY Custom Welding Cart will provide the proper storage, workspace, and stability without losing quality. This versatile and mobile workbench will allow you to use your welding or cutting equipment without setting up a permanent workstation. You can quickly move it around the shop and set it up wherever needed.
DIY Welding Cart Stand Plan: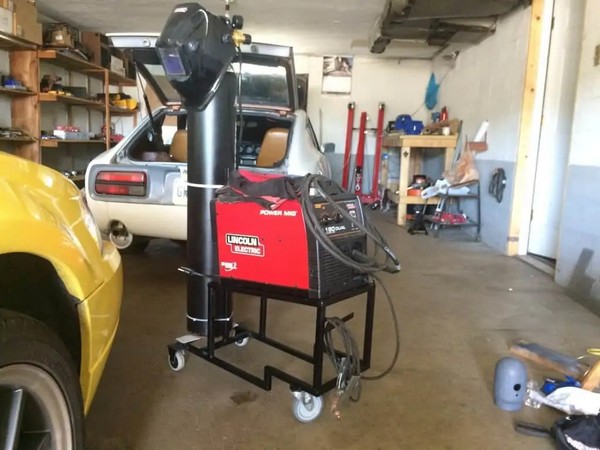 Looking for a welding cart makeover? This DIY welding cart stand plan is precisely what you are looking for! This design offers vast working space and will hold your material in place while you weld. You will want to take measurements of your feet to fit perfectly with your body's angle while you work on projects.
Small DIY Welding Cart:
Looking for a small, portable welder cart? Check out this "Small DIY Welding Cart" idea. A small, portable welding cart is a great way to keep your tools in one place. Keeping your tools handy while you work makes switching from one job to the next easy. This DIY welding cart has two shelves to store everything you need. The casters allow you to roll the cart wherever you need it. Add wheels to customize your workshop space with this DIY welding cart idea!
More DIY Ideas: