19 DIY Corner Desk Plans To Use Wasted Corners
Whether you're looking for a small workspace or want to make the most of your existing room, a corner desk will give you increased functionality and more storage space, we compiled a list of 19 DIY corner desk ideas to get your creativity flowing. No matter your style, one of these ideas will surely be perfect for your space.
DIY Corner Desk Ideas

It can be difficult to use space when you've got limited room creatively, but you can make the most of that little corner by knowing what to do and what not to do. Here are DIY corner desk ideas we found online to help you make the most of your new compact workspace.
Different Types And Uses Of Corner Desks
A corner desk works well for small rooms, like a living room or bedroom. It gives you a storage area, lots of workspace, and a comfy place to sit. You can also use it for various purposes, like a workstation or a place to eat. This article will show you different ways to decorate it. You must choose the design that suits you most: classic or contemporary, made of wood.
Benefits of DIY Corner Desk Ideas
Cost Efficiency: Save money by opting for DIY corner desk plans instead of pre-made desks.
Customization: You can customize-make the desk to accommodate specific needs and styles.
Skill Improvement: It will allow you to sharpen carpentry and joinery skills through the DIY process.
Space Optimization: You can Utilize small or awkward spaces effectively with a corner desk.
Eco-Friendly: Use reclaimed or recycled materials for a sustainable and eco-friendly approach.
DIY Floating Corner Desk: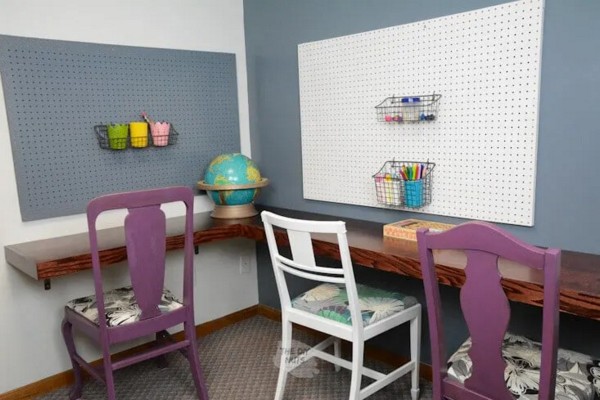 If you're looking for a way to save space while still being able to do work at home, then this DIY floating corner desk might be precisely what you need. The floating corner desk lets you put your computer on one side of the room and have all your stuff on the other. The floating corner desk is made of wood and some other materials, but it's relatively easy to make yourself if you have any knowledge of woodworking or carpentry. The wood is glued together and then sanded down to make it smooth without splinters or rough edges.
DIY Corner Gaming Desk:
The DIY Corner Gaming Desk is excellent if you need a new gaming desk! The DIY Corner Gaming Desk is a great way to save money and looks fantastic! This video will show you how to build this excellent corner gaming desk from scratch and have room for a few other things. It's straightforward to make and very customizable. You can use any wood, stain, or paint color! The video includes instructions on making this DIY corner gaming desk and tips and tricks.
Built-In Corner Desk:
When building your DIY corner desk, the first step is to decide how tall you want it to be. You can build this project to any height, but remember that taller desks require more material and time than shorter ones. The idea behind a built-in corner desk is to take advantage of unused space in an L-shaped room and make it functional. The main challenge with building a corner desk is finding a way to make it look good without taking up too much space.
Simple Corner Desk
Turn the corner of your room into a workspace with this simple DIY Corner Desk Idea. This modern desk design is perfect for small spaces but offers plenty of storage and work surface area. It's simple to build and inexpensive, meaning you can transform your space without spending much money. Plus, it only takes one day to build! This easy-to-follow step-by-step guide teaches how to build a simple DIY corner desk.
The DIYer's Office Desk
An easy-to-build corner desk may be the way to go if you want a functional and stylish desk. Whether you want a fast, affordable option or need extra space in your office, this DIY corner desk idea will give you both. The DIYer's Office Desk is a super-practical and easy-to-build project. Those who desire to build something extraordinary will find this project very rewarding. The desk is a perfect space for creating, designing, or writing.
How To Make A Corner Desk With Two Desks:
A DIY corner desk is an easy and inexpensive way to add workspace in a small space. With this DIY corner desk solution, you'll never have to worry about having enough room for your workstation. It can be used as a home office desk or a school teacher's station! You need a few desks, some wood and tools, and a bit of ingenuity! We'll walk you through choosing your desk components, building your desk, and finishing it with a quick coat of paint.
Butcher Block Corner Desk
If you want to add extra workspace to your home, try building this DIY butcher block corner desk! It's the perfect solution for adding a desk for homework, painting, or a cozy reading spot. The best part: it's made from just three pieces of wood and glue. With this easy tutorial, you can build your own from scratch and have it ready quickly! This simple butcher block table is the perfect spot for a home office.
Wall Mounted Corner Desk:
Corner Desks are great for small spaces, but what if you want the convenience of a desk and a computer monitor wall-mounted? It's pretty easy to make your Corner Desk. Build a wall-mounted corner desk with this detailed tutorial. A simple, modern design uses minimal materials, making the completed desk affordable! This simple DIY project is easy to build using tools like a power drill and screwdriver. Give it a try at home!
Double-X Corner Desk
A corner desk is a great place to put your computer, work area, and storage space in one space. With this easy DIY corner desk, you can transform an ordinary room into a workspace that maximizes functionality while minimizing wasted space. You'll need a coworking table, some paint, and a piece of plywood. Then follow the convenient step-by-step instructions to get your workspace up and ready for business! There's no better complement to your style than this DIY corner desk.
Reclaimed Wood Corner Desk
If you're looking for a desk that will be functional but also stylish and unique, this is a project to take on. A corner desk can be an excellent way to add a bit of space to your home office or craft room. This step-by-step DIY guide will show you how to make a reclaimed wood corner desk using reclaimed wood, metal brackets, and other materials. It can be customized any way, from the desk size to the finish and hardware.
Rounded Corner Desk
Make this DIY corner desk for your home office—it's easy, cheap, and a great way to get more work done. When increasing your productivity at home, office, or workplace, rounding off corners can help! Use a simple corner desk frame and DIY plywood top and shelf to create a workspace that suits your style.
DIY Corner Desk IKEA Tutorial:
Do you want to create a cool desk area in your home but need help figuring out where to start? This video will show you how to make a DIY corner desk using simple tools and materials. This DIY corner desk is perfect for your space, whether you want to hide extra storage from sight or create more workspaces in your home. It's also a great way to use your extra wall space, even if it has sharp corners.
Rugged Wood Corner Desk with Files Cabinets and Shelves
If you love the idea of a handmade wood corner office desk but don't like the price tag, this article could be just what you are looking for. By building your design, you can create a rugged and stylish corner desk without spending thousands of dollars. This rugged wood corner desk features a top wood shelf and file cabinets, but no rules exist. You can mix and match the pieces to fit any home office style. The compact design makes it perfect for a small space like an office nook or a dorm room.
DIY Corner Desk With Storage:
A DIY corner desk is a great way to add extra storage space for your busy home office. Use this DIY Corner Desk with a Storage idea to create a functional desk that blends into your home décor. It's an easy, inexpensive project that takes less than a day! The DIY Corner Desk Idea is designed to be easy to assemble and works well in any size space. You'll only need a few essential tools and supplies, but the result will make it seem like you had a professional build your custom desk from scratch!
Upcycled Kitchen Countertop Desk
It's time to take down your walls and build something solid that will last in this Corner Desk Project. Here's an excellent project for anyone who has an extra kitchen countertop and an itch to build. This table is perfect for small spaces, and you'll find it useful too.
DIY Small Corner Desk:
Do you have a small corner in your house that you want to turn into a productive place to do your work? This DIY Corner Desk idea may be the answer. This tutorial will show you how to make your corner desk at home. It is a straightforward project that can do within a few hours. The fact that it's relatively cheap and pretty easy will motivate you even more! This DIY Corner Desk is easy to build and will take up much less floor space than a traditional desk.
Easy Corner Craft Desk
Make a corner craft desk using this simple DIY project. This tutorial will show you how to make a desk that fits in your corner, gives you ample desk space, and provides a convenient area for all your craft supplies without investing in something bulky or heavy. This corner craft desk can be used in any room but is always considered the house's leading and most important room. It is a great way to maximize your space and create an organized, efficient zone while not taking away from your home décor. The best part about this DIY craft corner desk is that it is simple and usually only takes a few hours.
Nomad Corner Desk
An excellent idea for nomads, this corner desk is a budget and space saver with plenty of storage. The Nomad Corner Desk is a computer desk that lets you sit more upright in your workspace, which promotes better posture and productivity. This project shows you how to build a nomad corner desk that gives you enough workspace and storage. It's simple to build and easy on the eyes with wooden sheets and other hardware.
The Double-Seater Dream Desk
Are you looking for a dream desk that is functional, space-saving, and eco-friendly? If you want to make yourself an adjustable corner desk, this article will tell you how! This  Corner Desk Idea is a beautiful piece to add to your home. It's a great design that only takes up a little space and can be used for a laptop or desktop computer. This double-seater will create space on your desk and still leave enough room for you to work comfortably.
More DIY Ideas: