17 Affordable DIY Swing Set Plans + Tutorials (Easy!)
Building a  DIY swing set in your backyard or inside is the best way to get your kids rid of harmful digital screens and take them into the fresh, healthy air. So, learn from these inspirational DIY swing set plans with video tutorials from the finest professionals, as making them is not more expensive than leaving them with mobile phones or pc, especially when you can make a swing set as your own at a minimal price!
Easiest
Free DIY Swing Set Ideas and Tutorials 
With these DIY swing set plans, you can choose the size, style, and best features according to the space and your taste and even have a set with slides to complete the park theme. It's summer, so families everywhere are preparing to play outside, enjoying the great weather! But how about doing it in the security of your home as you install a swing set for adults or kids near it?
Although the market models are attractive, making a swing set with family members increases the bonding when you work together and provides great satisfaction. So, choose from these plans whether you want a simple wooden or more comfy sofa porch DIY swing set, gather the materials, and be ready!
diy swing set with slide
This simple DIY Swing Set Canopy can be built at home with little skill and experience. It will typically take 4-5 weekend days of work, depending on the tools you have and your level of experience. The canopy is compatible with all playground equipment, including slides and climbers. This simple swing set doesn't compromise the health of little ones, as it protects them from the sun, rain, and wind having a little roof without stopping the plays. Add this simple DIY project to your swing set to make the most of your backyard.
DIY Swing Set With Monkey Bars
Stay fit and happy this summer with a DIY swing set. Whether you want to install it at home or in your backyard, this step-by-step video will show you how to build monkey bars, swings, and more! Build a backyard swing set that will be fun for kids of all ages. This is a straightforward project, you can build this swing set on the weekend, and it doesn't require special skills or tools. The state-of-the-art technology allows designs that adapt to almost any home or yard. Everyone will be thrilled to let their kids play on the swing set!
DIY Swing Set For Adults
If you want to build your own DIY swing set, but are afraid that you might need the right tools or skill level, don't worry. This guide will walk you step by step, allowing you to make an attractive swing in no time. Build a unique, innovative, stylish adult lounge area in your backyard. You can make your swing as high or low as you like.
How To Build A Swing Set
The design plan in this book shows how to build an 8-foot tall swing set with three swings and safety chains. This easy project requires little skill and would take less than a day. Step-by-step instructions are included, so you don't have to worry about getting confused – even if you've never built anything!
Sofa Porch Simple DIY Swing Set
Gone are the days of having to swing in the backyard; with this DIY swing set plan, you can bring your swing into the house. If you want a simple, elegant, sturdy, and safe DIY swing set, this is the plan for you.  Use the high-quality ropes and the beat lumber to make this royal swing.
DIY Swing Set Frame
If you love the idea of a swing set but are still determining if you want to spend hundreds of dollars on something that will get little use, here's a way to build your own DIY wooden swing set. This section will show you how to build your own DIY wooden swing set. You'll enjoy the beauty of the wood, a natural product that adds character to your home. How much you spend on materials and time depends entirely on how elaborate and extensive you want your swing set to be and what type of materials you use.
DIY Swing Set With Slide
If you love the great outdoors and have kids who share your enthusiasm, then a DIY swing set might be just what your family needs. This handy guide shows you how to build a swing set with all its favorite features. From slides to trees and more! This project is excellent for anyone looking for fun and exciting ways to entertain their children. Kids love having a place to play, and this project is a great option that can customize to fit your available space.
DIY Pergola Swing Set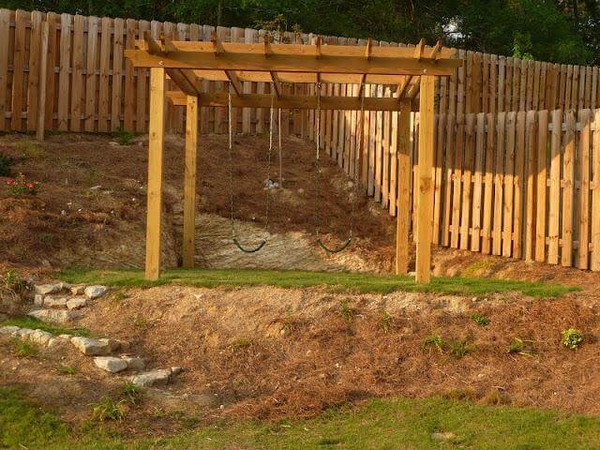 This DIY Pergola Swing Set is a great way to build a swing set. This DIY Pergola Swing Set Blueprint lets you make your own pergola swing set. This is a fun project for the whole family, and it will look great in your backyard! Build a DIY Pergola Swing Set and create memories your family will cherish for years. This easy DIY project is the perfect way to give your children their own space while creating a relaxing area for adults.
DIY Swing Set Playhouse Plan
A playground is a great place to let your kids play, but what if you need more room for a full-sized playground? Or you want to build something that's only temporary. This DIY swing set playhouse is the perfect solution. The great thing about these plans is that they are super simple so even the kids can help. It's perfect for kids of all ages and uses leftover wood perfectly, making it an inexpensive alternative to buying a new swing set. This project can be done over a week, so if you've been looking for a fun way to spend your summer with the kids, this DIY Swing Set Plan is the answer!
 DIY Playhouse And Swing Set
If you are ready to build a playhouse but need help figuring out where to start, you have come to the right place! With this ebook, you can be on your way to building a DIY playhouse in no time. These plans include everything you need, including materials lists and step-by-step instructions for constructing your swing set. This straightforward plan allows you to achieve a custom backyard paradise for the kids, complete with swings and a playhouse perfect for summer.
How To Build A Wooden Swing Set
Wooden swing sets are a classic; they're sturdy, easy to set up, and look great in a backyard. But if you want something unique, consider a DIY wooden swing set with metal chains. The How to Build a wooden swing set is easy to understand and gives you good step-by-step instructions to follow with pictures. Perfect quality wood for the price and all hardware needed for parts that need screws is included. The metal chain used in this plan is galvanized steel, so it will never rust.
DIY Modern A-Frame Swing Set
This workshop begins by teaching you how to build a traditional wooden swingset and culminates with a complete guide on how to build a modern A-frame swing set. It's a popular choice because it can be built without expensive materials and equipment and doesn't take up much space. This DIY project will help you buy suitable lumber, measure your wood correctly and cut it by hand. Use pressure-treated lumber for the frame, heavy-duty screws for all joints, and galvanized metal hardware for longevity. You can easily adjust the size of this swing set for younger kids or adults to enjoy.
DIY Portable Swing Set
If you have kids who love playing outside, and you're a do-it-yourself type of person, then this project is perfect for you! Building a swing set will entertain your kids while getting fresh air and exercise. This DIY swing set plan is perfect for building a portable swing set that can move from your backyard to Grandma's house. The design is sturdy and easy to build, plus it only requires essential tools, lumber and hardware.
DIY Indoor Swing
Do you have a kid that loves the outdoors, but you can't take them out there because of the weather or because it is too cold and wet? If so, then this swing set is just what you need. It is an easy DIY project that anyone can build in their backyard. Even if you don't have much experience building things, you can still construct this swing set in just a couple of hours using this step-by-step guide. It can be made as a traditional high-back wooden swing or a simple rope seat with a kickboard, whatever suits your needs best! Your kids will love you for it!
DIY Steel Garden Swing
Building a swing set is a labor of love and a great way to spend quality time with your kids. This swing set plan provides all the details you need to know how to construct your own DIY steel garden swing and instructions for assembly, tools, and materials. An out-of-the-ordinary design consisting of various sizes and shapes of pipes and tubes, this swing set will not look like any other on your street! Each piece must be welded together, so ensure you have welding equipment before starting.
DIY Swing Set For Adults
Wooden swing sets are timeless, sturdy, and safe. This simple DIY Swing Set will get your kids squealing with joy! With some DIY know-how, you can build the perfect swing set for your family. The video has all the necessary information before purchasing the wood and tools. It will take you through all the steps needed to build a wooden swing set that your children will play on for years.
How To Build A Strong Swing Set
You must spend hours in the garage with a wrench and many tools. Follow these detailed instructions to build this sturdy 2-person swing set with a wood structure.  Just install the swings and connect them with rope or chains so children can enjoy a leisurely ride. Once completed, your kids can enjoy hours of fun on their own or with friends!
More DIY Plans Waiting For You