26 DIY jewelry box Ideas To Stylishly Organize Accessories!
A personalized DIY jewelry box perfectly suits your organizational needs, style choices, and budget, making every occasional or daily makeover quick and easy. So here are some of the favorite DIY jewelry box ideas to have an appealing storage option that places all your ornaments in the right spot while increasing your home aesthetic, too!
DIY jewelry box Plans And Ideas For Beginners
Locating the right embellishment for today in a big, messy collection can be challenging, especially if spread across numerous drawers. But a handmade DIY jewelry box kit resolves this by providing a separate home for your bracelets, earrings, hoops, and necklaces.
From traditional to modern, wooden to cardboard to marble, small to large, floral to royal, many other designs are in many sizes and shapes in this list of DIY jewelry box organizers. Having a durable jewelry box is a lifelong necessity. Why not make your own using these DIY jewelry box plans to avoid repetitive purchases? They come with useful tutorials that provide both inspiration and guidance. So, be it for a wedding party or a birthday, ensure you have a jewelry box for readiness.
How To Make Your Jewelry Box:
Making your own jewelry box is a great way to keep your favorite accessories safe and secure. It'll also save you money since you may want to avoid splurging on a cute commemorative jewelry box specifically for gifts when it's much cheaper and more convenient to DIY one yourself. We have a wide range of DIY jewelry box Ideas for every taste, from classic to elegant, colorful, and romantic. Making a DIY jewelry box is easy, and you can use almost any material around you in the house. You will need some glue, decorative paper or fabric, card stock, screws and nails, and plain old cardboard boxes
Make A Jewelry Organizer With A Shoe Box
Do you love jewelry but hate the mess it creates in your dresser drawers? Here's a great DIY project to keep it all in order. With just a shoe box, wrapping paper, and a few other items, you can create a delightful and durable piece of jewelry storage that will keep your favorite accessories easy to find and safe from dust. This DIY jewelry organizer is a great way to keep your jewelry organized and safe from damage. It's simple and easy to make, so you'll be able to spend more time showing off your fashionable earrings!
DIY Jewellery Organizer Using Mobile Box
There is nothing quite like a DIY mobile jewelry box when storing your jewelry and other accessories. This box is sturdy and durable and doubles up as beautiful decorations that make your room look more vibrant and alive. This makes it perfect for occasional crafters with limited time and money, but who knows if they need a solution to their disorganization problems? Follow this video guide will teach you how to make such a box at home with minimal cost but high utility.
Make a Simple DIY Jewelry Box
Build a favorite box for keeping your jewelry organized. This simple woodworking project will require only basic hand tools and will take a few hours to complete. Choose any wood you like for this project. The choice of wood will determine your finished box's beauty and final price. This simple box will be stylish and functional and will be built in just a few hours. You can use the same techniques to make these boxes in different sizes or styles, so it's a great project for using leftover wood scraps.
DIY Jewelry Box Tutorial
Here is a simple but beautiful jewelry box made with a geometric pattern. Just think of all the different variations you can add to this design by changing the size and shape of the box or the color scheme. You can adapt this project to your own taste and even use any other decorative elements that you think would go well with it. Create your own jewelry box according to your need. You only need an empty wooden box, acrylic paints, brushes, and a ruler to make this piece of art.
DIY Marbled Jewelry Box
Treat yourself to this gorgeous marbled jewelry box. A marbled jewelry box is a great way to organize your assorted jewelry without hiding it in a drawer. To make one, you'll need to use some special paper, but the beauty in this baby is about experimentation. Once you have your papers, follow the directions in the link below and start working on this project. This project is perfect for those who like decorated paper and want to create their own design. Happy crafting!
DIY Ring Storage Box
There's nothing more annoying than opening the box of your favorite ring and having them scattered everywhere. This storage box is a quick, simple, brilliant DIY to keep all your rings in one place. This DIY ring storage box is an easy project that is sure to be a favorite. Choose your favorite chocolate box, ruler, glue and pencil felt, and you can quickly create this simple yet beautiful storage box. It holds a large number of rings in a small amount of space.
See also: 25 DIY Watch Box Ideas
Handmade Jewelry Box
Create a unique handmade jewelry box for your mom, grandma, or any woman you love. This class teaches how to create this luxury-looking box out of fence post caps and simple materials. You will also learn how to add some fun details and customize the content inside Mother's Day gifts are always appreciated, but they can sometimes be difficult, so why not give her something she will never forget?
DIY Jewelry Box
Making your own jewelry box is easy, fun, and, best of all, unique. All you need is an old box, canvas fabric, and the decorative materials of your choice. Cover the inside of the box with foam or cardboard to give it stability. Next, cut out a section for your jewelry drawer and line it with another piece of foam or cardboard. Decorate your box with glitter paper, ribbon, or other materials as desired. It's a great way to use different materials that you have lying around the house, and it makes a beautiful keepsake when it is finished.
How To Make A Small Jewelry Box
This is a very easy project, perfect for beginners and kids. With the simple design, anyone can make this useful box quickly. The best thing about this jewelry box is that it will not take long to make one, and the materials are readily available at any home depot. This project is simple and easy for any crafter to do at home. We use fabric or wallpaper, cardboard, cutting board, and other recycled materials to make this box.
How To Make A Jewelry Box From Cardboard
You can make this easy-to-open, affordable, functional jewelry box in a few hours. Begin by cutting down your cardboard box, so it's a little smaller than the finished size of the jewelry box. Measure the sides with wrapping paper, and set them as guides for arranging your interior dividers inside the box. Then glue them down with strong craft glue. This easy tutorial will show you how to cut, glue, and assemble a cardboard box into a stylish way to store your favorite accessories.
8. DIY Cardboard Jewelry Box
This jewelry box is very simple to make and fun and easy to craft. Anyone can do this project with little time, patience, cardboard, and glue. This is the perfect gift for someone who loves jewelry and doesn't want to spend a lot of money on special little boxes that store their favorite pieces. A simple and beautiful jewelry box that can be made with your hands in just a few steps. All you need are cardboard, glue, tape, and other simple materials.
DIY Simple Wooden Jewelry Box
This wooden jewelry box is a great project for small children, perfect for the beginner woodworker. This is the perfect project for you if you want to develop your skills and create something modern but simple! The box is made from walnut and finished with a natural penetrating wax as it will help protect the wood, so if you don't like the look of wood treated with varnishes or paints, then you may prefer to use this method. Suitable for beginners, this is a great weekend woodworking project to make or give as a gift.
DIY Jewelry Box Idea
This DIY jewelry box will make a great gift or addition to your own adornments. You need to be good with wood, and you'll need to take the time to cut out your desired sides, but this do-it-yourself idea makes for an awesome piece of furniture. Velvet is used on the top and inner parts of the box for an extra touch of elegance. It's beautiful and easy to make; we bet that once you start, you won't be able to stop at one!
DIY Walnut Jewelry Box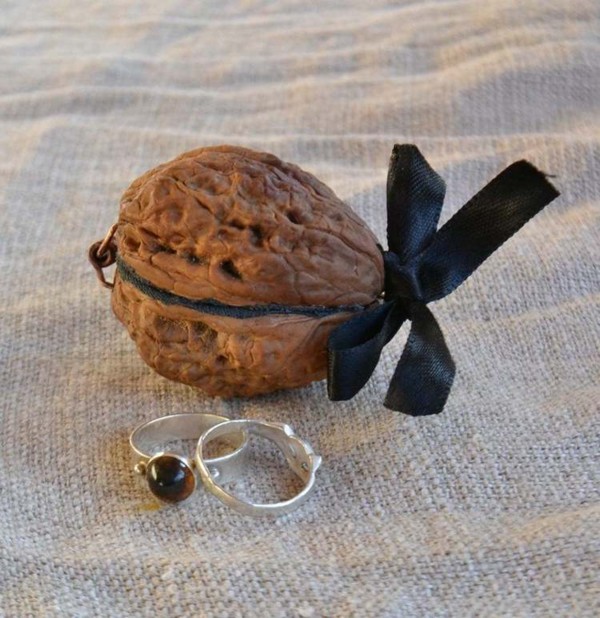 The jewelry box is a very unique piece of craftsmanship. You can use anything to make one of these; just get creative. In this tutorial, the author uses walnut to make his box, then he cuts out the inside fabric, places it in the box, and then glues it. Once everything is dry, one can glue the backside of the wood on the bottom of the wood, and voila! You have a beautiful handmade jewelry box for all your jewels!
DIY Paper Jewelry Box Gift
Decorating is one of the hobbies of a girl. She might be interested in working with arts, crafts, or any other hobby making something new and unique at home. Making paper jewelry boxes would be a great way to pass the time. You can choose different materials, like flowers, and leaves to decorate it more attractive. So forget about boring gifts and give something new and decorative made by your own hands. This great gift can be used as a jewelry box or decorative accessory.
How To Make Wooden Jewelry Box With Drawers
Making a wooden jewelry box with drawers can be a fun and creative project. You will need wood, glue, and tools like a saw, sandpaper, and a hammer. Start with cutting the wood to size, then apply the glue on the edges of each piece of wood. Once you have glued it all together, you can use your hands and nails for further adjustments until everything fits perfectly inside. Follow these steps and make your own wooden jewelry box with drawers.
How To Build A Simple Jewelry Box
If you're a novice woodworker and don't have the tools yet, this is an easy and fun way to build your first piece. This tutorial is great for those who never worked with wood before. The idea is to let the builder explore different shapes, sizes, and solutions to build a simple jewelry box. All the measurements are based on simple stuff you can find at any hardware store, so go out and buy what you need before starting this project.
17. Traditional Jewelry Box DIY
Nowadays, it's hard to find a traditional jewelry box still in its prime condition. We have one suggestion for making your own unique jewelry box. It's a practical handmade DIY project that doesn't require power tools or specialized knowledge. All the materials are easy to find, and the best part is that you can choose which colors and materials you want for this project. You can customize the size of your box based on how much space you want to save for your ornaments.
DIY Book Jewelry Box
A DIY jewelry box is a perfect way to display your favorite pieces, and this one is extra special because it was made from an old book. Find an old hardcover book, remove the pages from the inside, then carefully cut the top and bottom off. Glue or staple the ends together to form a square box with a lid. Then it's time to decorate! Paint or use decoupage techniques to personalize your new storage solution. This DIY is fun and gives your home décor a unique look and feel.
DIY Mod Podge Wooden Jewelry Boxes
These jewelry boxes are a fun and easy DIY project to make. You just need a wooden box, some fabrics, and other items like paints, a mod podge, and glue sticks to create your own custom jewelry box. Use the tutorial to help you get started on your way to a beautiful new piece. Paint a box and add fabric, then apply Mod Podge as you'd like to amplify the pattern of your fabrics. This DIY project is easy to do and requires minimal tools for a result with maximal impact!
DIY Wooden Jewelry Box
Whether you're gifting yourself or another, this Wooden Jewelry Box is perfect. The project requires no skill or experience, but the result will impress anyone who sees it. After preparing and assembling the blanks, the gluing process begins by applying glue to both surfaces and then laying them flat. Then once dry, sanding can be done and carving out any details that may be needed. This project can be taken to any level of complexity by allowing extra time to add carving, inlay, or decorations.
Beautiful Jewelry Box DIY
As we all know, jewelry and accessories are one of the most important things for a woman. So, this is something that you can gift a loved one on any occasion. This jewelry box is made of 2 different items. The outer layer is made with a 12cm white plastic canvas, and the inner lining is made with a 12cm wooden one. This is a perfect project for you. You can create this wonderfully adorable piece of art with the right materials and tools. Whether for a gift or just for yourself, this is highly recommended as a simple but beautiful jewelry box.
How To Make A DIY Jewelry Box
This DIY project will be fun, especially with the little ones. All you need is a sheet of felt and a wooden box. With so many colors to choose from, you can make it pop with a bright color like red, yellow, or blue – or keep it neutral like white or black. You can paint over the sides of the box or even paint all over it! Have some paper bags handy, so you can draw on them for additional visuals for your little artist. Get creative and use stencils for extra special details.
DIY CNC Jewelry Box
This project is part of a series of jewelry boxes designed for the DIY community. It's a 2.5D design with aluminum inlays and intersecting triangles. The lids are attached using dovetail joints. The whole piece is made out of walnut with aluminum accents. The box features regular cutouts and sharp edges that will be perfect for engraving or laser etching. This unique DIY would be a great addition to anybody's collection.
How To Build A Wooden Jewelry Box
The beauty of this wooden jewelry box is that it can be your own creation. If you have been up late at night and feel inspired, grab some wood and get to work. You don't need much more than some wood, nails, and a hammer to build an elegant piece of furniture that could hold all of your most valuable jewelry pieces. The complex design is simple enough to follow, sculpted out of pine. Use it as a consolatory gift, or keep it yourself to showcase your treasured collection.
27. DIY Bracelet Storage Box
Are you a jewelry lover? Then don't forget to check this out! This DIY Bracelet Storage Box is perfect for your tiny but expensive jewelry items like rings, earrings, and watches. If you have a big collection of bracelets, this project will greatly help you. All you need is a cardboard box, toilet paper tubes, or cardboard roll to the desired size of your jewelry, cling wrap them, and it's ready to go! Save your bathroom counters from overflowing with products, and keep your bracelets neatly wrapped up in this stylish storage box.
More DIY Projects Collections