15 DIY Sideboard Ideas For Home Decor
We love adding a beautiful sideboard to the room to add the "WOW" factor! They are versatile and can be used as storage, coffee table, or a decorative piece in your space. Check out our DIY Sideboard ideas for some inspiration!
DIY Sideboard Plans

If you are looking for sideboard ideas, you will find many different styles, sizes, and materials. Use this guide as a starting point for building your dream sideboard. Take advantage of these easy and affordable DIY projects to create a sideboard that suits your needs or tastes.
Check out these top 15 DIY sideboard ideas. They'll show you how to make a stylish sideboard for your home decor. The designs range from pallet-made shelves to a vintage dresser turned into a new furniture piece. These projects can help you change your dull walls and side tables into something special.
Uses of DIY Sideboard
Making a sideboard is a great DIY project because it can be used in many ways. You can use it as a sideboard, drink table, or coffee table. It's ideal for entertaining guests because its solid construction makes it strong and sturdy. It will also be an excellent option if you plan on moving soon because it's easy to transport and stores away easily.
DIY Modern Sideboard With Mesh Doors:
This stylish industrial sideboard is perfect for any modern home. This sideboard is made from pallet wood, which features mesh doors in the front and open shelves inside.  This piece is a great addition to your modular home office, living room, or dining area and can be easily built. You can use it as a media stand or for storage in your living room, bedroom, or office space.
DIY Sideboard Cabinet
Create a DIY sideboard cabinet that fits easily in any home space. This project is great for people who like to make things themselves, but the process can be daunting for beginners. You can make this beautiful piece that will add elegance and style to any home or office space. With help from this guide, you'll soon have a beautiful new sideboard to show off with pride.
DIY Sideboard Buffet Plan:
Matching the colors of your dining room is essential, especially in a room with no built-in furniture. A beautiful sideboard buffet plan can give you the perfect backdrop for serving and decorating all at once. This DIY Sideboard is a great addition to any home, with versatile function and style.
DIY Modern Kitchen Sideboard
Turn your dining area into a stylish, welcoming space with this DIY Kitchen Sideboard. The sturdy and durable design will give your kitchen the modern look you want. Made from quality materials, it also makes a great storage unit for books, magazines, and other items. Here is a guide that will walk you through creating a sideboard tailored to your needs and style.
Farmhouse Sideboard Idea DIY
This tutorial will show you how to make a farmhouse sideboard or buffet using basic tools and materials. It's a great idea for those who require extra storage space, and if you have an old dresser lying around, it's best to use it instead of buying new materials. It can be painted easily to customize the color of your choice, making it look even more gorgeous!
Modern House Sideboard DIY
This DIY Sideboard is the perfect way to keep all of your favorite drinks and snacks organized. The DIY Sideboard can be built in any size and includes shelves for displaying bottles or glasses, a bar area with an attached rack for mixing drinks, and an area where you can store wine bottles. With the help of some basic tools and a few hours of work, you too can enjoy this piece of furniture in no time!
DIY Sideboard From Stock Cabinets:
This DIY sideboard is made from stock cabinets, making it an easy and affordable way to build furniture. With just a few simple cuts, you can have a beautiful sideboard that takes up little floor space. Best of all, it's entirely customizable to fit your needs and style! You can make it from any surface and accentuate it with your style. The guide below will teach you the whole procedure!
Ikea DIY Sideboard Hack:
Have you already finished with the DIY sideboard idea? If not, then this is a nice one for you. It's a simple project that takes little time and money but makes an impact! Ikea is always a good choice because they have so much to choose from. Just think about it. If you love those DIY projects and love to save some bucks along the way, this is something of your interest. Go through this guide below!
50's Inspired Sideboard DIY
If you want to create a vintage vibe without spending a fortune, this easy DIY sideboard project is for you. It's a great way to add an eclectic look to your living room, dining room, or foyer. Crafted in the style of a classic sideboard, this 50s-inspired piece will help you to create the perfect atmosphere in your living room. The design is spacious and practical, with a large open shelf perfect for displaying photos and other small decorative objects. In addition, this sideboard uses minimal materials, making it an affordable project.
Retro DIY Sideboard
Everybody loves a decorative sideboard; if you have the space, why not create your own? This Retro DIY Sideboard is a great living or dining room addition. The fully functional piece holds wine glasses, plates, and other kitchen accessories. It's a unique piece that blends style, function, and traditional elements into one functional design. Using a few simple materials coupled with bright and bold styling, this DIY sideboard idea provides both functionality and stylish.
DIY Sideboard With Wine Storage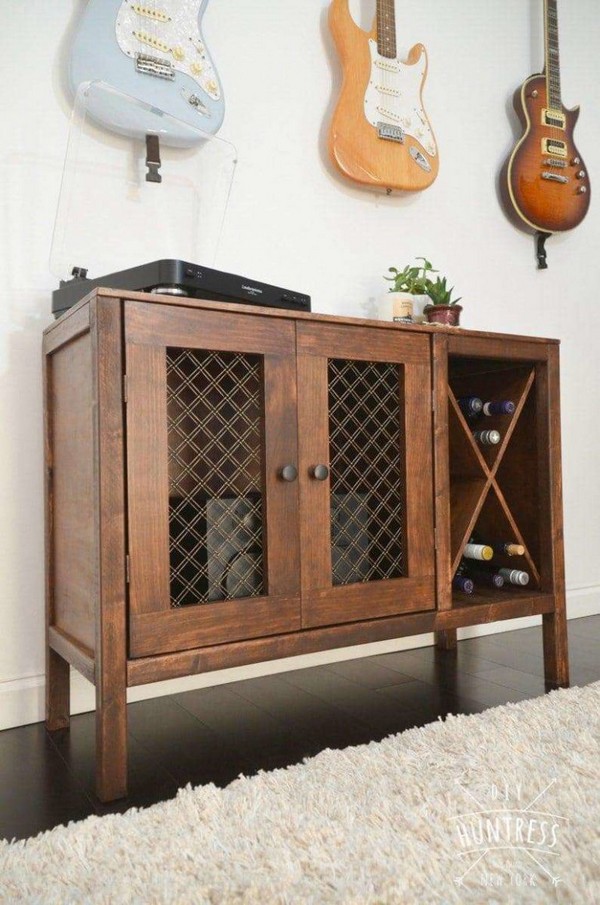 Try this interesting DIY Sideboard idea if you want something modern and unique. It could be used for wine storage or as a beautiful display piece in your home. So, Learn how to create this beautiful sideboard with wine storage that you can cherish for years.
Scandinavian Modern Sideboard DIY
This Scandinavian Modern Sideboard DIY project is a great fit for anyone looking to add more storage to their home. Its sleek design adds a stylish touch that fits various decor styles, and its simple assembly makes this project a breeze! You can customize it to fit any room and even change it up if your design style changes when you move. So, Make this sleek, simple sideboard with the help of this guide!
DIY Mirrored Sideboard From Dresser
This DIY sideboard idea is a practical and stylish option for your home. It's a great deal to put in your dining room or living room. This project is a great way to give a new look to an old thrift store piece. Use this design and ideas to turn an old dresser into a beautiful mirrored sideboard. You can customize this project based on style, from modern to classic. Whether you are styling it for your dining room or kitchen, you can find the perfect fit for every space!
 DIY Box Sideboard
This DIY box sideboard is a beautiful piece of furniture that you can make yourself. Using a combination of plywood, pine, or oak boards, this is easy to construct and looks great. With this beautiful sideboard project, you can Learn the basics of DIY from beginning to end. This simple and practical design makes it a perfect addition to your home. A few wooden boards, screws, and nails are all you need to create a stunning piece of furniture or decoration that can complement any decor style.
Bowling Alley Sideboard With Wine Storage
Try this stylish bowling alley sideboard with a unique design combining functionality and beauty. A great addition to a modern-styled home, this sideboard includes wine storage to entertain guests in style! The design captures the vintage feel of a bowling alley while adding a touch of class and elegance. This is a fun way to create furniture with storage that doubles as decor. Use this guide below to learn more!
More DIY Ideas: