17 DIY Spice Rack Ideas For Organization Of Your Spices
Today, we're talking about spices! Specifically, we're sharing some fun and creative ways to organize your spice collection. If you're tired of digging through jumbled racks or forgetting where you stashed coriander seeds from your takeout meal, these DIY Spice Rack Ideas will help you put your spices where they belong.
DIY Spice Rack Ideas

Spice racks provide a convenient way to keep your spices organized, making finding the seasoning easier. Imagine the possibilities a DIY spice rack affords. You can choose the style and size that suits your kitchen and add personal touches to express your kitchen's personality. Or, you can build an eye-catching wall art piece where you display different spices to create a stunning visual display.
How To Make Spice Rack?
Learn how to make your spice rack with these DIY spice rack ideas. Discover the range of styles and colors you can use and the many different materials that work well for a spice rack. You can go with the vertical/ horizontal option or go for the space you have and your style; this series is loaded with endless ideas, and I do hope you'll find the best inspiration here.
Benefits of DIY Spice Rack Ideas
Space Saving:

 A well-planned spice rack can help maximize storage space in the kitchen.

Organization:

 It helps keep your spices neatly arranged, allowing you to locate what you need easily.

Cost-Effective:

 Building your spice rack can be more economical than buying a premade one.

Personalization:

 You can design and tailor your spice rack to fit your kitchen decor and personal style.

Ease of Use:

 With a DIY spice rack, you can ensure it's conveniently located, making cooking more efficient.
DIY Spice Rack Cardboard Plan:
Learn how to build your spice rack for all your spices. This DIY spice rack is made from cardboard and can be placed anywhere in your home. Making a spice rack out of cardboard is an inexpensive, straightforward activity you can do when you have some spare time; it's easy peasy and looks great when you are done. This easy DIY project will add lots of style to any home!
How To Make A DIY Spice Rack:
A DIY spice rack makes organizing and finding your spices much easier, especially if you like to cook a lot. It'll also help you prevent buying a ton of the same seasoning you already have at home. The other exciting thing about this project is that this is easy if you want to redo your cabinets or add more storage space with minimal effort! The tutorial will walk you through the complete procedure!
DIY Spice Rack Wood Plan:
This DIY spice rack looks great in any kitchen! It is simple to build and will improve the overall look of your kitchen. This spice rack includes a unique design that allows you to store all your favorite spices while keeping their labels in place! You can have the perfect spice rack for your kitchen in just one weekend. This Wood Plan gives you the exact dimensions to create this simple organizer. It's ideal for small spaces since it fits directly over your cabinet door.
DIY Spice Rack Idea For Countertop: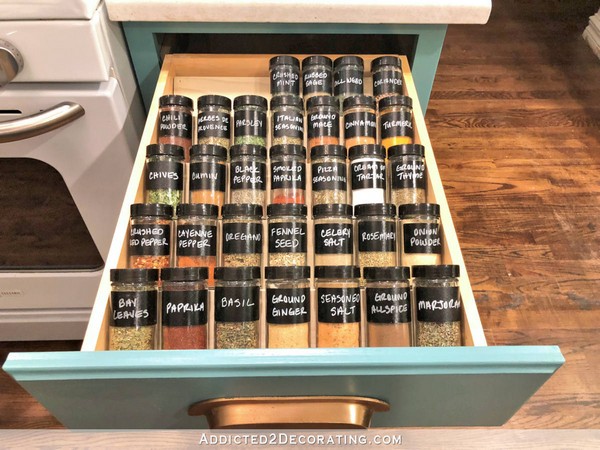 This DIY spice rack idea for countertops is a great way to keep your spices organized and on hand whenever needed. You can make it an easy, inexpensive project in just 10 minutes! It's a great way to maintain a clean, organized space that makes cooking entertaining for guests. This DIY spice rack idea is easy to make and can be changed to fit your taste. So, let's get started!
Pallet DIY Spice Rack:
A pallet spice rack can help you to organize your kitchen and make cooking more enjoyable. It takes up less space than traditional wall-mounted racks and can also be customized to suit your needs, making it a DIY home project that yields significant results! This DIY spice rack idea is super simple to make and will hold all your essential spices from around the kitchen. Not only is it functional, but it's also a great way to utilize an old pallet that may have been forgotten in storage.
DIY Spice Rack Pull-Out:
Using this DIY project, organize your spices precisely when you build your spice rack. A simple design allows easy access for adding or removing spices in each compartment, while the pull-out design makes it even easier to grab exactly what you need. You can easily install it in your cabinet and easily access your spices. When stored in the cabinet, the rack pulls out for easy access. Look at how to DIY an easy spice rack to simplify your life!
DIY Spice Rack Dollar Tree:
This DIY spice rack idea is the cutest way to store your spices, and it makes a nice gift for a newlywed couple. Depending on personal preference, the wooden shelves can be painted or left natural and customized to match the couple's home decor. Using wooden crates, shelves, or dowels to create compartments for the spices and attaching them to a board or other surface can make a rustic and charming look. This would be a great way to use up-cycled or reclaimed wood and make something functional and beautiful.
DIY Spice Rack Wall:
Give your kitchen decor a major lift with this DIY spice rack wall. Sure, you could store your spices in a drawer, but having them all nicely displayed on the wall is much more fun and convenient. The simple DIY Spice Rack Wall is a fun weekend project for the home kitchen. You will love how easy it is to customize your spice rack to reflect your tastes and style.
Homemade DIY Spice Rack Idea:
Store your spice collection in style with this easy DIY project. Mounted on the wall or door and constructed from clean, modern materials, this spice rack style is a surefire conversation piece in your kitchen. This spice rack idea makes it easy to see each bottle; there's plenty of space to store what you need, so you never have to repurchase duplicates! This makes an excellent gift for newlyweds or new homeowners just learning to cook!
DIY Spice Rack For Pantry Door:
Add spice to your kitchen pantry with a DIY spice rack design. If your cooking skills are as good as your DIY skills, you'll love this easy spice rack that can be installed in almost any location, including the inside of a cabinet and on the outside of the door. This sleek do-it-yourself project's clean lines and open shelving make it easy to see and use everything you have stored. You can make it with inexpensive materials, so it's a budget-friendly DIY project that's still stylish and useful.
DIY Test Tube Spice Rack
Looking for a new way to organize your spices? Check out this DIY test tube spice rack that can hold up to 10 spices. This spice rack is made from test tubes and serves double duty as a beautiful home decor piece while maintaining practicality. You don't have to spend big bucks on a fancy spice rack to organize your spices. This DIY test tube spice rack idea is inexpensive and easy on the eyes.
DIY Spice Rack Cabinet:
You can make a lot of things in your home, and the spice rack cabinet is one of the most important and popular things to do. This handy tool will help you organize all the spices or other things you need in a single place. And although you can buy one, it can be expensive; this is much more fun if you DIY it yourself. So, save time and money by making your spice rack cabinet following this DIY project.
DIY Mini Mason Jar Spice Rack
This DIY spice rack idea is filled with inspiration and creativity. Make your own mason jar spice rack and have a place to store all of your favorite herbs and spices. You can customize the rack size, shape and texture you create. It's an easy DIY project that will make your spices easily accessible!
DIY Wall-Mounted Spice Rack
Take your kitchen to the next level with this easy-to-create spice rack. This DIY Spice Rack Idea is an easy wall-mounted DIY project for a stylish way to organize your spices. It goes on the wall and can be customized for labels or photos. You'll never see a repetitive spice ingredient again! This time-saving and affordable new solution will make your kitchen more functional and organized and help you get dinner on the table faster!
DIY Built-In Spice Rack
If you want an easy and smart storage solution for your spices, this DIY Built-In Spice Rack is an excellent option. Not only is it easy to make, but it can be customized in any color to match the design of your kitchen. This spice rack is a nice DIY project for anyone who loves to cook. It's easy to make, and you can easily build it in any décor. Go through the guide below that will teach you the whole procedure!
Spinning Spice Rack DIY
This DIY spice rack is a great idea for storing your spices. You can make a spinning spice rack that rotates and shows off your spices from every angle. It looks stylish and makes it much easier to see your spices at once! This DIY spice rack spins around, giving your spices easy access while the jars are safely secured. It couldn't be easier to make and costs very little. Use this guide to learn more!
DIY Fancy Spice Rack
A fancy spice rack can be an inexpensive project for someone looking to have a little fun with their kitchen. This project involves painting, gluing, and drilling small holes into your chosen wood piece. Always use a mask over your mouth and nose when working with paint or wood glue. There is no need to go overboard on the number of spices you store on your shelf! It is made of wood, is simple but elegant, and will look great in any kitchen!
More DIY Ideas: