21 Free Crochet Tulip Patterns To Bring Spring Vibe!
Blossom colorful flowers at home for all seasons with these easy crochet tulip patterns in many bright shades and lovely designs. Whether to brighten up your space with some spring decor or to embellish your functional and cozy items, all catching the charm of this flower, these are some of the best inspirations and guides. When made with great affection and love, they are great gifts for a dear one in your life as a silent caretaker and keepsake.
Free Crochet Tulip Patterns For Beginners
Complete your crochet tulip bouquet with these patterns that nobody will want to miss, especially a true flower lover, since a tulip is one of the most favorite flowers ever coming in all popular colors. So, they will be perfect for your next crochet project, with so many options, from tulip blankets to bags, amigurumi to keychains, wall hangings to appliques, and more. Want a whole pattern filled with a tulip vibe? Learn how to crochet a tulip stitch with our crochet tulip tutorials for beginners. Since a crochet tulip is always durable and fresh, your home stays colorful for years. These 3D tulips don't care, so always be ready to receive beauty. Choose from modern to stylish designs, whether for decoration, gift, or fun.
3d Tulip Stitch Tutorial:
This 3D tulip is a delightful crochet pattern for the beginner to intermediate crocheter. This detailed pattern can be used as a reference point by any crocheter. Crochet a unique and vibrant spring-time statement piece to add color and style to your home decor. This is perfect for baby showers or for those who love tulips. It adds a beautiful touch to your home decor. Made from cotton yarn and can be used as a table centerpiece, placemat, or just hanging on the wall as a decorative piece.
Free Crochet Tulip Applicues For Hat
Crochet flower for the hat-free pattern. Looking for a quick and easy crochet project? This free pattern is perfect for beginners. It includes instructions for making your crochet flower hat or adds it as a brooch to your favorite jacket, hat or bag. This free crochet pattern is for a flower that can be attached to your hat wrap or any other project you are making. You can use it to decorate almost anything, like headbands, bags, blankets and scarves. Create this beautiful and versatile flower to wear anywhere you're going.
Crochet Tulip Granny Square Top: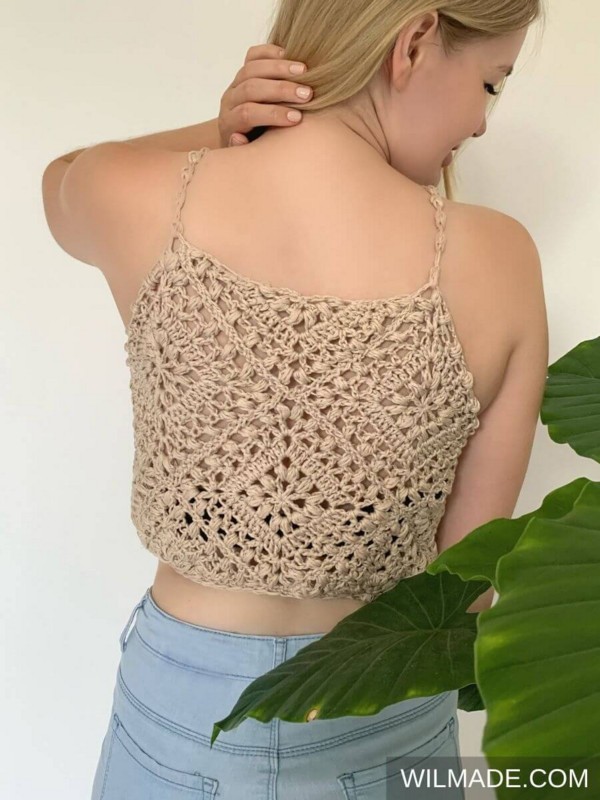 This Crochet Tulip Granny Square top is a unique and fashionable piece of clothing. This top is made from 100% cotton fabric with a soft tulip design. The crochet floral appliqué on the front gives this piece a feminine touch. The model wears an extra large in our pictures, but each size will fit differently, so you may want to consider purchasing based on your measurements rather than what size you usually wear. Pair it with jeans, leggings, or shorts- the perfect on-the-go or casual weekend wear.
Crochet Tulip Stitch Pattern:
The crochet tulip stitch pattern is easy to use in almost any project, from blankets to baskets, to hats and even to booties. Whether you make a blanket or afghan, it creates a beautiful geometric pattern. This pattern is perfect for beginners. It works quickly, is easy to follow, and has step-by-step instructions and pictures. The crochet tulip stitch pattern makes a beautiful afghan or scarf when worked in three rows of color.
Crochet Tulip Bag Free Pattern:
Crochet Tulip Bag Free Pattern is a beautiful bag you can make with super bulky yarn. It's incredible how much your crochet hook can do. This gorgeous tulip bag looks complex, but it's straightforward to make. It is a beautiful crochet project that will keep you busy for many happy hours. This free pattern is easy to follow and perfect for crocheters of all skill levels. Make sure to share it with anyone who enjoys spring's bright colors. You can choose from many colors or use the same color throughout for a neat look.
Crochet Tulip Hand Towel:
Get your flowers and stems anywhere! This cushiony hand towel is soft but sturdy, absorbing water without dripping. Crochet from thin cotton thread, the tulip design knits up quickly and is stylish and functional. Ideal for use by the sink or as a table cloth when serving food at outdoor picnics or campsites. It's unique and fun, yet simple enough to crochet in an evening. It would make an excellent gift for any lady with a sense of style!
Crochet Tulip Coffee Cup Cozy:
You need a cozy to keep your favorite coffee or tea warm when you drink your favorite coffee or tea. If you love a tulip cup cozy, you'll love this crochet flower coffee cup cozy. This little beauty will warm your favorite beverage and make the perfect gift for any gardener. The pattern includes single, double, and triple crochets, so it's suitable even if you have never done a stitch before. Whether driving in the car, having a picnic at the park, or just hanging out at home, you will want one of these cozy to help keep your beverage nice and warm.
Crochet Tulip Applique Pattern:
The crochet tulip applique pattern is a great spring project. Whether you're new to freeform crochet or want the challenge of a new design, this applique pattern is for you. Its easy-to-follow instructions make it simple for anyone to make one in no time. This project is perfect for beginners, and you can use the finished product to decorate hats, bags, or home decor items. It will look great when enhanced with embroidery.
Free Crochet Tiny Flower Blanket Pattern:
This Tiny Flower is a quick and easy crochet project for any skill level. Use this little flower alone or as part of a larger project like a headband, hat, or cowl. It will surely add a bit of flair to any color you choose. Learn this easy flower pattern, then practice making your crochet hook bouquet. Instructions for a basic version include tips and variations on making it even more beautiful. This pattern has some abbreviations you will need to familiarize yourself with.
Crochet Tulip Keychain:
You'll be twirling your keys in delight with this crochet tulip keychain. Crafted from lightweight cotton, it features a removable hook to keep your keys together and attractive flower center embellishments. This is a beautiful, modern way to store your key. Just add this easy crochet project to your bag for instant style. The pattern includes instructions for both crochet hook and steel hook versions. The perfect addition to any handbag, luggage or backpack!
Tulip Flower C2C Graphgan Square:
This Tulip Flower C2C Graphgan Square is a cozy, plant-inspired design that's easy to make and showcases our beautiful yarn colors perfectly – plus, there's even a bit of colorwork too! It's perfect for using any leftover yarn and will make a versatile blanket square for all your projects. The high contrast pattern allows it to stand out on a finished afghan or can be worked together as a beautiful accent piece.
Crochet Tulip Bouquet Pattern:
This tulip bouquet is the perfect addition to your wedding decor, a lovely gift, or something pretty to keep in your home. The pattern includes instructions for making the tulips and their stems and attaching them to one bouquet. The color scheme of this pattern would be perfect for a spring or summer wedding or a birthday party. This pattern is also perfect for beginner crocheters and can easily be made with just five yarn colors.
C2C Crochet Tulip Square:
Upgrade your home decor with this beautiful and colorful border. Make it for yourself or as a gift for a friend or loved one. This crochet square is the perfect addition to any room, and the pattern is small enough to fit in any bag to take with you on the go. If you've never done this before, it's excellent practice for technique since it requires lots of tension control and regular increase stitches to create the square shape. You can use this pattern to add to a blanket of your own.
Tulip Mini Wall Hanging:
Beautiful yet simple, this tulip mini wall hanging will bring a pop of color to your home. Hang it in a cluster on the wall or alone on a shelf, but either way, its artful shape and vibrant colors will add a touch of inspiration to your day. Made from a piece of high-quality fabric, this wall hanging features a gorgeous design with a soft, appliquéd tulip that brings added texture to your walls. The neutral colors make it ideal for any room – try hanging several at different heights for a stunning effect!
Crochet Tulip Throw Pillow:
The Crochet Tulip Throw Pillow is the perfect accent for your living room, bedroom, or any other homeroom. This beautiful square pillow features a flowery applique and fun button accents that bring the springtime look indoors. Enjoy the beauty and simplicity of this crochet tulip throw pillow. The adventurous fabric choice makes it whimsy, while the timeless design ensures that it will remain an heirloom piece for years. The size is perfect for any couch or chair, creating a focal point in any room.
Crochet Tulip Coaster:
Show off your love of crochet with our Crochet Tulip Coaster. This delicate, hand-crocheted coaster is the perfect accessory for your coffee or end table. Its simple design and durable cotton canvas make it a beautiful addition to any décor. Crochet this beautiful tulip coaster for yourself, or give some beautiful color to your home with this crochet pattern. This could make a great hostess gift, or you could keep them all for yourself and create a wonderful collection of coasters.
Tulips Crochet Wall Hanging:
Crochet Flower Tulips Wall Hanging Pattern, a beautiful modern wall hanging for your home, is the perfect finishing touch for any room. This will look great framed or just hung up as it is. It would also make an excellent gift for any occasion:
Mother's Day, Valentine's Day and birthdays.

Housewarming gifts.

Bridal or baby shower gifts or just because you love someone.
The detailed flowers and leaves are perfect for any summer decor or add a splash of color to become the centerpiece of your home décor.
Crochet Tulip Square Cardi:
This cozy crochet cardigan is oversized cute and warm! Crochet from the softest yarn, this tulip square design will quickly become your favorite layering piece for chilly evening walks or toasty breakfast nooks. This crochet tulip square cardi is a versatile choice for year-round wear. Featuring a double-cloche style, it looks as good when paired with dark jeans as with lightweight knits and dresses. The classic color palette means this piece can be worn in almost any situation, while the crochet flower details make it fun to layer over your favorite outfits.
Crochet Tulip Potholder Pattern:
This decorative crochet potholder is a beautiful addition to any kitchen. Although it is made in a traditional granny square style, to give it extra texture and interest, the center of tulips will bring you back to the joyous springtime season. The flower stitching on this tulip potholder pattern will have you wanting to crochet more than one. This great crochet pattern works quickly and makes a lovely gift for any occasion!
Crochet Tulip Bag Pattern:
The Crochet tulip bag pattern is a fun crochet project using colorwork and techniques that are easy to learn. Add some spring to your wardrobe with a crocheted bag! You'll find it easy to make and all made from single crochets! It's the perfect summer accessory; you can wear it with everything in your wardrobe. This pattern is a winner for beginners looking to add beautiful detail to their knits or crochet. You can choose your colors to make it unique and one-of-a-kind. It's perfect for carrying flowers, magazines, or even groceries.
Border For Crochet Tulip Afghan:
Add a beautiful border to your crocheted granny square projects with our Border For Crochet Tulip Afghan. This accessory can be attached to any of our granny square afghans or blankets and is available in two sizes: big and small. The instructions include the basic crochet stitches – chain, slip stitch, single crochet, and double crochet – so even beginners can create beautiful heirloom pieces. You could also use other stitches to create different designs of flowers.
More Crochet Collections