15 Crochet Flower Bouquet Patterns For Floral Gifts & Decor!
These durable, always fresh, and carefree, colorful crochet flower bouquet patterns will brighten up any corner of your home, cozy to functional accessories and garments for years to come, becoming a true symbol of affection, all while catching the fragrant blooming charm we love!
Crochet Flower Bouquet Patterns For Beginners
You can not remember at your fingertips how many types of flower bouquets crochet patterns you can crochet, from the charm of most admired roses to summer vibe sunflowers, spring floral bouquets to rainy Lillies, and more.
Whether it be a wedding, an anniversary, a friendship, Mother's Day, a spring party, or any event, show your love to a dear friend or family member with a perfect flower bouquet. Each gift you give, each token of love is filled, so make one today, as making them is extremely easy. All you need is basic crochet stitches, some supplies, and knowledge of attaching flowers. Even in winter, when flowers are rare, you always have a soft and appealing item with you!
They are also a great way to use old yarns, taking up small amounts when you have some free time. This set of floral crochet patterns can make pretty ornaments, pincushions, hangings, other cute decorations, and more! So, let's explore this amazing list!
Rose Flower Bouquet
This bouquet of roses is always fabulous, no matter what the occasion. They are so pretty and can be turned into a small or full bouquet. They would look great in a vase on your kitchen table. Or if you're feeling adventurous and want to crochet something that would look great in your wedding, put them in the bride's bouquet. Use these instructions to crochet any flower you'd like. The best part is choosing your favorite colors and making as many flowers as possible.
Tulip Bouquet Tote Bag
The Tulip Bouquet Tote Bag is the perfect way to carry your things. This bag is a cute, casual bag that can fit all of your daily essentials, and you can even use it as a weekend bag when you're going away with friends. It features a detachable shoulder strap and an outside pocket with eye-catching colors. You can make it in various colors; each is hand-made and sewn together with love. Roomy and roomy enough to carry all of your essentials!
Assorted Rose Bouquet
Bring a ray of sunshine to someone's day with our beautiful Assorted Rose Bouquet. This radiant arrangement blends bold and soft shades, including pink and peach roses, purple stock, yellow daisies and more. From birthdays to getting well wishes and everything in between, these fresh flowers are sure to make an impression. The classic beauty of these red roses makes them the perfect gift for weddings, anniversaries, birthdays, and other celebrations.
Chunky Spring Flower Bouquet
Spring is upon us, and we're ready to celebrate this season in style with our Chunky Spring Flower Bouquet. It features bright, hand-dyed orange, blue and purple flowers that create a delightful pop of color against a gorgeous, muted gray backdrop. Our handmade bouquet will be the perfect addition to an arrangement on your desk or table or simply as a gift for yourself. The bright colors will brighten your home and make you smile whenever you see it. The pattern is easy for beginners and challenging enough for more advanced crocheters.
Realistic Crochet Flower Patterns Free:
These realistic crochet flower patterns are great for all skill levels. They work up quickly, and there is no sewing involved! Make them in any color you'd like with your favorite yarn. These flowers would look pretty in any home decor or craft project. You'll find quick instructions on crocheting realistic petals simultaneously and creating clean lines with sharp-blade scissors. The pattern is straightforward; you can make them dress your home or gift it.
Joyful Bouquet Purse
Embrace your inner flower child with this classic crochet purse. Handmade from cotton and boasting a pocket to hold your phone or keys, it's lightweight enough to toss in your bag or backpack and go. Decorated with crocheted flowers, this purse is handcrafted with love and perfect for the beach, school or a picnic date. This crochet bouquet purse is an excellent gift for your mom, grandma or friend on Mother's Day. It also makes a beautiful handmade gift for bridesmaids at weddings.
Rose Bouquet Hoop Wreath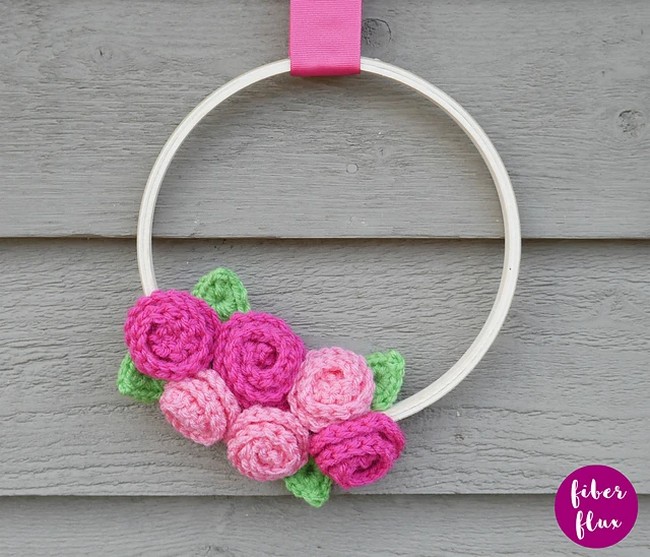 Show off your love for spring blooms with this crochet rose bouquet hoop wreath! Made of premium quality, soft tulle fabric and nylon thread, it features a beautiful design of curtain-like fabric that shimmers in the light. The wreath is durable enough to hang outdoors on a porch or balcony so you can enjoy your flowers all year. A great way to keep your home fresh is to hang it on the wall and use it as a table topper or prop on your coffee table. The perfect addition to any room!
Spring Bouquet Flowers
The realistic-looking flowers are made from crocheted blossoms and arranged to create an elegant, modern look that will delight your home decor. This pattern uses the basic crochet chain stitch and simple variations to create flowers with various shapes and sizes. The flowers in the bouquet can be made individually or combined with a button to create one large bouquet. This pattern includes full written instructions and links to helpful video tutorials that teach everything from working in the round to attaching your flowers.
Bouquet of Carnation Flowers
Our beautiful crochet bouquet is the perfect present for someone who loves to create DIY home decorations. Each flower has a unique design and looks fantastic on display in any room in the home. This set of crochet flowers makes a lovely bouquet, or use them individually or in combination to create any look you like. The colors are bright and cheerful, and they make a fun crafting project. Cute and elegant design that will make your loved ones happy!
Flowers Bouquet hat
Give your loved one a bouquet of crochet flowers! There's nothing like being able to surprise someone with something so beautiful. Crochet flowers bouquet hat made from soft acrylic yarn, perfect for spring and summer; who else would love this? It features flowers and leaves in various shades of green and is right at home for both boys and girls. The finished size measures approximately 10 inches across in width and 13 inches high. Wear it with your hair down or pulled back.
Crochet 3d Flower Bouquet Free Pattern:
This crochet pattern creates a bouquet of stunning 3d flowers. The designer who published this pattern says a bouquet of roses inspired it. Crocheted with a soft yarn, these flowers make for a gorgeous spring gift. The pattern is designed to use leftover yarn and be assembled in an evening or two, so you might want to make one for yourself too. It's a perfect way to dress up a room, table or shelf and make it look stunning! Knowing how to crochet is all you need for this adorably simple project, and it's free!
Bouquet Ladies Slouch Hat
It's that time of year to start making your spring and summer outfits a little chicer, so get it going with this beautiful Bouquet Hat. The delicate crochet flower is bright and cheerful, just like the sunny weather ahead! And the slouchy hat can be worn to work or play because we all need that perfect hat for extra-chic fashion. This unique crochet hat is crocheted in a rustic bouquet pattern using an organic cotton yarn that adds a touch of softness to the hat. It is perfect in size to fit most heads comfortably. The perfect accessory for a night in or out on the town.
Reed Bouquet
Create fun bouquets of crochet flowers. Make a few in sock yarn, sew them onto a scarf and transform it into a creeper. Make some to add to brooches or hair accessories. Try making them in various colors to go with a range of outfits or make mixed bouquets for gifts or a loved one. They can be sewn on as brooches, hair accessories, or used as bookmarks and will look great on everything from scarves to blankets.
Dishcloths Bouquet
This fun, colorful bouquet of dishcloths brings a little sunshine to your kitchen. Crochet them in shades you love and enjoy the quick work of those dishes. The bouquet includes two medium-sized, one small and two miniature (potholders) stitch patterns that you can use individually or combined for various looks. The set is made with comfortable Coats Creme de la Creme yarn, a durable dishcloth you can enjoy washing after washing. These cotton dishcloths are extra absorbent and durable, making them great for daily use in your home or as hostess gifts.
Crochet Rose Bouquet Free Pattern:
Add this adorable rose bouquet to your home, or give it as a gift. You can finish this fun and unique craft in just a couple of hours. The pattern includes easy-to-follow instructions with photos and full-color illustrations to help you along the way. The perfect housewarming accessories, these crochet roses are easy to customize to fit any home decor. This free crochet pattern is simple enough for novice crocheters but elegant for even the most experienced crafters!
More Crochet Collections