17 Free Crochet Drawstring Bag Patterns For Carrying Little Stuff
Crochet drawstring bags are a great way to help you bring your essentials wherever you go. They're lightweight and easy to carry, which makes them perfect for nights on the town or throughout the day at the beach. These crochet drawstring bag patterns are especially useful if you need something to carry but don't want it to weigh down your shopping bags too much.
Crochet Drawstring Bag Patterns

Our free crochet bag patterns are a fun way to add color and flair to your next project. We have included free crochet drawstring patterns that are great for gifts, to hold all sorts of items, or even as an office helper. Whether you want a new bag or a more traditional style, we have you covered!
Supplies Needed For Crocheting Drawstring Bags
here we have listed the major supplies needed to make drawstring bags for yourself:
Benefits Of Making Drawstring Crochet Bags:
Sense Of Personalization: The freedom to pick the colors and patterns allows crocheters to express their style and creativity.
Quick and Gratifying: It takes less time to complete a drawstring bag than a large project (like a blanket), making it a quick way to experience the joy of completing a crochet project.
Customizable Size and Design: The size and design of the bag can be easily adjusted based on the intended use, providing a flexible project for the crocheter.
A Great Gift: Handmade drawstring bags are wonderful personal gifts that friends and family will appreciate.
Crochet Drawstring Coin Purse Pattern:
You're going to love this crochet drawstring coin purse pattern! It's the right size for carrying your phone, credit cards and cash. You can make it in any color or change the design with a different yarn. Add a zipper pull or button, so small items don't fall out. It will be easy to crochet this coin purse pattern since it takes less than an hour to make and only requires a little knowledge of basic crochet techniques. This coin purse makes a great gift for teens, tweens, and adults.
Crochet Drawstring Bag Pattern Granny Square:
If you love granny squares, this is the perfect bag for you. The drawstring closure is the perfect way to finish any crochet project and makes your workmanship stand out as nothing else can. It's simple and easy to follow, with lots of photos, a few stitches and basic techniques. You can use this pattern to create your bags quickly or use it as a starting point for something more elaborate, such as a rucksack or clutch bag. And what better way to use up all those leftover yarn scraps than making a square? Let's get started!
Free Crochet Pattern For Small Drawstring Bag:
This crochet pattern for a small drawstring bag is easy to follow. You will need some worsted-weight yarn and a 5mm crochet hook. This a great project for beginners or advanced crocheters looking for an easy, fun pattern. A great way to use up scrap yarn or grab the discount balls of yarn on sale at your local craft store. This free pattern is excellent for beginners and will teach you how! With this easy-to-follow step-by-step guide, you can whip up your bag in no time. This design works quickly, so it's the perfect gift for any occasion.
How To Crochet A Drawstring Bag For Beginners:
If you've never tried crochet before, this beginner crochet project is just what you're looking for! Crochet a drawstring bag that's perfect for holding any essentials. This project is a great way to start quickly if you're learning how to crochet. It's quick and easy, and you'll be able to finish it in one sitting! The great thing about this pattern is that it's flexible: you can make it any size you want. You'll also need basic crocheting knowledge, which is perfect for beginners.
Drawstring bag Ruby
This bag works great for a quick trip to the store or just for stashing your small items. It's quick and easy to make, so you can make one quickly. And even if you are a beginner, you will find this bag easy to make because it is double crochet all the way through. Crochet Drawstring bag Ruby has a drawstring closure with roomy inside pockets. This versatile drawstring bag is lovely for the summer or spring since it's so soft and light. It can be used as a beach tote or clutch and a great storage container for cosmetics and other small items.
Bag with a ghost
Bring the spookiest time of year to your wardrobe with this crocheted bag featuring a ghostly image. This is a great project when you want to make something special but don't have the time or patience. This crochet bag could be used in home decor as an accent piece or as a carrying bag for your essentials. It's great for travel or having fun in the car. Just looking at the finished item will make you feel like old-school ghouls and goblins.
Interlace drawstring bag
Keep your belongings organized and wrangled with this crochet interlace drawstring bag. This simple crochet drawstring bag is the perfect place to store your tiny treasures securely. The design features a crocheted interlace pattern that can easily be adjusted to accommodate your yarn choice and desired size. This bag covers you whether you're carrying books, makeup or clothes. The drawstring closure allows for a customized fit, so it's not too snug or loose. Perfectly portable.
Vintage Crochet Drawstring Bag:
This vintage crochet drawstring bag is adorable and provides an easy way to carry your little essentials anywhere. The drawstring closure allows you to keep items in your bag safe and secure, while the lightweight material ensures comfort when wearing during long days of traveling. Hold it by hand or attach it to a belt or bag strap, so you'll always have your essentials on the go. You can style it as you like, with other bags or by itself, because it's versatile. It might look small, but it can carry lots of stuff!
Drawstring Crochet Pouch Pattern:
Learn to crochet with an easy-to-follow step-by-step guide to making this Drawstring Crochet Pouch Pattern. This pouch is ideal for storing small items such as your keys, cell phone, knitting needles, and yarn. The drawstring closure means you can close it up quickly and securely without worrying about losing anything from your bag. The pattern is easy to follow, with photos for each step to ensure that you get it right. This project works quickly and makes a great gift or the perfect way to use scrap yarn.
Reversible Scrunch Bag
The Crochet Reversible Scrunch Bag is the perfect bag for the stylish lady. Its shape makes it easy to hold, and its reversible design allows you to change it whenever you want. The natural raw materials combine to create a colorful crochet exterior with a scrunchy inside. This bag is so versatile that it can be worn in your day-to-day life and at weddings or parties. Perfect for keeping your lipsticks, brushes and other makeup in one place.
Small Drawstring Bag Crochet Pattern:
This drawstring bag is an excellent use of leftover yarn or yarn you've purchased just for this pattern. It's a great way to use those little scraps of cotton floss, wool yarns and more, which can add up over time. This tiny drawstring bag pattern crochet is excellent for the summer. It is a simple design that uses basic crochet stitches, can be made in about an hour and is simple enough for beginners who want to take their crochet skills to the next level. It works up fairly quickly and is a great stash-buster project!
Dragon Scales Crochet Drawstring Bag Pattern:
This drawstring bag pattern is a great way to use your yarn scraps. The texture of the scales adds a unique look and makes this purse unique. Crocheted in two pieces, it features sturdy handles that attach to the sides with simple crochet loops. It is a quick and easy project that you can whip up in just a few hours. This drawstring bag is great for carrying all the essentials you need daily or as a bag to pack your yarn.
Boho Diamond Bag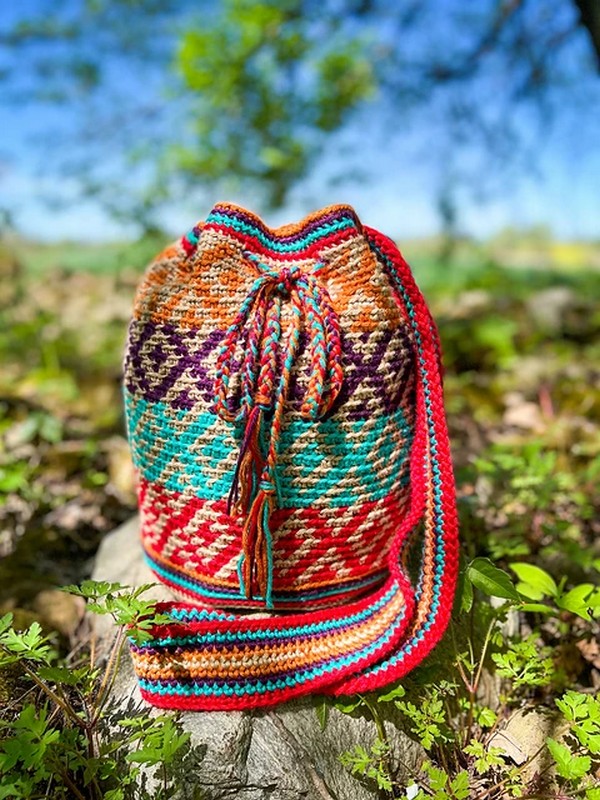 This Crochet Boho Diamond Bag is the perfect addition to any bohemian babe's closet. Perfectly spacious and versatile, you can use it as a beach bag, shopping bag, or everyday bag. The crochet body and patterned bottom will add an extra touch of feminine style while giving you the comfort of knowing that your valuables are safe and secure. It's versatile in design and color, making it a perfect addition to any look. And it's not just cute; it's practical too.
Dice or Trinket Bags
This is a bag you'll want to keep around. Crochet Dice or Trinket Bags are soft and beautiful with their unique patterns. You can use them as a dice bag or a unique way to store your trinkets. These bags also make great gifts for friends and family members who enjoy games as much as you do. The bright colors will help you find your favorite game day after day. They can be made in all sizes, from mini ornaments to full-size bags! Perfect for making gifts or having extra on hand in your purse, car, or sewing box.
Dragon Drawstring Dice Bag
This dice bag is made of soft, plush fabric and is fully lined, so your favorite dice will be kept safe. The perfect item for any gamer, this drawstring bag features an adorable dragon design on the front. The bag closes at the top with a loop and easily opens up with a pull-cord drawstring. Be the envy of the gaming table with this generous dragon dice bag. The perfect gift for any gamer who brings their dice!
Crochet Leif Bag
Don't you love handbags that are big enough to hold your stuff and small enough to fold up and fit into your purse? That's what makes this bag so great. It's super convenient when you're on the go. This crochet Leif bag is a fun way to up your cool factor while on the go! The detailed stitching and sturdy canvas material make this reusable, durable bag an instant classic. With this free pattern, you can make a beautiful summer shoulder bag. This is a wonderful gift for them; you can make it in any color that matches your wardrobe and style!
Drawstring bag with diamonds
Keep all your personal belongings neatly tucked away inside this small drawstring bag. The crochet drawstring bag with diamonds is an adorable and feminine accessory. It's the perfect size for holding your smartphone, wallet, or keys. Made in cotton, it's both durable and comfortable to hold. It features a simple yet trendy diamond pattern perfect for any occasion. Whether heading out into town or taking notes in the classroom, this is the perfect accessory for you!
More Crochet Patterns:
Crochet Bat Patterns: Our selection of crochet bat patterns and tutorials will find a wide range of free patterns, instructions, and tutorials.
Crochet Pikachu Patterns: Are you ready to crochet an adorable Pokemon pattern? Look no further. Today, this book is in your hands to make your Pikachu-inspired amigurumi.