20 Crochet Bat Free Patterns & Amigurumi + Spooky Tutorials
Crochet bats are the extra cute versions of these night lovers and the perfect companions for the little ones at any spooky party. The bats are the only flying mammal, and the wall hanging in your room will catch that scene but believe us, anybody will not fear! So here we are with an incredible collection of crochet bat patterns with the best video and written tutorials from professionals to guide and inspire you both.
Crochet Bat Patterns For Beginners
The crochet Kawai bat amigurumi patterns are quick and simple to make because they are little and have few parts to crochet, and if you have practice on basic stitches and working in the round, you can easily crochet them within an afternoon; if not, you will find here all the pattern requirements and the all the instructions. With the softness of the cotton yarn, everybody will love to hold them in their hands and have a hug!
How To Crochet A Bat
If you're looking for a fun way to decorate for Halloween or make a cute, handmade gift, try making this crochet bat! It's made from soft, 100% cotton yarn that weighs up to 50g. You'll like how it looks and feels. Clear your workspace, take your crochet needle, and prepare to make a lovely new bat. You can put it on your bookshelf, lay it over your fireplace, or hang it from a tree in your yard – wherever you put your crochet bat, it's sure to be a hit!
Amigurumi Crochet Bat
The Amigurumi Crochet Bat Tutorial is a fantastic and simple guide that makes crocheting your cute and cozy bat a breeze! This easy-to-follow pattern is perfect for beginners and experienced crocheters alike. Using the recommended yarn, you'll crochet an adorable bat that serves as both Halloween decor and a charming gift. This tutorial not only adds a unique twist to your festive decorations but also brings the joy of handmade crafts to your loved ones. Don't miss out on this delightful pattern – follow it closely to crochet the perfect bat effortlessly!
Easy Crochet Bat Tutorial
This guide walks you through each step, from mastering the basic crochet techniques like single, double, and half double crochet, and the methods to increase and decrease stitches. Worry not; we'll show you all these moves in detail throughout the tutorial. For best results, we suggest using Premier Parfait Chunky Yarn. You'll stitch pieces together by the end, add bespoke details, and hold your captivating, cuddly bat. Take this opportunity to plunge into a creative project that is as satisfying as it is heartwarming!
How To Crochet An Amigurumi Bat
Add an adorable amigurumi bat to your Halloween decor with our comprehensive video tutorial! This guide offers beginner-friendly step-by-step instructions, ensuring crocheters of all skill levels can participate in the fun. The video tutorial is as engaging as it is instructive, walking you through the entire crochet process from start to finish. We suggest using the delightfully soft and thick Bernat Baby Blanket BB Mountain Mist Yarn, which gives an irresistibly cuddly result. By the end of this project, you'll proudly boast a handmade bat decoration that's both creepy and charming!
How to Crochet Hanging Bats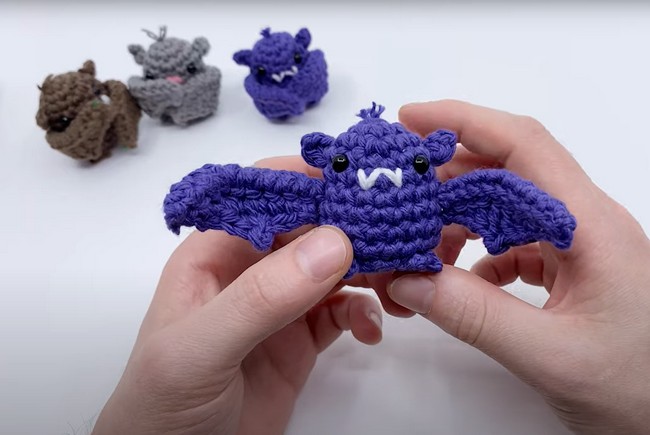 Ready to take your crochet art to new heights? In our engaging tutorial, we learn about crocheting hanging bats! The pattern has great features, like wings you can shape to make your bat look like it's sleeping or awake. You especially crochet the wings, too. The most fun part is using magnets at the bottom so your bat can hang from anything metal. So use Worsted Weight yarn and a Size G6/4.00mm hook, and crochet a cool bat that can sleep or stay awake while hanging around!
Crochet Easy Bat Pattern
Get ready to have fun this Halloween with our detailed crochet bat pattern. It helps you crochet your own cute, small bat to decorate your home. The bat has strong double-layered wings, and you can make the wings curl around the bat, adding a cute Dracula touch. Remember, the final size will depend on the yarn you choose, your tension, and your crochet hook. Let your creativity soar as you crochet this adorable bat for your festive collection!
Crochet Easy Hooded Bat Cape Pattern
Have fun and get creative with our simple Hooded Bat Cape Crochet Pattern! This cool design adds a playful twist to your crochet work. Perfect for a fun outfit on chilly fall nights, you bring this special cape to life stitch by stitch. The hood even has a cute bat shape, adding extra charm for your babies. The best part? This pattern required a little sewing. Grab your crochet hook, let your imagination go, and create something magical. Remember, every loop of yarn is a chance to tell a new story. Why not start your own today?
Crochet Mini Bat Ghost Pattern
Are you ready to crochet your spooky-fun Mini Bat Ghost with our free pattern? This pattern is perfect for Halloween decor. You'll need Premier Parfait Chunky yarn in Orchid and Lilac shades. A 5.5 mm hook is perfect for this project. Get 16 mm safety eyes for the ghostly eyes that add an adorable touch. Fill your bat ghost with fluff or stuffing to give it a nice shape. You'll also need some thin scraps of black yarn. A darning or tapestry needle, scissors, and a stitch marker are handy tools to keep nearby. Enjoy bringing your cute bat ghost to life!
Crochet Cute Bat Amigurumi Pattern
Have you ever wanted to bring cuteness to your crochet work? Our Bat Amigurumi Free Crochet Pattern is your answer! The velvet yarn truly gives this pattern a unique, soft touch. But don't worry if you don't have velvet yarn; it isn't a problem. You can choose any yarn you like to crochet this charming pattern. If you want to maintain the fuzzy appeal of the original design, chenille or any other fuzzy yarn would be an amazing alternative. This flexibility allows you to take the creative reins and create a unique crochet masterpiece!
Crochet Pocket Pal Bat Pattern
This cute little bat is perfect for spooking up your Halloween decor or brightening up your craft station. You can easily make this quick, adorable companion with our simple pattern. This pattern showcases the bat made with Scheepjes Stone Washed Yarn in Black Onyx color. This is a super soft, medium-thickness (4) yarn, a comfy mix of cotton and acrylic. So, grab your crochet hooks and dive into the fun world of our Bat Pocket Pal!
Crochet Halloween Twilight The Bat Pattern
How about a cute bat hanging on a tree branch for your Halloween decor? Our Crochet Halloween Twilight The Bat Pattern lets you bring that idea to life! Trust us; it's an easy and super quick pattern. Believe it or not, you can finish it in just two hours. The best part? This pattern is part of the Halloween Twilight Collection. It's one of three adorable mini wall hangings you can use to spruce up your walls for Halloween. Have fun making your very own Twilight bat!
Crochet Amigurumi Hearty Bat Pattern
Crochet Amigurumi Hearty Bat Pattern – the ultimate combo of spooky and adorable! These bats are perfect for livening up your fall décor or being cute toy plushies to collect. Plus, they make amazing gifts and craft fair sellers. This pattern is quick and easy, taking just a few hours to complete! The best part is that you can customize it in numerous ways, making each bat unique. In short, it's a fun, speedy, beginner-friendly, and super cute project. Crocheted with Dollar Tree exclusive yarn, these little bats are waiting to join your crochet family!
Crochet Valentine Bat Amigurumi Pattern
Add a touch of love to your crocheting skills with a specially designed Crochet Valentine Bat Amigurumi Pattern! This creative design features a cute little bat with heart-shaped wings and ears! A perfect blend of sweet and delightful, this bat only takes a few hours to come to life – you can crochet one in a single evening. Ideal as a heartfelt gift for your little ones or your significant other, this bat tugs at the heartstrings. Although the creator used acrylic yarn for its development, you can freely bring out your Valentine's palette from your yarn stash. Happy crocheting, and stay warm!
Crochet Oscar The Little Bat Pattern
Express your creativity and craft skills with our adorable Crochet Oscar The Little Bat Pattern! This delightful pattern is the perfect choice for both beginners and seasoned crocheters. With Oscar the Little Bat, you'll bring a charmingly spooky friend to life.
What makes this pattern irresistible? Here's why:
Easy-to-follow: Our pattern provides clear, step-by-step instructions that make it a joy to create Oscar, even for crochet beginners.
Instantly downloadable: The pattern is digital, allowing you immediate access to start your creation as soon as possible.
Highly customizable: Feel free to play around with different yarn colors and textures, letting your personality shine!
Excellent gift choice: Oscar makes a captivating handmade gift for loved ones, a unique décor addition for Halloween, or a relaxing personal project.
Time-efficient: Oscar's compact size means he comes together quickly, so you can enjoy the satisfaction of a finished project in no time.
Grab your crochet hook, and let's begin the journey!
Crochet Baby Bat Pattern
Welcome to the world of the Crochet Baby Bat Pattern! This supremely quick and straightforward pattern is a joy for beginners to try. It's the picture-perfect project to delight in as Halloween approaches. The baby bat is made with Schachenmayr Catania Number 2 yarn and takes on an exquisite charm. The pattern features two vibrant colors – 0113 violett (A) and 0282 phlox (B), giving an energetic pop to your creation. Dive into this delightful adventure and swiftly crochet a fantastic Halloween masterpiece while honing your skills!
Crochet Drawstring Bag With A Bat Pattern
This pattern lets you crochet a versatile drawstring bag decorated with a charming bat design. The instructions are in English and Spanish, making them accessible to many crafters. Don't worry if you're a newbie to the crochet world because this pattern is perfect for you! Basic knowledge of tapestry crochet is all you need to get started. Grab your essentials and prepare for a fun journey that leads to a handy, truly unique bag!
Crochet Bat Trick Or Treat Bag Pattern
Step into the Halloween spirit with the Bat Trick or Treat Bag Crochet Pattern! Bats are all the rage this year, so why not hop on the trend with this adorable Bat Treat Bag? It's the perfect size for collecting candy treats, with its dimensions at approximately 3.5″ tall by 8″ wide (wings included). You'll need only 50 yards of worsted-weight yarn, an H-size (5.0 mm) crochet hook, and a pair of googly eyes for a whimsical touch! So why wait? Start crocheting this cute little bat bag and get set to 'fly' on your trick-or-treat adventure!
Crochet Bat Bracelet Batlet Pattern
This isn't just another bracelet; it's a statement piece that adds a whimsical touch to your look. The best part? Its adjustability makes it a perfect fit for everyone! With Halloween around the corner, it's the ideal accessory to complement your festive dress. But don't limit it to this special occasion; it can also add a fun twist to your everyday outfits. The pattern calls for medium-weight size 4 yarn, and you can choose any color that sparks your fancy. Embrace your crochet side and create this delightful batlet bracelet!
Crochet Linette The Bat Pattern
This design is oh-so-easy to crochet, and you'll find it takes no time. You'll be surprised by how such a speedy project can become the star, whether as part of your holiday home decorations or as an adorable gift for kids. One look at Linette, and they'll be over the moon with joy! For this project, you'll need Medium Worsted yarn in shades of Light Gray and White and Classic Cotton Thread in Black for those beautiful details. Regarding materials, arm yourself with a C2 – 2.75 mm crochet hook, 10mm Black Plastic Safety Eyes to bring Linette to life, and Poly Filling for a cuddly touch. The finished bat has delightful dimensions of 4″ height and 8.5″ width.
Crochet Bat Hand Puppet Pattern
Add a touch of magic and spookiness to your Halloween festivities with our delightful Crochet Bat Hand Puppet Pattern! This pattern allows you to crochet a unique and entertaining bat hand puppet that both kids and adults will love. Experiment with different yarn colors and textures to make your bat hand puppet unique. It enjoys all the attention it gets, even if it can be too much. Most days, our bat pal loves to hang out and enjoy quiet. So why not bring this adorable, slightly bashful bat to life and add a lively touch to your Halloween fun?
See More Crochet Patterns