16 Free Crochet Kerchief Patterns For Ladies
If you're fond of making kerchiefs yourself, following this list is the best option. Our Crochet Kerchief Patterns are best for caring for your hair, especially on bad weather days.
Crochet Kerchief Patterns
Add a burst of color to your outfit with a crochet kerchief! Whether you're looking for something to cover your head during the holidays or want a quick project to fiddle around with, these free crochet kerchief patterns are a fun way to stretch your skills.
They're easy for beginners and can be completed in a few hours. Given series of crochet kerchief patterns is ideal for beginners who have never crocheted before because the designs require only basic stitches and the simplest yarn available online.
Supplies Needed For Making Kercheifs Are:
Yarn
Hook
Scissor
Needle
Stitch Maker
Crochet Flower Bandana Pattern Free:
This beautiful Pattern is a perfect blend of style and simplicity. The delicate flower design adds a touch of elegance to this classic scarf, making it an ideal accessory for any season. The free Pattern is designed for beginners, making it easy for anyone to get started with crochet; This bandana can be made in various colors to match any outfit and is the perfect addition to any accessory collection.
Beginner Crochet Kerchief Free Pattern:
If you're new to crocheting, this is the perfect project. The simple design makes it easy to follow, even for those just starting. The result is a stylish and functional kerchief you'll be proud to wear or give as a gift. And best of all, the Pattern is entirely free, so you can start crocheting immediately. This Pattern is easy to follow, with clear instructions and helpful hints.
Crochet Kerchief Scarf Pattern:
This elegant kerchief scarf pattern is perfect for keeping warm and cozy on chilly days. The beautiful crochet design adds a touch of sophistication to this functional piece. The Pattern suits intermediate-level crocheters; you can make it in various colors to suit your style. The crochet stitch used in this Pattern is easy to follow, making it suitable for beginner and experienced crocheters. The finished scarf is light yet warm, making it an excellent accessory for chilly days.
Opposites Attract Kerchief Pattern:
Crochet the Opposites Attract Kerchief Pattern to show off your style and appreciation for opposites attract. Completed in the round, this kerchief is easy to work up and will make the perfect finishing touch on any outfit. The contrasting colors and stripes complement each other beautifully, making this an ideal accessory for any season. Wear it as a scarf or wrap or as a neck warmer or headband.
Barley Bandana Crochet Pattern:
The "Barley Bandana" crochet pattern is a modern take on a classic design. The beautiful stitch pattern creates a delicate texture, making it the perfect accessory for any outfit. The Pattern suits intermediate-level crocheters and can be made in various colors to match your style. This bandana is perfect whether you're looking for extra warmth or a stylish accessory.
Crochet Head Scarf Pattern:
This crochet head scarf pattern is designed simply; it starts from the bottom and goes up. You can easily do this pattern at home if you have a few basic crochet stitches. The V stitch makes it cute and different and i hope you're going to mark it as your favorite.
Crochet Triangle Head Scarf Free Pattern:
If you're looking for a quick and easy project, this crochet triangle head scarf free pattern is perfect. The triangle shape makes it versatile and easy to wear, and the Pattern is simple enough for even beginner crocheters to complete. This head scarf is worked in a cozy stitch that creates a soft, warm texture perfect for chilly days. Whether you want to keep your head and neck warm or add style to your outfit, this crochet triangle head scarf is a must-have accessory.
Crochet Bandana Headband:
The crochet bandana headband helps keep your hair back and brings fashion to your appearance. The pattern is straightforward for new crocheters or anyone wanting a speedy project. The headband uses a flexible stitch, making it cozy and adjustable to different head sizes. It's great for everyday tasks or park visits, keeping your hair tidy and sprucing up your style.
Ebb Tide Kerchief Cowl To Crochet:
This ebb tide kerchief cowl is the perfect accessory for chilly days. The Pattern is worked in a simple stitch that creates a warm and cozy texture, making it ideal for those new to crocheting or for those looking for a quick project; The cowl is versatile and can be worn as a headscarf or neck warmer. Whether you want to keep your head and neck warm or add style to your outfit, this ebb tide kerchief cowl is perfect. Use this guide to learn more!
Crochet Bandana Pattern Easy:
This easy crochet bandana pattern is the perfect starting point for anyone new to crocheting. It works quickly and is a great way to learn basic stitches before tackling more complex projects. It's perfect for children and teens alike, especially if they love bandanas! This crochet pattern is easily customizable to any length or width. It's surprisingly lightweight but also warm and cozy. The bandana motif is a perfect, minimal design that adds style to this simple piece—think of it as your new wardrobe must-have.
Crochet Kerchief Scarf Tutorial:
This tutorial is a step-by-step guide to creating a stylish and versatile scarf using crochet techniques. Ideal for beginner crocheters, this tutorial breaks down the process into easy-to-follow instructions, complete with clear illustrations and helpful tips. The final result is a soft and cozy scarf that can be styled in countless ways, perfect for adding a pop of color to any outfit.
Easy Crochet Kerchief:
This Pattern is perfect for those new to crochet or looking for a quick project. The simple design and use of basic stitches make this kerchief a breeze to work up, while the soft and lightweight material ensures it's comfortable to wear. Whether you're dressing up or dressing down, this kerchief is an excellent accessory for all occasions. The guide below will teach you the complete procedure!
Spring Hair Kerchief Free Pattern:
This free crochet pattern for a hair kerchief brings a spring to your hair. The delicate lace design is perfect for keeping your hair in place on breezy days, and the pastel color options will complement any springtime outfit. Whether you wear it as a headband or tie it in a bow, this hair kerchief is the perfect accessory for the season. Use this guide to learn more!
Free Crochet Kerchief Pattern: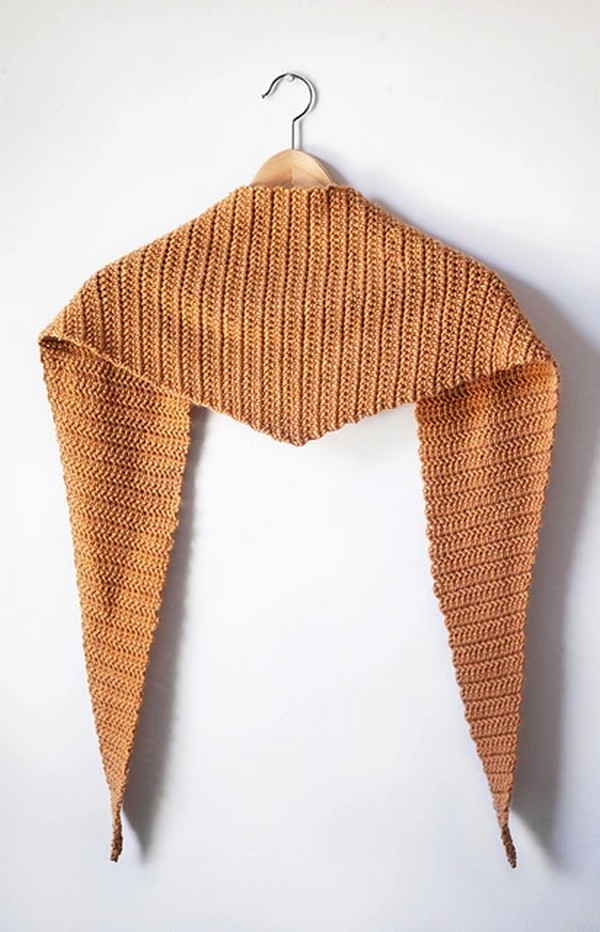 Want to make a kerchief perfect for any season, occasion, and outfit? The Free Crochet Kerchief Pattern may be just what you need. Whether you wear it as a headscarf or drape it over your shoulders, this kerchief is a must-have for anyone looking to elevate their accessory game. It is simple yet elegant and perfect as an everyday accessory or a gift. You can easily crochet one of these in under an hour!
Lacy Crochet Kerchief Pattern:
Add a touch of sophistication to your wardrobe with this lacy crochet kerchief pattern. The intricate design is achieved using a combination of basic crochet stitches, creating a delicate and lightweight accessory perfect for warm weather. With its elegant design and neutral color options, this kerchief can be dressed up or dressed down, making it a versatile piece that you'll reach for repeatedly; So grab your hook and get started!
Crochet Kerchief Pattern Free:
This lightweight lace kerchief is perfect year-round. It's perfect for a trip to the beach or enjoying lunch on a breezy day! The crocheting of the kerchief can be worked with a worsted weight yarn in your choice of color; The stitches used to create this free crochet kerchief pattern are simple and can quickly be followed by new beginners. This Pattern will help you create your kerchief as you follow easy-to-read instructions and helpful illustrations. Before you know it, you'll be wearing one of your own!
More Crochet Patterns:
Crochet Bat Free Patterns: We have the most beautiful crochet bats representing different mythical creatures; they are perfect decorations for Halloween. These toys bring together great gaming and working packing and cute room decoration.
Crochet Pikachu Patterns: Our Crochet Pikachu Patterns are for all crocheters interested in making Pokemon and pokemon inspired crocheted items.