18 Free Crochet Earrings Patterns To Stylize Ears Cozily!
Crochet earrings patterns are incredibly quick, fun, and easy to make, so why not dedicate a few spare hours to an inspiring, fashionable pair? You can even crochet a whole collection of appealing, lightweight, and thus comfy crochet earrings gifts for you and every little to adult lady in your family according to their individual tastes and different themes and find joy instead of fatigue!
Easy Crocheted Earrings Patterns
These personalized handmade crochet earrings can be featured with any highlighted outfit element. If your crochet clothing features tassels, pom-poms, or appliques, why not add them to your earrings for a blended look? Being little, the crochet earring patterns are a great way to use the leftover yarn to make a stylish accessory that will accompany any everyday wardrobe.
You can also compromise and include extra adornments like beads, but it will take your earrings to the next level of shine. Even while breaking the ads, you can whip up a pair if you are a professional. There are many options, from lacy earrings to boho jewelry, floral to daisy and festival-themed ones, and more to add a special touch to your personality. Crochet earrings are often seen as a summer accessory, but that doesn't mean you can't enjoy them in any royal or modern event in any season.
What you'll need:
Here are the materials you will need:

Yarn
Crochet Hook
Earring Hooks
Jump Rings
Needle and/or Pliers
Tips To Follow
Here are the tips and tricks that may be helpful for you:
1. Choose your yarn wisely – To make a pair of crochet earrings, you must pick the correct type of yarn. Choose something soft enough to be comfortable on your ears but not too thin. Usually, sport weight is recommended.
2. Choose the right size – You should also consider the length of your crochet earrings when choosing your yarn. The length will determine whether or not you will need to add an extra chain stitch at the beginning or end of each row to keep them from being too short when finished.
Handmade Crochet Earrings: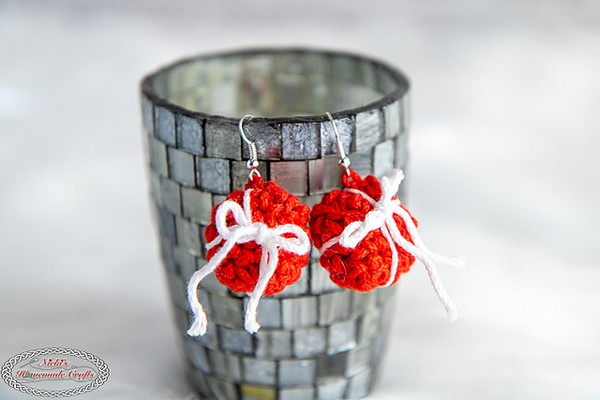 Handmade Crochet Earrings Pattern is available here. This free crochet pattern teaches you how to make handcrafted crochet earrings. A great way to use your scrap yarns or leftover yarns. This crochet earrings pattern is easy and quick to make with a simple stitch. You can use it to make your handmade crochet jewelry or sell them.
Quick & Easy Crochet Earrings:
These crocheted earrings are the perfect addition to your everyday wardrobe. It will take a few minutes to make these, so why not add a little extra oomph to your look today? It's time to put these earrings on your wishlist. With only two crocheting rounds, you are on your way to creating some easy, chic earrings. These will be the perfect addition to any outfit this spring through summer.
Boho Crochet Earrings Pattern:
These stylish crochet boho earrings are a perfect addition to any outfit. They are quick and easy to make, great for beginner crocheters or anyone who wants to expand their crochet jewelry collection. This pattern is designed to make a pair in just an evening! These earrings look beautiful and would be a perfect gift for any gal. The design is accessible and breezy and will have you making dozens of these to pair with your favorite outfits!
Crochet Teardrop Earrings Pattern:
Crochet these sweet teardrop earrings to make a great addition to your wardrobe. These earrings are the perfect finishing touch to an outfit that needs something extra. A simple yet sophisticated accessory, it will look great with any outfit. This lovely crochet teardrop earrings pattern is easy to make and unique. They are perfect for summer and look great with everything from sundresses to shorts!
Crochet Christmas Earrings Pattern:
This is a beautiful pair of earrings you can make yourself for Christmas. All it takes is a little time and some essential crochet experience. You will be able to make this project within a few hours. Use any yarn you like, but I recommend something with a bit of elasticity so it will fit your ear shape better. It's so fun to make these earrings for everyone in your family and friends.
Modern Crochet Earrings:
Do you love to crochet and make jewelry? Then this is the perfect pattern for you! These modern earrings are effortless and will only take a few hours. These earrings are a perfect beginner-level project and are great for showing off your favorite yarns. These stunning earrings are the perfect fashion statement. The stitch is fun and easy to learn; you can use any color yarn you like!
Crochet Hoop Earrings Free Pattern:
These crochet hoop earrings are a great way to learn how to make crochet earrings. They are simple enough for an advanced beginner and require only single crochet, chain and slip stitch. This pattern is for a pair of two-inch hoops, including the earring wires, so it is excellent if you need a specific size or want to make multiple pairs. You could also use this as a starting point for making more complicated or detailed crochet projects.
Micro Crochet Earrings:
These Micro Crochet Earrings are the perfect accessory to add some crochet to your day! Wear them with a summer dress, and have fun showing off your crochet skills. This pattern is an easy beginner-level project; you only need to know one stitch (chain). With these micro crochet earrings, you can use any yarn colors you like!
Pumpkin Crochet Earrings Pattern Free:
This is a free crochet earring pattern for beginners. If you need to make unique gifts, this could be a great option. These pumpkin crochet earrings are simple but very cute. They are quick and easy to crochet, only requiring one skein of yarn, meaning you can whip them up in no time. The pattern is rated beginner-easy, so it will be a perfect first project if you've never crocheted jewelry before. They make the perfect pair of spooky Halloween earrings!
How To Crochet Earrings:
This crochet earrings tutorial is an excellent project for the beginning crocheter. The single-sided design makes these earrings super easy to make, but you can get creative by making them in different colors and adding beads. These crochet earrings are ready in an hour and look fabulous. Once you have the basics of crochet, you can make your own set of earrings.
Rainbow Crochet Earrings Design:
Brighten up your outfits with these bright and vivid crochet earrings. Made from a single piece of yarn, they can be made in a few simple steps. These colorful crochet earrings are the perfect addition to any outfit. The pom poms add a fun and youthful touch to your look, while the rainbow colors add a twinkle that will light up your day. The pattern is easy to follow, has clear instructions on making two-tone earrings, and easily lets you choose a color combination that fits your style.
Cute Crochet Earrings:
A super cute and easy crochet project for spring, these Crochet Earrings are a great way to use up your stash of leftover yarn. Free crochet pattern to make simple crochet heart earrings. These cute earrings are a perfect handmade gift for your friends and family. These earrings are easy to make and only use a few basic crochet stitches, including slip knot and single crochet. You will also learn how to add tassels to the end of your rope.
Crochet Earrings Flower Pattern:
Looking for a cute crochet earrings pattern? Look no further! This is a quick and easy pattern, but the suitable material will look amazing. Perfect for beginners too! This pattern is for a pair of double-crochet flower earrings that are incredibly easy to make and look beautiful. You can use any yarn or hook size you like (see gauge chart), so it's versatile. Follow the instructions, switching colors when indicated.
Small Crochet Earrings:
Do you love to crochet but hate the mess? This simple pattern makes it quick and easy to make a pair of buttons with any yarn! You need a single button, a measuring tape and some yarn. Please make your own or give them as gifts for the DIYers in your life! These crochet earrings are perfect for the free-spirited, romantic girl. Their small size will bring out your face and brighten your day.
Tree Statement Earrings Pattern:
This project is an easy pattern to crochet and swift, too! These earrings are fun because you can create your version by changing the colors and posting. You can use as many or few colors; choose a color scheme that speaks to you and let the yarn do its thing! Make and wear a pair of statement jewelry as you've never seen before. Crochet these beautiful earrings using a hook and beautiful yarn that looks like an art installation. Each piece is one-of-a-kind and will catch compliments wherever you go.
Beginner Crochet Earrings Pattern:
This thread crochet Earrings Crochet Pattern is excellent for beginners and intermediates. It is a high-speed project that produces a beautiful piece of jewelry! If you have never crocheted earrings before, feel free to try this pattern, as it will give you the confidence and knowledge to start designing your earrings. These adorable earrings are perfect for a crochet beginner. They have just the right amount of detail and make the perfect handmade gift for your friends, family and loved ones. These crochet earrings are sure to bring a smile to their face!
Crochet Earrings For Beginners:
This opulent earring is perfect for any occasion. It is quick to crochet and can be adjusted to fit your ear size! This pattern has everything a beginner needs to crochet this pretty hairstyle. These earrings are made from wire and crochet thread, which makes them sturdy enough for everyday wear. The pattern is easily adaptable, so you can use any color combination (or just one color) and make the earrings in any size.
Turkey Earrings To Crocheting:
This project is a great way to use yarn scraps and give them as a handmade gift to friends and family. These turkey earrings are also perfect for fall, Thanksgiving and Christmas. This pattern is easy to follow, resulting in a beautiful pair of crochet earrings. They are versatile and can be worn during any stage of your life, from early adulthood to old age or even as part of a festive outfit. You can use all sorts of colors that match your wardrobe or go for something bold and daring for a look sure to grab some attention!
More Crochet Collections