16 Free Crochet Shrug Patterns To Cover Your Shoulders In Style
Crochet shrug patterns are creative designs that guide you in making stunning and fashionable crocheted shrugs. These are the most versatile clothing accessories that add style and warmth to your outfits. These patterns vary greatly from simple designs that beginners can tackle to complex patterns that challenge experienced crocheters.
Crochet Shrug Patterns

This List of Crochet Shrug Patterns offers diverse designs for different skill levels, fashion preferences, and functionality needs. These patterns range from basic ones ideal for beginners, like the simple rectangular and circular patterns, to intricate lace designs and mesh-style patterns for advanced crocheters. Some patterns are more unique, showcasing complex stitch work and a blend of multiple colors, while others are minimalist, focusing primarily on the texture and fit of the shrug.
Crochet Mesh Shrug Pattern:
Crochet shrugged pattern is a classic way to keep warm while adding style to your outfit. With this crochet shrug pattern, you can create a stylish and elegant mesh shrug to complete your summer ensembles. The open mesh is comfortable and breathable on hot days while providing adequate coverage when more warmth is needed. This versatile design works well alone or as an accessory to a blouse or dress.
Crochet Shrug Cardigan Pattern:
This crochet shrug is perfect for the spring and summer seasons. It's a lightweight piece of clothing that goes with just about any outfit. The pattern includes detailed instructions and plenty of photos to ensure you get it right. You will learn how to crochet a shrug like this in just a few hours, or maybe even less if you're fast! This pattern is easy to follow, and you can create this shrug quickly. You can make it in any single color or multi-color for a more sophisticated look.
Quick And Easy Crochet Shrug:
Crochet Shrug is a very easy to crochet. The shrug has short sleeves, so it is great for layering over sleeveless tops or shirts in cooler weather. This will also be a great project if you're looking to start crocheting because there are no complicated stitches. It's simply single crochet stitches worked back and forth (rows) and then turned at the end, creating the cold shoulder look that goes with many of today's fashions! Use this pattern to learn more!
Crochet Shrug Pattern Free:
This shrug is perfect for the girl who loves to show off a little bit of shoulder. It's casual yet cute and sexy and can be worn with a dress, shorts or jeans. The pattern uses crochet elements such as bobbles, shells and popcorn stitches, which are great techniques to try your hand at if you have never used them before, as they give your project character and make it more interesting to the eye. This is the perfect piece for all of your fall/winter outfits.
Simple Free Crochet Shrug Pattern:
This simple shrug is perfect for beginners, who want to try out the fundamentals of crochet. This is a simple and easy-to-follow crochet pattern that novices can use as their first project. The one-size-fits-most design of these shrugs makes them very versatile and can be paired with almost any outfit or piece of clothing you have in your closet. It can be made up in any color you like, and the pattern size is very flexible to fit any shape or size.
Crochet Shrug Free Pattern:
This crochet Shrug pattern is straightforward to follow with simple stitches that are easy to learn. This can be made in any size and color you want. It's a great, easy pattern for beginners, as it uses basic stitches, and you don't have to worry about complicated shaping. This is the perfect project if you need an easy gift idea or something fun to do with your free time! The sizing is easily customizable by adding more or fewer chains at the beginning of your work.
Lacy Crochet Shrug Pattern:
Here's a free crochet shrug pattern that is both stylish and simple. The lacy stitch pattern makes this crochet piece gorgeous enough to wear with a flowing skirt or pair of jeans. It is also large enough to throw over a turtleneck or button-down shirt for extra warmth. Use the pattern as-is, or feel free to make changes – switch up colors and yarns, add a simple border around the edges, or change it up with some embellishments its all of your choice.
Baby Shrug Bolero Jacket
This shrug is an adorable and comfortable way to keep warm on these chilly days! Worked up in any worsted weight yarn, it's full of style with a cute crochet bow and elegant neckline. You'll love how quickly this shrug comes together, making it the perfect accessory to work on while watching your favorite show with your feet up on the couch. This is a must-have shrug for all your spring and summer fun. It suits any occasion, whether going out to a casual get-together or some on-off date, this could be your best companion!
Free Crochet Shrug Pattern Plus Size: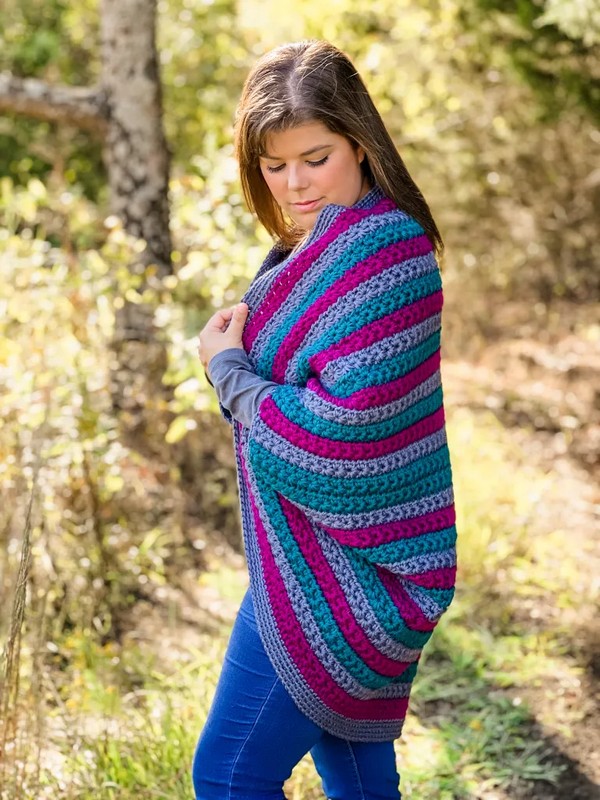 This cuffed shrug is great for pulling over an outfit to cover arms, shoulders and torso. Crocheted with a combination of single and double crochet, this shrug will keep you cozy all winter long! This free crochet shrug pattern is the perfect accessory for any woman's wardrobe. The easy-to-crochet shrug features detailed instructions and diagrams to help you learn how to crochet this simple stitch in no time at all. This easy-to-wear shrug can be worn ready-made or over a favorite dress or top.
Simplicity Shrug
A crochet shrug is a great addition to your wardrobe. You can wear it in all seasons, as a layering piece or just over a tank top in the summer and a turtleneck in the winter. Crochet shrugs can be sleeveless, have sleeves, and are made from simple stitches. This pattern uses the half-double crochet stitch for simplicity and looks beautiful because of its drapey fabric. This pattern is free and easy; it only takes an afternoon to make and works up quickly.
Kelsey Cocoon Shrug
In this pattern, you'll learn to make the Kelsey Cocoon Shrug, made using basic stitches and having a classic silhouette with a bit of a twist. The completed shrug has an asymmetrical hemline made using one simple stitch. The sample looks great paired with a dress or skirt and killer heels! This cozy piece can be paired with just about any outfit, or you can wear it as a layering piece during the fall and winter months.
Crochet Sleeves Shrug Pattern:
Crochet Sleeves Shrug Pattern: This easy shrug pattern is perfect for beginners. The crochet sleeves pattern is worked from top to bottom, and the sleeves are worked in rounds of rows. The shrug is designed to be a one-size-fits-all garment with the option to add extra length if required. Crocheted with a soft cotton blend yarn in three different sizes, this shrug pattern is easy enough for a beginner.
Crochet Shrug For Ladies:
This crochet shrug pattern is great for adding a stylish and warm layer to your wardrobe. The double crochet stitch creates a beautiful texture, while the simple construction makes it easy to follow. This shrug will crochet with an open back for versatility and can use over dresses or blouses with sleeves. Have fun creating your crochet shrug with this free pattern. Whether you wear it as a beginner project or give it flair by altering the color, this crochet shrug pattern is sure to please!
Crochet Shrug With Sleeves:
This crochet shrug has a trendy look with its unique and fun construction. The shrug will work in single crochet stitches, creating a soft and airy effect on the body of the garment. A simple lace pattern embellished by clusters of double crochets adds design interest to the sleeves. This is a great project to use up scraps in your stash. The guide below will teach you the complete procedure!
Metropolis Shrug:
This adorable crochet shrug pattern is perfect for all seasons! The shrug is fully customizable to fit your body shape and makes a fantastic coverup on those cold autumn days. It is a simple shrug that doesn't have to be just for loungewear. This crochet shrug with sleeves can use with dresses and skirts, making it easier to dress than a cardigan. This pattern is quick and easy, So use this pattern to learn more!
Comforts of Home Cocoon:
Take your style to the next level by making this stylish crochet shrug. The flirty mix of crochet, garter stitch, eyelet and lace creates a striking design, while the attached hood adds warmth and character in cold weather. This crochet shrug pattern is so easy to make it can  complete in no time. This is an excellent pattern for beginners! If you are looking for something quick and easy, this is it. The guide below will show you the complete procedure!