19 Crochet Dice Bag Patterns To Hold Dice Secretly
Crochet dice bag patterns are creative guides to help you make unique, handy carrying bags for your dice. They are Perfect for dungeon gamers and lovers of tabletop games to keep their dice in place and along with them.
Crochet Dice Bag Patterns
This list of crochet dice bag patterns provides a variety of designs to choose from, suitable for both beginners and experienced crocheters. This list could include simple and small patterns, perfect for carrying a few dice, up to more complex patterns with space for a complete RPG set of dice. Some patterns might be themed, resembling dragons, owls, or iconic characters from pop culture. No-sew or seamless dice bag patterns may also be available for those wanting a quick and easy project.
Why Crochet Dice Bags Are Needed?
Crochet dice bags are perfect for various uses, such as holding dice and other supplies while playing games, making cards and drawings, storing thread or yarn, serving as storage bags for knitting projects, cosmetics or toiletries, and even clothes. They will protect your items and prevent them from getting lost in drawers or sitting on desks.
Geeky Crochet Dice Bag Tutorial:
This attractive crochet dice bag keeps your dice and other gaming accessories in one place. You'll love this tutorial if you love games and a bit of whimsy! Geared towards beginners, this pattern offers the unique opportunity to make your dice bag with a choice of colors. Great for gifts or personal use, this project is sure to be a hit. It's a simple and quick project with beautiful textures and vibrant colors. Whether you use it for yourself or give it as a gift, this crochet dice bag will bring joy to any game night!
Mushroom Dice Bag Crochet Pattern Free:
Who doesn't love mushrooms? This Mushroom Dice Bag is so cute you'll want to crochet a whole family. Worked up in the round and with minimal seaming, this mushroom dice bag is perfect for beginners. The bag features two yarns and closes with an optional button holding one side of the opening together. This pattern will work up quickly and make an excellent gift for friends and family!
Crochet Scale Mail Dice Bag Pattern: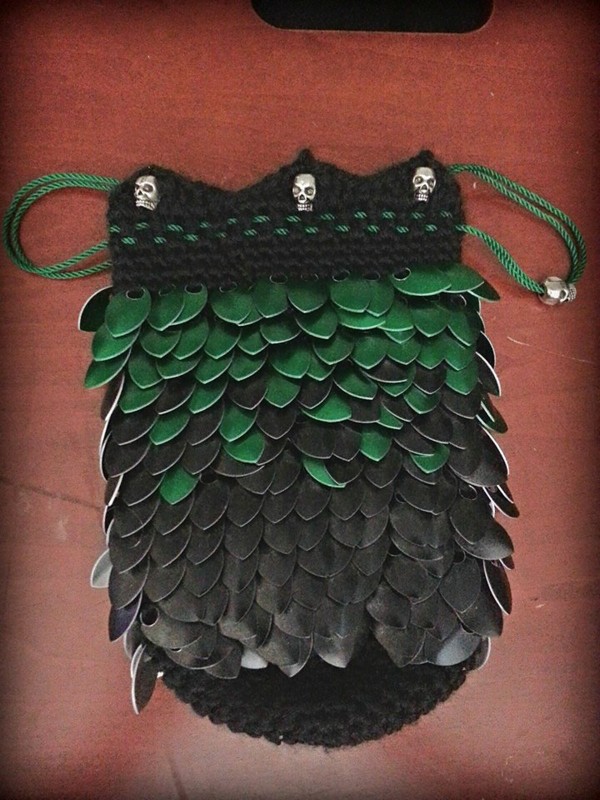 This crochet dice bag is a fantastic way to store your DnD or other dice. This Crochet Scale Mail Dice Bag is crafted in a scale mail pattern, offers lots of storage, ties closed with an adjustable strap that can be worn multiple ways, and can hold up to many heavy sets of dice. The scale mail looks complicated, but it's deceptively simple. Make as many bags as you like; it won't take long, even if you crochet them one at a time. It makes a perfect gift if you're looking for a new pouch to crochet for yourself or others!
Potion Bottle Dice Bag Crochet Pattern:
The Potion Bottle Dice Bag is an easy crochet project that looks very impressive. It can be made in the afternoon to crochet it for yourself or give it as a gift. This crochet pattern for a potion bottle dice bag features two options: a wider neck and one with a narrow neck. Both options are easy to make and can easily be adjusted to fit the standard 16-sided dice from most tabletop role-playing games. This handmade dice bag has a removable lid, making it easy to refill.
Quick Dice Bag
This quick dice bag pattern is the perfect gift for the game lover in your life. The project is excellent for beginners; you only need a few basic crochet stitches, like single crochet and double crochet. But wait – even if you're a beginner, this pattern has some fun tricks that look complicated but manageable. The pouch is crocheted first; then, a flap is made to set over it. The flap can be worked to extend beyond the opening by several rows if desired.
Dice Or Trinket Bags
Add some fun to your space in the form of these whimsical crochet dice bags. The perfect size for storing your collectibles and trinkets, dice bags are an easy way to add more decor to your home or office. This is an excellent bag for storing dice, jewelry, and other trinkets. Small enough to fit in your purse or on a keychain but big enough to hold your favorite dice. Each bag is made with 100% acrylic yarn and features a crocheted drawstring closure to open and close quickly.
Dragon Drawstring Dice Bag
This Crochet Dragon Drawstring Dice Bag will be your new favorite piece of gamer gear. The 100% cotton blend yarn is durable and washable– so you can use your new bag repeatedly without worrying about dirt or fading. The drawstrings are long enough to tie as many knots as you want to ensure that even the most prominent dice cases fit in this bag. With a handy drawstring closure, it can carry dice and other small gaming accessories, such as paper money and card decks.
The Perfect Dice Bag
Are you tired of carrying cubes and other dice in your game box? This simple pattern is quick and easy to sew, can hold up to 100 standard-sized dice, and looks adorable! Use this easy pattern to hand embroider the bag with your favorite character's symbol or create a unique style to show off at your next convention. You can make it shorter for fewer dice or add a round to the bottom circle for a more oversized, comprehensive bag. It is very versatile. Just like your characters: continually growing.
Dragon Dice Bag
This bag is the perfect size for storing your dice! This is the crochet version of the bag in our famous Dice Bag Pattern. It holds around 60 polyhedral dice and includes a drawstring top and handles for carrying. It will fit any tabletop roleplaying session or can be customized to match your favorite system. What's more? It's crocheted entirely by hand! Oh, and it's sized to fit comfortably in your hand like an elegant clutch.
Animal Crossing Dice Bag
The Animal Crossing Dice Bag pattern is an intermediate crochet project. The main body of the bag is worked in one piece starting from the bottom up and finishing with a flap to keep your dice safe inside. The opening for your hand is created with increases crocheted into the top of the flap rather than added later. You will need: Weight 4 yarn; Caron Simply Soft in Bone and Harvest Red; 4.5mm hook; 3.5mm hook; stitch marker; scissors; tapestry needle. This pattern is worked in rounds, except for the edging, which will be worked back and forth in rows at the end.
Simple Dice Bag
This simple yet stylish dice bag works quickly in any worsted-weight yarn. It's worked in continuous rounds, so plenty of projects can be done while you wait for your bag to dry. Finishing touches are minimal, so you can easily customize your bag to suit your style. This is an excellent project for any beginner who wants to learn basic crochet techniques and work with a fun stitch pattern. This makes it an excellent project for using leftovers or learning how to use double points.
The 1 Copper Pouch Dice Bag
The 1 Copper Pouch is a simple drawstring bag for people with basic crochet skills. It's made in worsted-weight yarn and takes less than an hour to make, so it's perfect for a last-minute gift or to use as your dice bag. The pattern uses single crochet stitch techniques, making it ideal for beginners wanting to explore more advanced techniques. This pouch is easily customizable to suit any style, with the ability to use either a solid color or a variegated yarn and any hook size. Only one skein of worsted-weight yarn will be needed, making this project economical and easy to complete in just a few hours.
Cthulhu Crochet Dice Bag Pattern:
This is a crochet pattern for a Cthulhu dice bag. Create this crochet dice bag pattern to hold your favorite pair of dice or as a gift for a gamer. The Cthulhu bag is simple but elegant and practical, with open sides that allow you to see your game pieces. It takes less than an hour to make, so even beginning crocheters can enjoy this easy pattern. This pattern is easy enough for a beginner to learn, with plenty of pictures throughout each step.
Legend Of Zelda Crochet Dice Bag:
Keep your dice safe, and keep them in style with this Legend Of Zelda crocheted dice bag! It's wide enough to hold a set of dice (or more) but small enough to fit easily in any large handbag. This bag would make a fantastic gift for any tabletop gamer or even just a small treat for yourself. You can make this Zelda-themed dice bag with 100% cotton yarn and finish with an adorable skull ornament. Perfect for keeping your dice, or great as a gift for any gamer!
Crochet Dice Bag Dragon Pattern:
If you play Dungeons and Dragons or Shadowrun, you know that having a container of dice on the table is crucial for your gaming experience. Keep everything organized in this easy-to-put-together Crochet Dice Bag Dragon Pattern. This crochet dice bag is perfect for holding dice and other small gaming accessories. It's constructed using a modified version of the crocodile stitch that eliminates the significant gaps the standard crocodile stitch usually has, so your dice won't slip out of this bag.
Squid Dice Bag
This is a handy and super fun little dice bag or sundries bag for the squid lover in your life. Use it as an accessory in gaming accessories, or keep all their makeup and skincare products organized! Or use it as a gift box for any small items you want to give someone special. This dice bag is super cute and will keep your dice safe until you need them. It also has a convenient drawstring to keep everything inside.
Dice Or Trinket Bag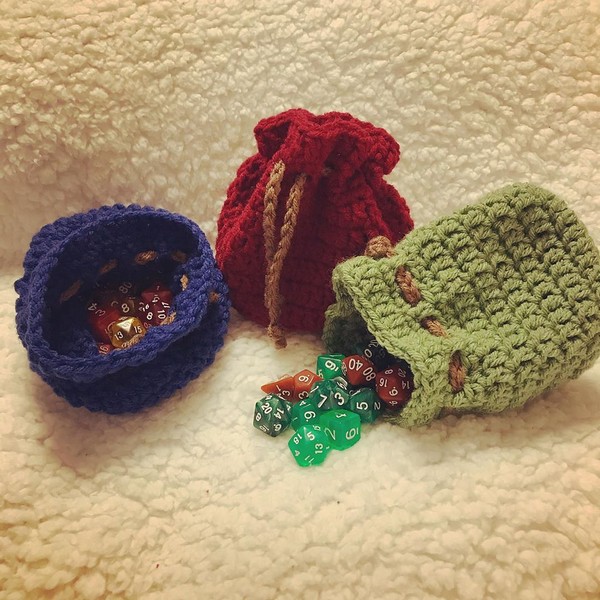 This adorable dice bag or trinket bag will bring joy and happiness to any crafter who loves the crafty world of crochet. This fantastic, easy-to-make project is a great way to use your fabric scraps. For even more fun, you can use various fabrics for each dice color. With this easy pattern, you can make as many bags as you need for whatever purpose you like! This little dice bag will be perfect for holding your dice for all kinds of games, but it's also convenient for keeping trinkets safe. You'll be able to put these little bags to good use without wasting time on multiple patterns!
XL Dragonscale Dice Bag
The perfect dice bag to hold all of your dungeon master accessories. This crochet Dragonscale pattern creates a fun, unique and elegant-looking dice bag. It is big enough to hold all your odds and ends while still being small enough to fit inside your bag or backpack. This is an extra large dice bag, suitable for all sorts of games. It is an easy pattern to make and looks fantastic when finished, so grab your hook and get started!
Crochet Dice Bag And Tray Pattern:
Crochet a dice tray and bag to play your favorite board games while on the go. Featuring a pocket inside that is sized to fit dice, and this pattern includes easy-to-follow instructions for both the crocheted bag and dice tray. The crochet dice bag can feature a button closure or close with ribbon or chain stitches. The pattern is suitable for beginners and uses basic crochet stitches, including chain, single crochet, double crochet and slip stitch.