18 Free Crochet Beret Patterns To Protect Your Hair From Being Messy
Bring out your creative spirit and touch these super amazing crochet beret patterns to keep your head cozy and stylized for a long time with minimal expense and effort. The slouchy appearance and the blend of beautiful color shades make these berets your favorite to glamorize your look like a real fashionista.
Crochet Beret Patterns
This amazing list offers a variety of patterns that cater to every skill level, from beginners to advanced crocheters and comes with detailed instructions, ensuring your handmade berets turn out beautifully. Try everything from classic French-style berets to playful ones and modern designs, and you'll have the opportunity to explore the endless realm of creativity with various yarn types and hooks. So why wait? Get the supplies, and start making these amazing beret crochet patterns yourself.
Different Types of Beret Patterns:
Beret patterns come in various styles designed to cater to various needs and occasions. For beach time, casual and airy patterns serve best, often crafted in lightweight, breathable materials that provide comfort and sun protection. These berets, frequently feathered with fun colors and patterns, mirror the breezy, laid-back vibe of the seashore. We will offer some amazing beret patterns with soft textures and cozy materials that create a snug and inviting aura for any home outfit. These patterns are often muted or neutral, highlighting your desired warmth and style.
Spiral Beret Hat Pattern
The Spiral Beret Hat Pattern is a unique and eye-catching design, perfect for adding a touch of sophistication and style to your wardrobe. This amazing pattern features an elegant spiral motif, often achieved through varying stitch types, and increases seamlessly circularly. The result is a beautifully textured accessory that serves the functional purpose of providing warmth and showcases a captivating visual appeal.
Free Crochet Tam Hat Pattern
This Free Crochet Tam Hat Pattern offers a delightful option for crochet fans to follow. This tam-style hat pattern intricately weaves yarn into a chic accessory, perfect for keeping warm in cooler months. Its design flexibility accommodates various colors and yarn types, offering the liberty to craft a personal product. The pattern provides precise guidelines, making it enjoyable for beginners and seasoned crocheters.
Granny Square Crochet Beret Hat:
The Granny Square Crochet Beret Hat is a beautiful accessory with charm and style. Created in a vibrant yellow, it breathes life and warmth into any outfit. This hat's classic Granny Square crochet pattern results in an intricate, eye-catching design. Lovingly handmade, this beret provides warmth and adds a touch of sophistication. Enjoy the coziness of this lovingly crafted piece that will become your new favorite accessory.
Crochet Beret With Brim:
The Crochet Beret with Brim is an attractive item produced in a pleasant sky blue color, suitable for any outfit. The single color of the beret looks impressive, enhanced by a whimsically decorative flower on its front. This beautiful, all-purpose beret hat will surely be a stylish and practical addition to your wardrobe, offering comfort and elegance.
Crochet French Beret Pattern:
Explore the charm of the Classic French Beret Crochet Pattern designed to be both stylish and unique. This elegant hat pattern is perfect for those seeking a chic accessory that can be customized to match any outfit. Made in softer colors, the intricate pattern of the beret truly shines, bringing warmth and sophistication to your wardrobe.
Classic Crochet Beret Free Pattern:
Are you ready for the perfect cold-weather accessory? This cozy crochet beret is a simple, stylish design that keeps you warm and looking great. The Beret is an easy crochet project that can be completed in about an hour, so it's perfect for last-minute gifting. This pattern also includes links to all the supplies you'll need to make this fabulous hat, so let's get crocheting!
Slouchy Beret Crochet Pattern:
The slouchy beret crochet pattern is perfect for all your hats. This free pattern will help you crochet your next hat in no time. It has a slushy top that gradually turns into a beret at the bottom. Crochet this hat using one skein of bulky weight yarn and a size H hook. You'll love how fast it works! The slouchy design is simple enough for a beginner but also beautiful and professional.
Simple Beret Crochet Pattern:
This Beret is perfect for beginners who want to start crocheting or want something quick and fun to work on in the evenings. This basic pattern can be crocheted in different sizes and is great for teens, women or even babies! It can also be worked up in many different colors using simple stitches. Great for everyone in the family!
Crochet Beret Pattern Free:
The crochet beret pattern is a simple, modern and elegant design. The hat is made from a single piece with a ribbed brim to give it structure and strength. It's a fun project for any woman to make in various color options! So, Add a feminine touch to your winter wardrobe with this crochet beret pattern. This project uses bulky yarn, so it works quickly and makes a great last-minute gift.
Vintage Crochet Beret Pattern:
A cute crochet beret pattern with the perfect amount of vintage charm, this lovely little hat is like a crown for your hair. With crocheted bear ears and a ribbed brim and body, it's sure to keep you cozy. This pattern is perfect for keeping your head warm, stylish and discreet during those cold winter months. The pattern below includes easy-to-follow instructions and a photo tutorial to help you create this crochet beret beauty in no time.
Free Crochet Beret Pattern For Adults:
Crocheting a beret is an excellent way to show off your creativity and skill, especially when you add the beautiful colors of this crochet beret pattern. This unique adult hat with a modern, urban look is perfect for both men and women. From beginners to experienced crocheters, everyone will fall in love with these berets. Make it as a gift for someone special, or make one for yourself because you deserve it!
Child Beret Crochet Pattern Free: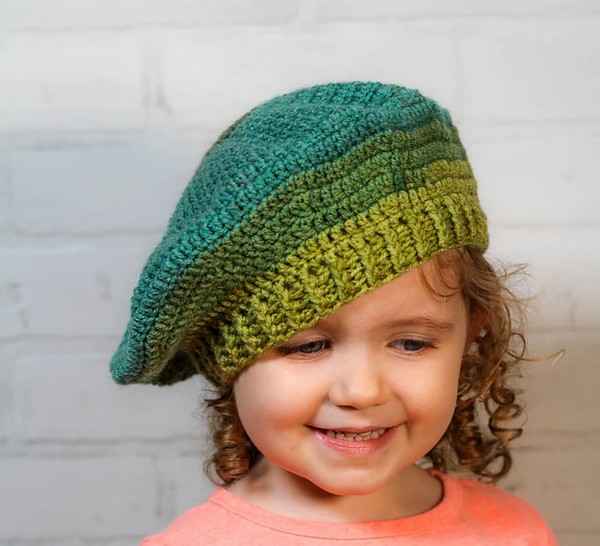 Crochet this cute beret for your little one! This pattern is quick and easy to work up. It's the perfect piece for a pretty little head of hair. Crochet this Beret in any color or combination of colors! This Child Beret Crochet Pattern is fun to make and easy. It requires simple stitches that anyone can master! It's a great beginner or quick project while watching your favorite show.
Easy Crochet Beret Pattern Free:
Are you a lover of the winter season? With this crochet beret pattern, there's no reason to spend it inside watching reruns of Friends. This simple hat pattern will give your wardrobe a fresh new look and make your head warm at the same time! This Beret is simple yet elegant and is also very trendy right now. You can choose a basic color like black, brown, or cream and add ribbons, flowers or whatever you prefer. Use this pattern below that will show you the complete procedure!
Crochet Cookie Beret:
This crochet beret pattern is perfect for anyone who wants to keep their head warm and look fabulous. This easy beret pattern works quickly with a ribbed body and a lacy top. The pattern includes directions in four sizes from a child through adult, so you can make this hat for any age! This simple Beret features a large flower, which is the perfect way to add interest. The guide below will teach you the complete procedure!
Crochet Beret Pattern Easy & Quick:
This Crochet Beret Pattern is a super easy and quick project that you can make in just one evening. The pattern is written in a simple step-by-step manner, with no abbreviations. You can easily use different colors to create a hat in your favorite colors. This is the perfect crochet beginner's project and a great way to learn how to crochet. The Beret is a classic crocheted hat with a double crown and becomes much taller as more rounds are added.
Red Mood Crochet Beret:
This crochet beret pattern is the perfect accessory for your winter wardrobe. Whether at work or play, it works with all styles and is easy to adjust based on your desired fit. This Beret is super quick to make and goes with just about everything. A great beginner pattern, this hat is also a perfect project for an afternoon stitch. You will love the result. Use this pattern below to learn more!
How To Wear Crochet Beret:
Crochet Beret Pattern is a stylish hat that you can make for your family when you have free time. This crochet beret hat has a pretty design, simple and easy to work up. It is perfect for cold days and can be worn in any season. This Crochet Beret Pattern is the perfect hat to wear while adventuring in the cold! Pick your favorite color and make the crochet beret of your dreams!
Summer Crochet Beret:
Looking for a new summer project? Try this easy crochet beret pattern for size. You'll love the soft texture of the yarn, and the fine gauge gives you a light and airy feel that's great for warm weather. This crochet beret pattern provides instructions for a standard and slouch-style hat. It is the perfect project for summer that can be made with bright colors or left plain to show off the pattern. In just a few hours, you will have a new crochet hat to wear all summer!
See More Crochet Patterns: