18 Crochet Baby Yoda Patterns For Star Wars Dreamers!
This collection of easy crochet baby Yoda patterns is perfect for Star Wars fans who dream of having a huggable and soft yarn version of this fictional character, whether just to play with or sit with a little yoda companion to watch the Mandalorian show. Fantasy lovers would not believe how exactly it matches with their screen hero! With so many options, from Amigurumi baby Yoda to colorwork squares, ornaments to bookmarks, and more, nobody will hate a cute Grugo!
Baby Yoda Crochet Patterns For Beginners
Below are some of the best ideas to make a miniature crochet Baby Yoda, showing all his lovable details like his big eyes, long pointy ears, and cozy coat. Although this 50-year-old alien is a mini one in the show,  design your crochet Yoda amigurumi to be smaller, making it perfect for babies' tiny hands or to carry as a pocket keychain.
These stuffed baby Yodas are much more cute and charming than your screen hero. So begin crocheting a Baby Yoda gift for a friend or family member today with our guides. Make up an entire gang of cute Yodas, including Mommy and Daddy, a few siblings, or a nest of them!
Baby Yoda Crochet Blanket Pattern: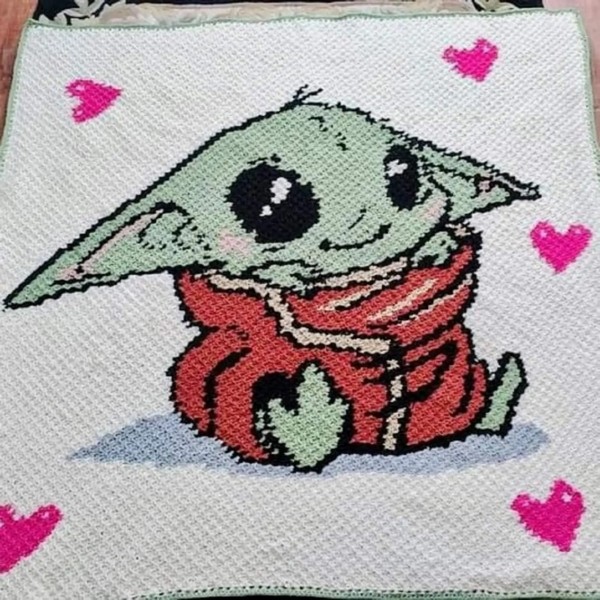 The Baby Yoda Crochet Blanket Pattern is a great way to keep your baby warm. This simple design uses only double crochets, single crochets and the basic chain stitch to create a thick, warm blanket for your child. The easy-to-follow crochet pattern includes a full-size chart and a detailed written pattern. Perfect size for cuddling and snuggling, this baby blanket also makes a great stroller snuggle. This adorable Baby Yoda crochet blanket will bring a smile to any child's face!
Baby Yoda Crochet Pattern Hat:
Crochet this fun, cute little hat for the Star Wars fan in your life. With this free pattern and a few standard crochet hooks, you can make your own Yoda hat. It's a simple project that you can use as a last-minute gift or give as an Easter basket stuffer. This pattern is designed explicitly with thick yarn and small motifs to create the cutesy Yoda head. With the help of this easy-to-follow crochet pattern, you will have a baby Yoda hat that your little one is sure to love.
Christmas Baby Yoda Amigurumi
Create a unique and comforting new holiday tradition with your handmade plush Christmas baby Amigurumi. Filled with warmth and love, this sweet little friend will be the perfect addition to any family's Christmas celebration. This Baby Yoda is an excellent gift for any Star Wars fan. This pattern is written in English US terms. You can make this precious little guy in a single evening using yarn, stuffing, and crochet hooks. He's waiting for you to make him!
Amigurumi Baby Yoda
Do you love Star Wars? Do you love Amigurumi? Then this is the crochet pattern for you. This Amigurumi Baby Yoda pattern is accompanied by a full photo tutorial with all the information you need to make your own lovely baby Yoda. This Yoda plush toy may be used as an infant pacifier or as an educational plaything by letting your children watch the video or listen to the audio. The soft stuffing makes it very comfortable to hold while playing with your child.
Best Baby Yoda Crochet Pattern:
This is the perfect crochet pattern if you love Star Wars and want to make something unique for your little one. The pattern comes with easy-to-follow instructions, great pictures, easy-to-read and understandable graphs and a complete list of materials needed for the project. This is a fun craft for children of all ages, very easy to make and a perfect way to kill some time. It's also a great way to learn how to crochet. The completed item makes for an adorable gift for any occasion.
Baby Yoda Pattern Free:
This Crochet Baby Yoda pattern is designed to make your own baby Yoda just like the one in Star Wars. This is a good pattern for any beginner who wants to learn how to crochet using simple stitches. The pattern is free, so you won't have to sacrifice coins to make this Yoda pattern! The finished product will be approximately 8 inches tall, so it's perfect for any Star Wars fan!
Free Crochet Pattern For Baby Yoda:
This a fantastic crochet pattern for your baby's favorite character, Yoda. The pattern is straightforward to follow, and the design comes together quickly. It's a perfect gift for any new parent. The baby Yoda crochet pattern will surely bring a smile to your little one's face when you make it for them. You can use this crochet pattern for hats, blankets and more to keep your little one warm and comfy. The finished product can be hung anywhere in the nursery or living room to create excitement!
Baby Yoda Crochet Pattern Free:
This simple yet adorable Yoda crochet hat pattern is perfect for any Star Wars fan! It is a beginner-level pattern and only requires you to know the basic crochet stitches. This pattern is quick, easy, and fun for an afternoon or evening project. He makes the perfect gift for baby showers or birthday parties. Make this crocheted baby hat with ears and attach it yourself so you can take your baby to the park or walk in the woods. You can use any yarn you want; choose the one best suited to your preferences.
Free Baby Yoda Crochet Pattern:
This pattern is perfect for any Star Wars fan, and it could become the favorite toy of your little one. It's easy to make, and with this free crochet pattern, you can quickly create an adorable cute amigurumi doll that is perfect for cuddling on cold nights or bringing joy to the whole family. This Baby Yoda Crochet Pattern will allow you to make your own Baby Yoda, which has the most expressive face. You can make one for yourself or use it as a gift for someone special! It works quickly and is a great way to practice your crochet skills.
Baby Yoda Crochet Pattern For Baby:
If you are looking for a cute crochet pattern for a baby, this is it. The Baby Yoda crochet pattern comprises basic stitches in an easy-to-follow color-coded picture pattern. This pattern comes in full-size and miniature versions, and you can decorate it however you like. You could make a baby girl version or a father's day gift. This crochet pattern is perfect for beginners, too and could be made by anyone with a basic understanding of crochet stitches and techniques.
Baby Yoda Ball Ornament:
This adorable Baby Yoda ornament is small enough to hang from a tree or on your car's dashboard. The design measures just over 2 inches in length with super soft fur and an embroidered outline that looks like he is just about to say, "May the Force be with you." This adorable Baby Yoda will be your favorite friend all year round. Perfect for Christmas, New Year's, and even birthday gifts.
Baby Yoda Crochet Free Pattern:
Do you want to crochet a super cute baby, Yoda? This pattern is perfect for beginners and the parent of a newborn baby. Download and learn how to crochet this adorable Baby Yoda. This free pattern uses basic stitches and will give your little one some much-needed entertainment. The Yoda is quick to make and is an excellent way to use up some of your favorite scraps. With this free pattern for Baby Yoda, you can make him in no time. And everyone will love him, so pick a color and hook!
Baby Yoda Free Pattern:
Little Yoda is a clever baby that makes a great gift. With this Baby Yoda Free Pattern, you can create a cute baby Star Wars character that is perfect for decorations, clothing and more. The pattern will tell you exactly where to cut the felt to create the image of Baby Yoda, as detailed in the picture. The instructions are easy-to-follow for beginners as well as more experienced crocheters. And you can be sure the little people in your life will love it!
Baby Yoda Crochet Doll:
Let the Baby Yoda Crochet Doll float all day in your favorite place. The soft and squishy baby Yoda is durable, with a double layer of plush that's so comfortable to hold. She has a sweet face that lights up when you tickle her cheek. This tiny crochet doll will keep you on your toes – and entertained in no time! The small size makes it perfect for carrying around or sitting on your shelf for all ages to enjoy!
Free Crochet Baby Yoda:
This Free Crochet Baby Yoda is quick, easy and sure to please. With just a little bit of worsted-weight cotton yarn with a bit of acrylic thrown in for good measure, you can whip up this little guy in no time. You'll need a size H crochet hook. This free crochet pattern is easy to follow and super simple to make. In one afternoon, you will have a portable cozy that your little ones need only lay in or stay propped up against.
Baby Yoda Crochet Bookmark Pattern:
Give new meaning to reading by making a crochet bookmark that is unique and fun. This pattern is made using worsted-weight yarn and can be worked quickly, making it an ideal last-minute gift. The pattern is perfect for beginner crocheters and takes very little yarn, so you can make a bunch of these to give as a gift or to sell. This easy photo tutorial will show you how to crochet a cute baby Yoda bookmark. Perfect as a gift for your favorite Star Wars fan!
Baby Yoda Crochet Ornament:
The Baby Yoda Crochet Ornament is a fun little crochet hat ornament you can make to decorate the tree or any place you wish. The pattern is easy to follow, and you can complete it in about two hours. It uses only one color per project and produces an adorable little Yoda character. This adorable crochet Baby Yoda Ornament is perfect for baby showers, birthdays and holidays. The pattern is easy to follow and works up quickly – a great gift idea!
The Alien Child:
This pattern is for the Alien Child, a cute plush toy featuring an adorable alien that will love cozying up with you. The pattern has been tested and is easy to follow, but it is intended for an advanced beginner or intermediate crochet skills. With this pattern, you can make alien-like animals to play with or keep them pets! The yarn used is super soft, and the animal size can be adjusted depending on how many you want to make. Make them for yourself or your little friends!