20 DIY Birthday Card Ideas To Greet Your Loved Ones
Following these impressive DIY Birthday Card ideas, you can create some stunning, heartwarming, and creative art pieces to express your love and appreciation to someone special on their birthday.
Stunning DIY Birthday Cards
Creating a heartfelt, personalized birthday card can be a fun and easy DIY project allowing you to express your love and care for that special person. The truly unique aspect of a DIY birthday card is that it can be tailored perfectly to fit the recipient's personality, making it a cherished keepsake for years to come.
Here, we have gathered various creative ideas: You can start with a fun pop-up design, adding layers of colorful paper, or even using patterned washi tape to create a unique geometric pattern. For those with a flair for drawing, consider hand-drawn illustrations or calligraphy to make a one-of-a-kind card. Last but not least, don't forget to write a meaningful message inside the card that shows your appreciation and gratitude for the person celebrating their birthday.
DIY Birthday Card For Him: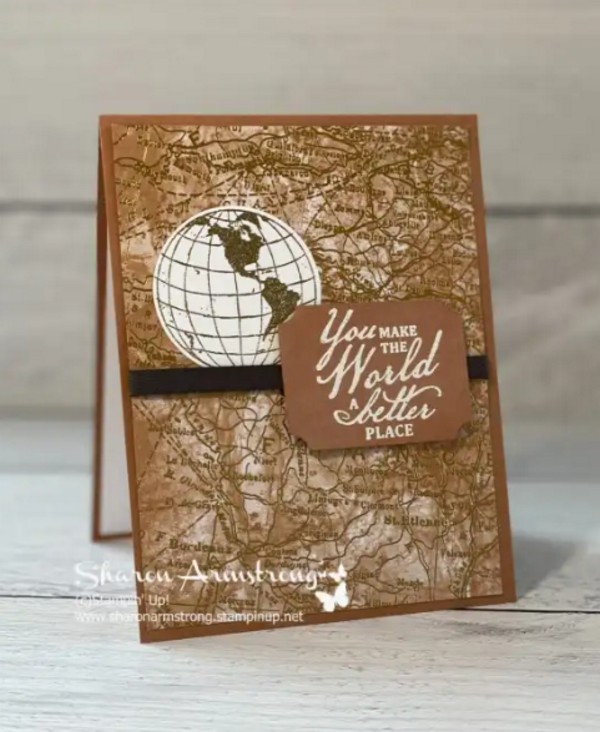 This Birthday Card is an easy way to add love and creativity to your boyfriend's birthday. The best part? It's super affordable. Our tutorial not only gives you step-by-step instructions on how to make this card but also teaches you how to create a gift box and cheesecloth bow for the finishing touches. This is another way to show your love and affection towards him on his special day. Add whatever personal touches you can think of to this printable template, add glue and let dry. It's that simple!
Last Minute Birthday Card Idea:
You are late for your friend's party but want to wish them the most cleverly. Take the help of our last-minute birthday card idea to express your best wishes to the birthday kid. It has a blank space for you to personalize so that it can be sent to anyone on the planet. The bright watercolor design and playful wording will surely put a smile on anyone's face. This birthday card is the perfect last-minute option for friends and family celebrating their big day!
DIY Birthday Card For Dad:
Celebrate dad with this DIY Birthday Card For Dad. The card is a collaborative piece between you, your child and the dad you are honoring. The card would be perfect for anyone who has a dad that loves to do woodwork or enjoys making things by hand. Its design will leave you with an everlasting memory of how much he means to you and your family. This craft is a great way to spend quality time making something special for your loved one.
DIY Birthday Card For Mom:
Make this DIY Birthday Card for your mom to express how much you love and appreciate her. Great for Mother's Day and all year round, this is a super simple project to make and will only take about 20 minutes from start to finish. This easy-to-make card will put a smile on mom's face when she receives it. You can make this birthday card at home with the kids and share it with her or leave it as a surprise on her pillow!
DIY Birthday Card For Daughter:
When celebrating their birthday, your daughter deserves nothing less than the best. This DIY birthday card is perfect for any occasion, whether she's celebrating her 30th birthday or turning five years old. Just be sure to include a kind note so your daughter knows how much you love her. It's easy to make, and you can use either high-quality colored or white paper, whatever you prefer. This a thoughtful way to show your love for your daughter on her special day!
DIY Paper Marbling
Marbling paper might look pretty easy, but it takes a lot of practice to get the patterns right. Luckily, this DIY guide makes the process easier by providing all the information you need and offering step-by-step instructions for achieving some excellent marbled effects. The process is simple: paint a watercolor solution onto a tray, lay down some paper, and then swirl it around to create unique designs. Follow the instructions, and you'll be creating impressive pieces in no time!
DIY Birthday Card
Why spend money on a birthday card? Make your own. This is a fun, easy DIY project you can complete with the help of easy-to-follow step-by-step instructions. You only need some paper, glue, ribbons, and other embellishments. With step-by-step instructions and simple designs even beginners can follow, creating incredible cards in any style is easy. Follow along to make these delightful birthday cards perfect for every occasion.
DIY Birthday Card Using Washi Tape
Make your DIY birthday card using washi tape! It's quick, easy, and fun. You'll use our acrylic paint markers to write on the tape so you can send your "Happy Birthday" wishes in style. With this tutorial, you can create a beautiful, handmade birthday card! This is an easy DIY project that's great for beginners. Use your favorite colors and patterns to create a one-of-a-kind birthday card for your best friend, sister, or mom.
DIY Washi Tape Script Cards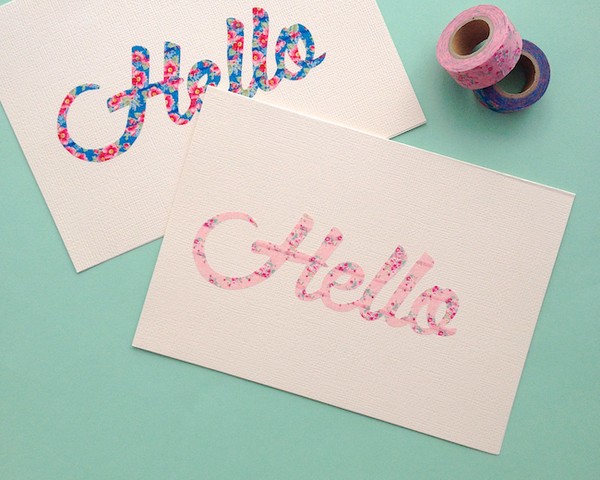 Crafting is a fantastic way to express your creativity and make something new from scratch, but you don't always have to do it alone. These DIY Washi Tape Script Cards make creating a beautiful card for nearly any occasion easy. The fast-and-easy technique uses pre-cut washi tape to create custom designs and color combinations – no art skills are required! Plus, you'll get five shapes that can be used on the front of your cards and their envelope liners.
Free Printable Birthday Cards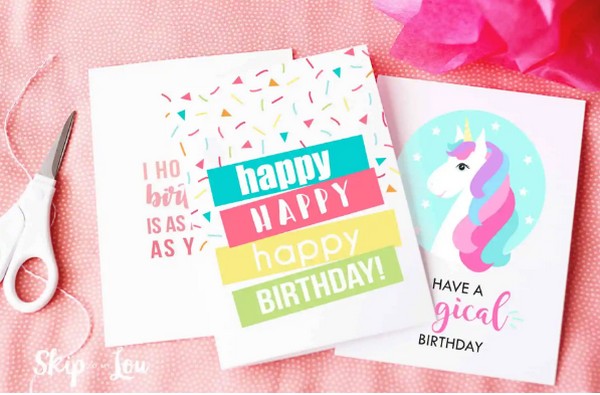 A birthday card is a great way to let someone know you care, so why not make your own at home? This set of greeting cards comes with different colored envelopes. They're simple to use: print them out on any printer and cut them out. This is an editable file, which means you can use it as many times as you need, and add text or images of your own. It also works excellently as a thank-you note at the end of the day.
Birthday Card Idea Handmade:
If you're having difficulty finding the perfect birthday card for your special someone, you've come to the right place. This handmade card is perfect for any occasion, especially birthdays and holidays. Use this birthday card idea to make customized cards. You can personalize the inside handwritten message or add a personal photo inside the card's front or back cover. Whimsical, beautiful and perfect for any age, this handmade Birthday Card Idea is unique.
DIY Washi Tape Birthday Cards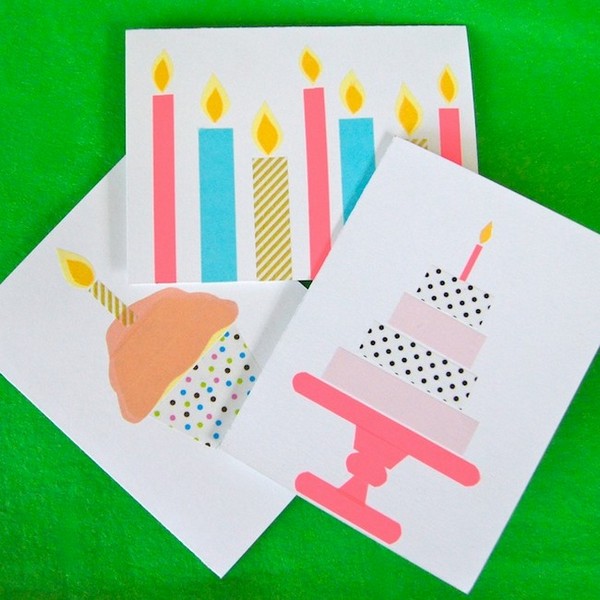 This is the perfect craft to keep your kids busy on the run! With a few small pieces of washi tape and some good old fashion glue, you can make these simple DIY Washi Tape Birthday Cards that are great for special occasions or everyday messages to your family and friends. They are cute and personalized and allow for some creative fun. Wrap any of your birthday celebrations with these multifunctional birthday cards. Add a handmade touch that the recipient will forever remember.
Rainbow Birthday Cake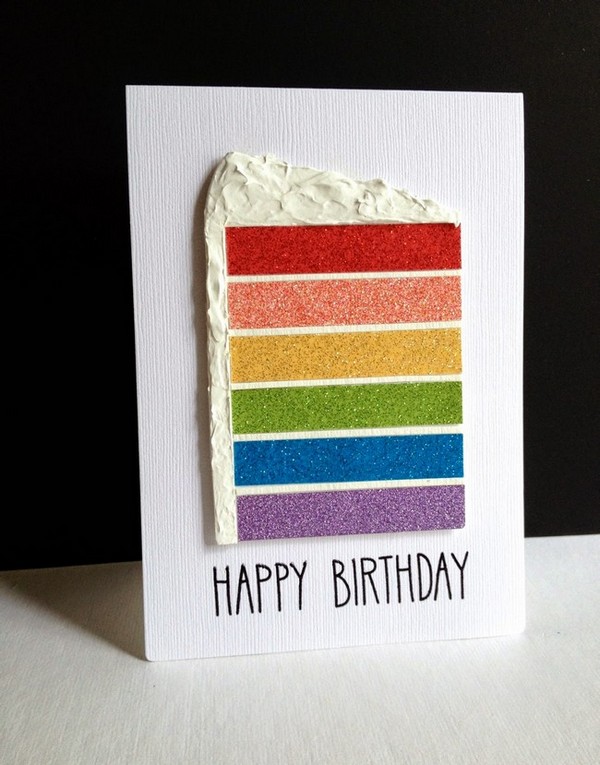 Send this sweet and colorful birthday card to your loved one on their birthday, no matter what age. This colorful card features a delicious rainbow cake to say happy birthday in a whole new way. This beautiful rainbow cake on the front of this card is meant to commemorate the person's day, and cheerful colors pop out against the white background. This card can be sent for all ages – adults, children or even Toddlers!
DIY Birthday Card For Kids: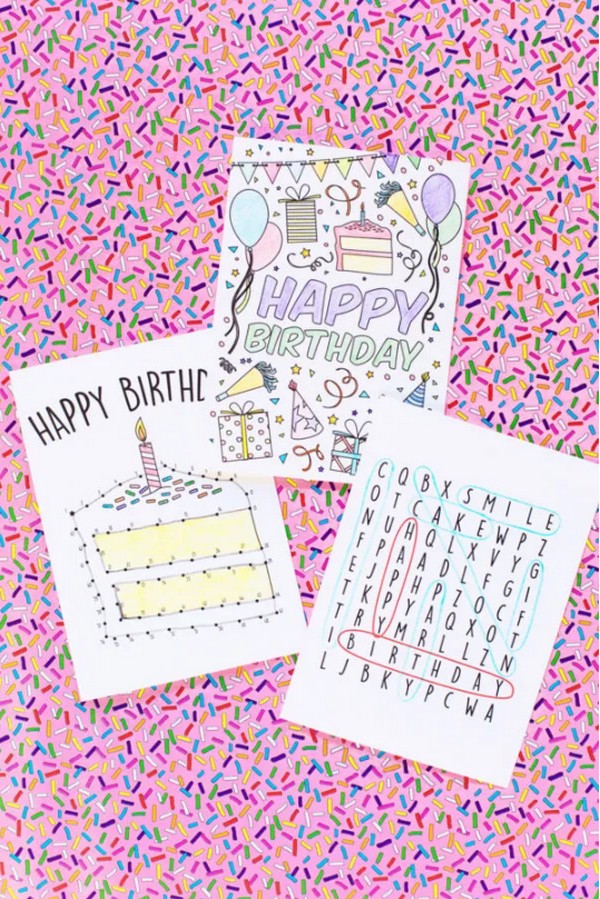 Making your birthday cards is a great way to personalize the gift and show creativity. It is also an affordable option if you are on a budget. A simple card can be made in less than half an hour – easy peasy! Throw away those expensive cards from the store – we will teach you how to make a very cute and creative DIY Birthday Card for Kids in this article. The children will feel super-special receiving this one-of-a-kind card while they enjoy their favorite cake and ice cream.
DIY Birthday Card Easy: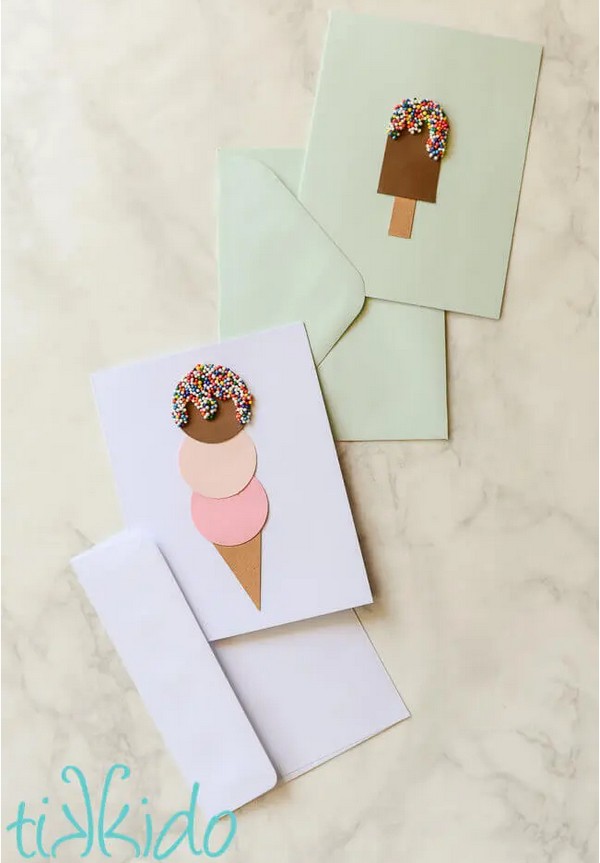 This DIY Birthday Card featuring sprinkle-topped lollipops is so easy to make and makes such a delightful, charming card to give. This card is not only fun, but it also would make a unique addition to any room in your home or office. It is made with simple craft supplies at your local craft or art supply store. You'll love how it looks when you mix everything and the easy completion technique.
Happy Birthday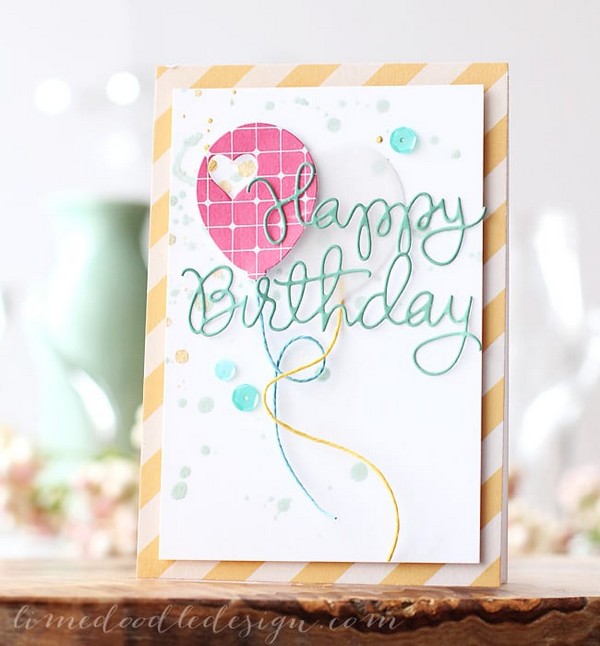 If you are having a birthday party and need some decoration for the table – Happy Birthday! is it. This festive balloon-festooned card is easy to make with supplies you have on hand. Cut an assortment of colorful paper scraps in the shape of a birthday cake, punch holes near all four corners and hang them from some plain white balloons. Then, add a decorated banner and card panel for extra fun. A simple and beautifully glittered Happy Birthday card with a bit of bling!
Letterboard DIY Birthday Cards
Surprise your loved ones with a uniquely decorated birthday card. With cheerful, colorful designs perfect for birthdays and all occasions, our Letterboard DIY Birthday Cards are the perfect way to express any message. Super easy to pull together in a matter of seconds, you can use glitter, sequins, stickers and more to create your fun design. This DIY guide includes everything you need to make unique letters for your friends or family. These cards will help express how much you care about them on their special day!
DIY Embroidered Birthday Cards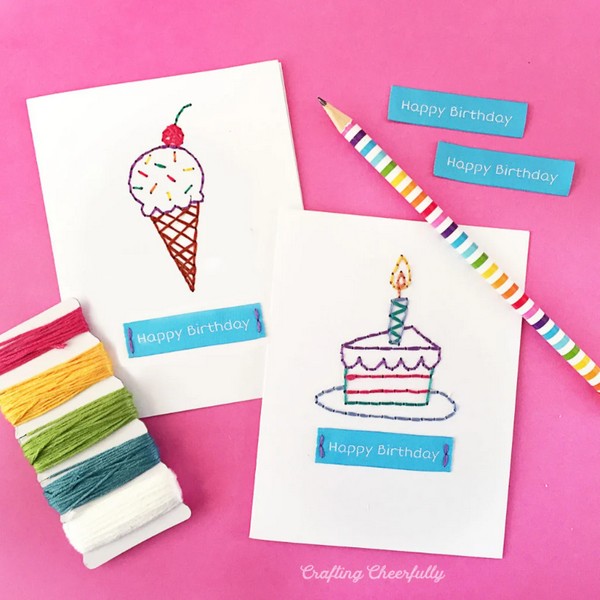 These DIY Embroidered Birthday Cards are perfect for any birthday gift – whether you're giving them to a co-worker, friend, or family member! They're easy to make and can be personalized with your friend's name. The best part? These cards are made with quality materials so that they will last. These cards feature a delicate embroidered design on the cover with a bright pop of color. Your handwriting will show beautifully when you write something sweet inside. Use it to honor a friend's special birthday!
Modern Happy Birthday Card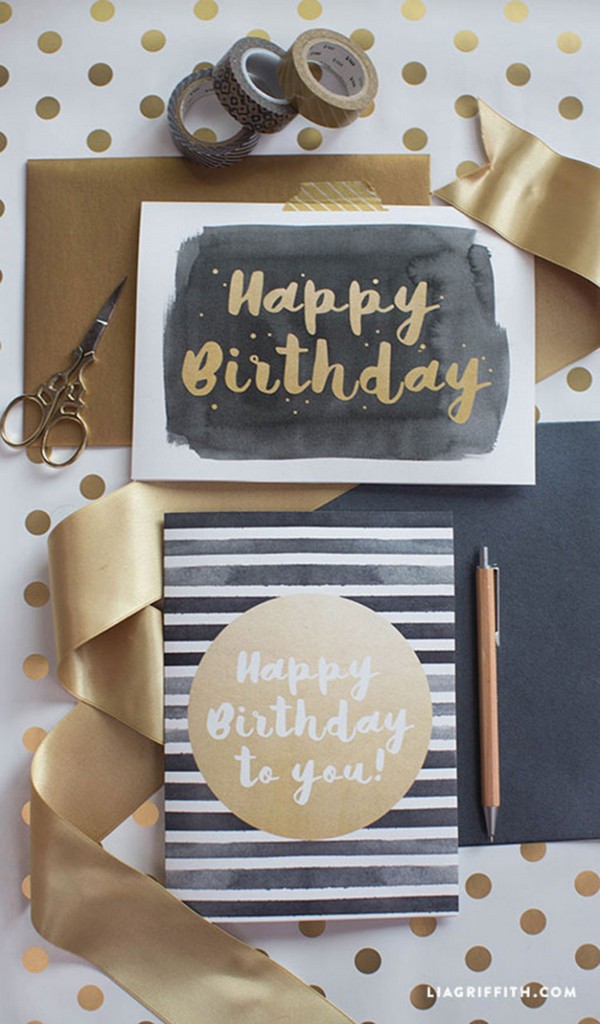 This modern Happy Birthday card lets the birthday person know they're on your mind. The modern design won't take up much room in their mailbox, and the clean lines make it easy on the eyes. And you can conveniently purchase postage stamps through Amazon, so there's no need for last-minute trips to the post office either. This is a fabulous birthday card for anyone who appreciates modern design; it includes an envelope and a protective cellophane sleeve.
DIY Birthday Greeting Cards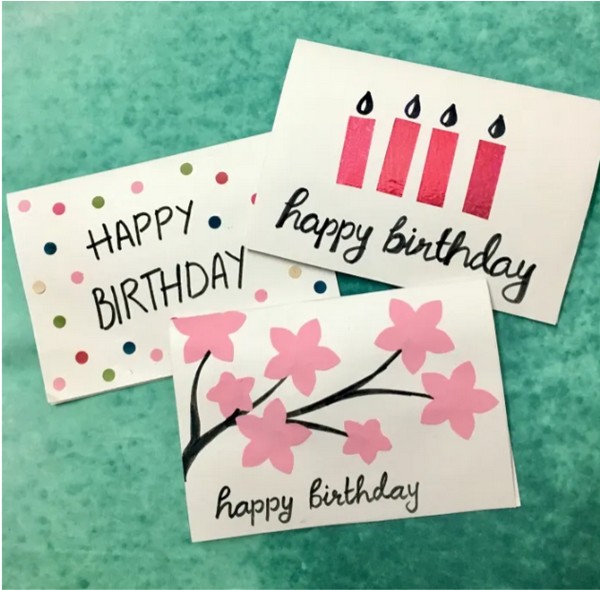 Celebrate your birthday all year long with our DIY greeting cards, featuring a gorgeous and simple design you can fill with photos and messages. These DIY greeting cards are easy to create and make great handmade gifts or party decorations. They're perfect for anyone who loves to create projects with paper, from kids to adults. Made with eco-friendly materials, these cards can be used to craft gorgeous custom cards ready to mail on your friend's special day.