17 Crochet Cover Up Patterns For Ladies To Style Anywhere
Our decent Crochet Cover Up Patterns are versatile options that help you create stylish and practical garments, perfect for layering over swimsuits or casual wear. These amazing patterns are unique and come in various styles, such as cardigans, ponchos, and dresses, suitable for different occasions.
Free Crochet Cover-Up Patterns
These amazing crochet cover-ups offer extra comfort and protection from the sun or a gentle breeze.  And making these crochet garments will be an enjoyable and relaxing hobby. So, put your hand on these beautiful handmade creations and make functional fashion statements that showcase your artistic talents and add a personal touch to your wardrobe.
Different Types Of Crochet Cover-Up Patterns:
This collection includes many patterns for beautiful swim suits, beach suits, and comfortable ponchos that are both stylish and practical. You can also find detailed shrug designs that match your outfits while keeping you warm. Furthermore, interesting skirt patterns with various textures and lengths fit every event. This comprehensive list ensures you'll discover the perfect crochet cover-up pattern to upgrade your clothes and express individuality during sunny outings.
Crochet Beach Cover Up Skirt Pattern:
This crochet beach coverup skirt is perfect for spring, summer, or fall. The pattern is straightforward to follow and will take you less than an hour to make. This would be a cute addition to your wardrobe with its colorful design, flowy style, and long length! It's designed to be loose and flowy, so you will be comfortable playing in the waves or relaxing on a lounge chair. It is easy to make with basic crochet skills, using only one ball of yarn and your favorite colors. Use the same or different colors depending on your mood.
Crochet Cover-Up Shirt:
This is a simple crochet coverup shirt that you can wear as a tank top or sashay over your shoulders to keep cool on warm summer days. It's easy to style with jeans and heels or throw on with a pair of espadrilles and a straw hat for the beach. It's easy to make and an excellent pattern for the intermediate crocheter. Choose the colors you love, and add a little flair to your next beach trip!
Crochet Cover-Up Dress Pattern Free:
This is a crochet pattern for a fabulous cover-up dress that you can wear to the beach, pool or anywhere you need to dress up. It uses an easy-to-crochet stitch and looks great in just about any color combination. The crochet coverup dress is an excellent pattern for beginners and advanced crocheters. It's longer than a tank top and perfect for laying by the pool or dining on the patio.
Beach Cover-Up Pattern Free: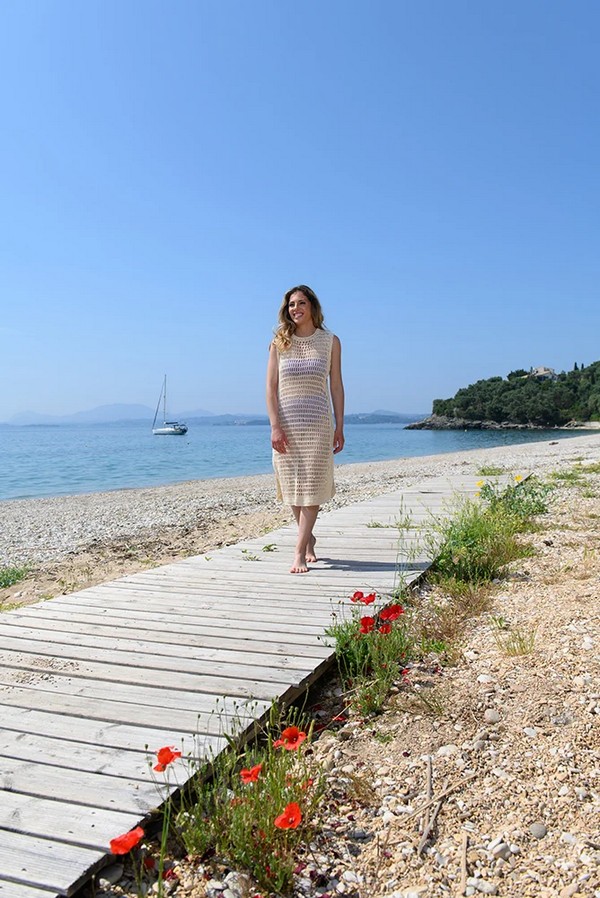 Crochet a beach coverup for yourself or your loved ones. This simple one-piece has a delicate look and is perfect for either women. It will bring you back to our childhood memories of warm summer nights spent on the beach with friends and family, watching the sunset together. It's easy to make and can be styled any way you like. Try a halter style or wear it off the shoulder.
White Crochet Cover-Up:
This crochet coverup is perfect for the lady who wants to cover up while laying out by the pool or just hanging out around the house. It is super easy to make, using basic crochet stitches and suitable for beginner crocheters. This would also make a great gift for any occasion! Wear it over a sundress or swimsuit, with sandals and a packable beach bag. This style is a great pattern for beginners because it's simple and easy to adjust if you want to create something more stylish.
V-Neck Cover-Up: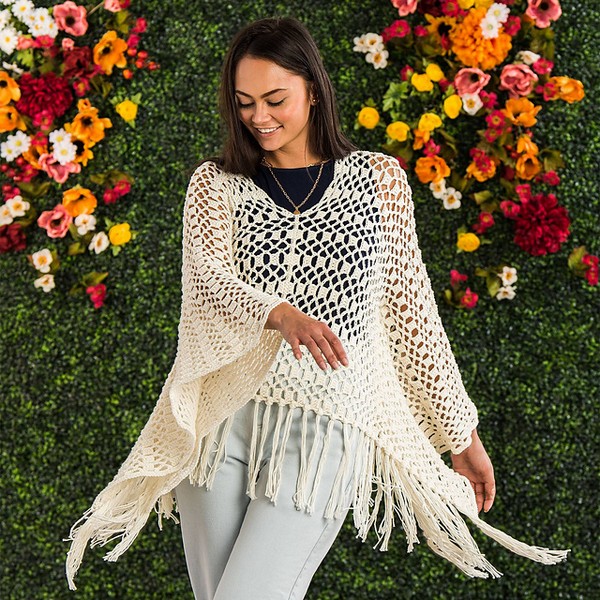 This crochet coverup pattern adds a style to your poolside look. Designed with a V-neckline, this coverup features a scalloped edge and a trapeze shape that is both flattering and comfortable – perfect for trips to the beach. This design is perfect for summer adventures, whether heading out on the boat or at the ocean. You can also adjust the size by changing the hook sizes when necessary.
Lucy Poncho Crochet Pattern:
Designed with summer in mind, the Lucy Poncho has a knot front that can tie in many different ways to adapt to you and your style. The top-down construction allows for simple customization by adding length or making the neck hole smaller if you prefer a more casual look. Worked in cotton, this garment works well as an outer layer over a swimsuit or tank top over leggings.
Plus Size Crochet Cover-Up:
This plus-size crochet coverup is a great way to get your comfort and style in the summertime. Find yourself an excellent crochet coverup pattern to make the perfect summer dress. This one is great for women of all ages who like stylish clothing. This gorgeous cover keeps you cool and stylish. This modern pattern is worked in the round, so it's super easy to make! Just a few simple stitches, and you're done. The pattern is easy, and quick, and easily customized to fit any style and size.
Sea Breeze Cover-Up Crochet Pattern:
This easy crochet coverup pattern is perfect for summer, and the pattern is highly versatile, so you can make it any size or shape. You can even take this easy crochet pattern to the next level by adding variations like sleeves or a different neckline. Made with just a little yarn, this pattern works quickly so that you can make one for yourself, your friends, or your family! You can crochet this coverup for less than $15.
Crochet Swim Cover-Up Free Pattern:
This free crochet pattern will teach you how to make a coverup perfect for swimming, the beach, and more. The coverup requires fundamental stitches and can be crocheted in no time! The stitch used here is pretty simple but gives a great look with a bit of texture. This is a great place to start if you want to try crochet stitches! It can be made in various colors, a stylish way to keep cool wherever you go.
Women Crochet Cover-Up:
This crochet cover-up pattern is perfect for any level of crocheter. It is excellent to use as a swimsuit coverup or wear over a bathing suit while you are at the beach or pool. This crochet coverup pattern is plus-size friendly, with options for adjusting the size to suit your needs. Its loose fit makes it comfortable for lounging at home or laying on the beach. It can be made in under an hour, and the best thing about this pattern is that you will only need one hank of yarn to make it. So why not make one for yourself and a friend?
Swimsuit Cover-Up Pattern:
This crochet coverup pattern will show you how to create a stylish and easy-to-wear dress that is great for any warm-weather occasion. Make this summertime classic your own with a favorite color or pattern because the possibilities are endless! With this intricate crochet pattern, you'll create a dress that drapes perfectly over any swimsuit and can be worn as a coverup and sundress.
Summer Beach Cover-Up:
This stunning crochet coverup is perfect for any day at the beach, pool, or lake. Worked up in a striped stitch pattern that is easy for beginners but still impressive enough for more experienced crocheters, it goes on quickly over your head, so you'll never have to worry about getting caught out in the elements! This easy crochet coverup is perfect for a fantastic summer evening or a relaxing day on the beach. This simple, sexy look is sure to make you the envy of everyone at the beach! So, crochet this pattern for yourself with the help of this guide!
Dip Dyed Crochet Cover-Up:
The Dip-Dyed Crochet Cover-Up is the ultimate summer staple, offering coverage where you need it while still allowing you to enjoy a beautiful dip-dyed color. The crochet slipover is worked from the bottom up in one piece and uses the eyelet stitch for a fun look that's perfect for summer! Once you make this garment, it's straightforward to make your custom colors too! This pattern is suitable for crocheters of all skill levels.
Sarong Beach Cover-Up: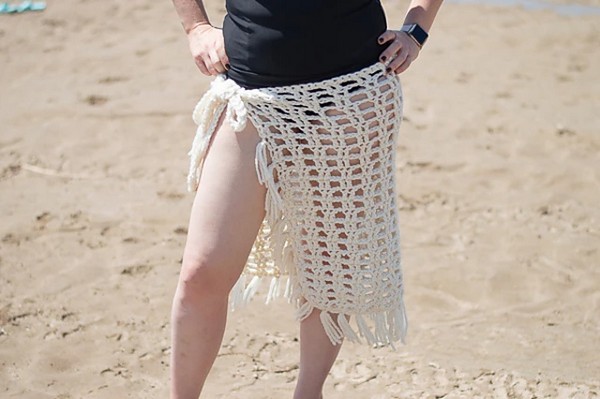 This crochet beach sarong is perfect for taking with you while lounging on the beach or poolside. It is lightweight, designed to be wind resistant, and can be worn in various ways, as shown in the photo above. You must know how to crochet and increase/decrease stitches in the round. You'll love wearing this beautiful crochet coverup to the beach or pool or over your swimsuit at any time of year. Crochet in a fun and beautiful multicolored yarn, or choose from the colors that match beautifully with any swimsuit.
Crochet Mesh Cover-Up Pattern:
The crochet mesh coverup is a fun, quick pattern that will help you stay cool during summer. This coverup is great for the beach, swimming, or looking pretty! This pattern is made in a beautiful mesh created using simple stitches and no decreases. It's easy to wear and comfortable; it is your new go-to for covering up. This easy pattern makes an excellent gift for just about anyone! Enjoy! It is ideal for beginners since there are no problematic stitches involved.
Black Crochet Cover-Up Cardi:
This coverup is a piece of crochet clothing you will want to wear when the sun sets and the cold air kicks in. It features a cozy cotton texture that works well for any season, and the crochet pattern gives it an effortless style that shows off your favorite tanks or sleeveless shirts. With a V-neckline, scooped armholes, and cropped length, this crochet coverup lets you show some skin while staying warm!